- September 1, 2020 -
Tuesday (Tyr's Day)
(waxing gibbous)
'Corn Moon'

This flag is known as a 'Reich Chancellery flag'. It was made to the Third Reich's very highest standards. The materials and construction are nothing short of superb. It was an honor to stand in these photos with such a priceless artifact. A true believer could feel its throbbing energy. Strong and vibrant, it still remembers the terrible bombs of the spring of 1945. It remembers the brave and beloved French men who laughed in the face of death. These men, and a motley band of knights from all over the world, died in the shadow of this flag.
It whispers of courageous Waffen-SS men making a last stand in the Reich Chancellery's marble halls. It remembers the Chosers of the Slain, the Old Gods' armored valkyries, as busy as they'd ever been. The blood of heroes painting Berlin crimson red. It tells of sacrifice unequalled in history. Its magical threads whisper 'This is only the beginning'.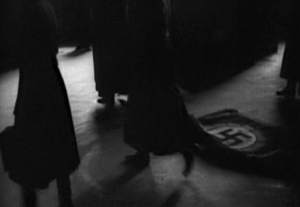 Russian soldiers dragging the flag through the Reichs Chancellery...
---
---
VIDEOS
Above: The music here is The Manson Family 'Scratchin' Peace Symbols on Your Tombstone'.

*All images are strictly copyrighted. They may not be displayed via internet or printed form in any manner without our written permission, nor are they to be altered in any form whatsoever. Violators shall be vigorously prosecuted by international law.