- December 1995 -
---
---
Here is a selection of our second shoot of 35mm images. Like the previous shoots, most of these have never been released until now. The few that have were released on our first photo CD, in a very small size and a very low resolution. While these scans aren't perfect either, they are leagues better than the original releases. Like the previous November shoot, we still hadn't finished designing the expansion rune, although you will notice it evolving here, i.e. we removed the points from meeting inside the pentagram, seen here painted in blood, while other examples still use the first style. We still had very little props, and were using an archaic borrowed camera.
The emptiness of the surroundings is very noticeable, but instead of cropping the empty space we've chosen to scan the entirety of the picture.
Looking back at these photos it seems like centuries ago, lifetimes away. That bare, but cramped little apartment where we first dreamed Mourning the Ancient. What a vicious and crazy life it has been.
[Below: the black and white version on the right was developed for us by an associate in a school lab. It is an example of our attempt to find another avenue of having our pictures developed. However, nothing ever became of it, and this is the only shot done.]
---
[Wow, what a difference in scan quality. The first is a scan from 1999, versus one from a few years ago.]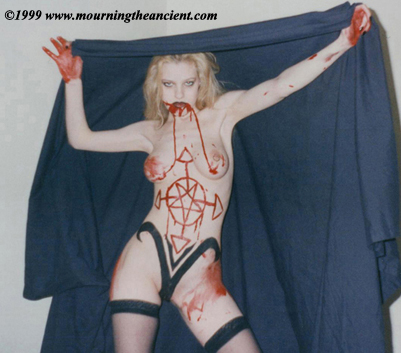 ---
---
*All images are strictly copyrighted. They may not be displayed via internet or printed form in any manner without our written permission, nor are they to be altered in any form whatsoever. Violators shall be vigorously prosecuted by international law.