- February 1996 -
---

---
Like the previous shoots, the majority of this shoot has never been published, save six that appeared in low resolution on our photo CD #1. This is the first appearance of the expansion symbol tapestry, which we painstakingly silk screened in different parts since we used a small silk-screening frame. Strangely, we had been at times, where someone from a land of 'nothing', comes to a land of 'plenty', bringing knowledge that we were seeking at that exact time.
The last dozen pictures of 'outtakes' were us wasting leftover film after the shoot. Needless to say, they were done in the spirit of fun, and we never meant to publish them. Nonetheless, we thought you might get a smile out of our momentary foolishness!
---
[Outtakes - ]
---
[Check out the difference in scan quality. The first is a scan from 1999, versus one from a few years ago.]
---
[The following are from a lost roll of film that wasn't found until May 2020! Well, it's not much, but it's still weird seeing stuff I haven't seen since 1996. Too bad it's a rather stupid side shoot. Oh well, here it is, uncensored!]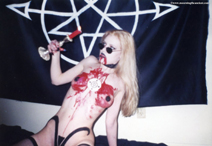 ---

---
*All images are strictly copyrighted. They may not be displayed via internet or printed form in any manner without our written permission, nor are they to be altered in any form whatsoever. Violators shall be vigorously prosecuted by international law.