- November 15, 2010 -
Monday (Moon's Day)
(waxing gibbous moon)
---
---
Building the throne seen in these pictures was definitely one of our most ambitious projects [circa 1997]. It is also one that we never really utilized. While we built it with photography in mind, we never really used it very much for that purpose, so we decided to give it one last appearance.
We were stuck with the wrong photo-bulbs for this shoot at the last moment, so this shoot turned out very bright.
Reflections: The throne will always remind us of a funny time. It was shortly after we built it, in the summer of 1997. A friend of ours had just been released from prison, you might remember the interview we did with him, he is Reinhard Logewolf, a very colorful, intelligent and interesting character. We met him through a friend and had corresponded with him for some months, promising to one day share a drink upon his freedom. Well, the day finally came when out of the blue comes Reinhard, and imbibe many drinks we all did long into the night. The comedy of the situation was when someone noticed the irony of the moment, there sat the man who had twenty four hours before been behind bars, now sitting in the freshly made throne, goblet of wine in hand! A true viking 'til the last.
This shoot is dedicated to the sense of humor of the Gods who laughed with us that day, in freedom and celebration. And to you, Reinhard, whereever you are, stay free!
---
[Outtakes]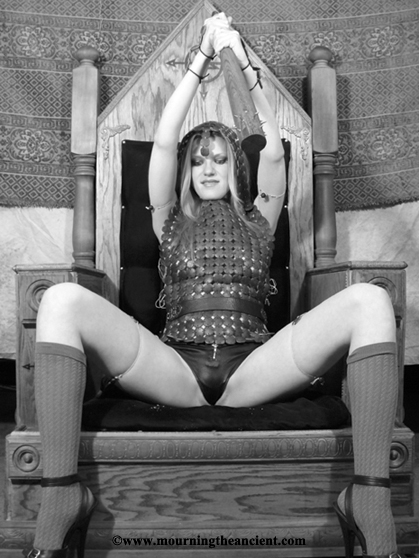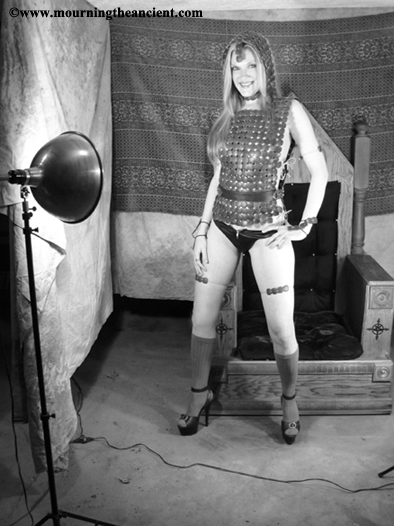 ---
---
*All images are strictly copyrighted. They may not be displayed via internet or printed form in any manner without our written permission, nor are they to be altered in any form whatsoever. Violators shall be vigorously prosecuted by international law.