- June 10, 2011 -
Friday (Frigg's Day)
(waxing gibbous moon)
---
---
On a beautiful summer day, we set off to complete this rather simple shoot. We revisited two cemeteries which we filmed small bits of for our 2003 film. One of the cemeteries is largely Czech, the other Italian. The beautiful decaying statues found in both have remained for nearly a century and over, while those lying beneath them have long been forgotten and turned to dust. What a different world it is now compared to when they were buried. I wonder if they would recognize the dark world that now surrounds them? Perhaps they would recognize it, from a nightmare.

Many of their gravestones lie cracked and broken, many of the statues have lost limbs, and time erodes their sad expressions. The filthy city now surrounds the small cemeteries. Vehicle exhaust from rush hour traffic jams choke the ugly manicured grass and trapped trees. Tall fences with barbed wire atop them attempt to keep urban sprawl at bay. It's a gallery of the forgotten in the tiny hell of our town.

This shoot was small and incomplete because it would seem the living dead like to visit the dead on warm summer days! The next month though we would continue the shoot's basic look in an indoor shoot on 7-18.

Enjoy a sunny day at the graves...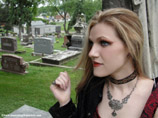 ---
---
*All images are strictly copyrighted. They may not be displayed via internet or printed form in any manner without our written permission, nor are they to be altered in any form whatsoever. Violators shall be vigorously prosecuted by international law.