---
Landser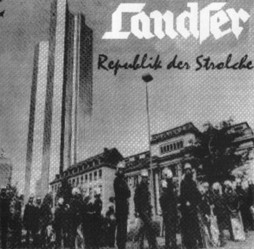 Republik der Strolche
[--]

      I don't have much information on this band, and unfortunately the inlay is written in German. This release contains the legendary track 'Ian Stuart' which is a fantastic tribute song. The flow and sound of this song is amazing. There are a few covers of this song available, including a great one by the female artist 'Saga.' There are also a few other great songs on this CD like the self-titled 'Landser.' A legendary band for a reason.
---
Landser

Das Reich kommt wieder
[--]

      Every Landser CD seems to have one utterly spectacular song, and this release it is the folk sounding song 'Nordland.' Wow, truly a beautiful song. The rest of the tracks didn't do much for me, but 'Nordland' made it all worthwhile.
---
-|- Back to page twenty one -|- Back to Review List-|- On to page twenty three -|-
---