Note that this was written on Hamburg-America Line stationary/envelope. It was the largest German, and at times the world's largest, shipping company in the world. I've typed up the letter at the bottom of the page (so you don't have to decipher the handwriting)!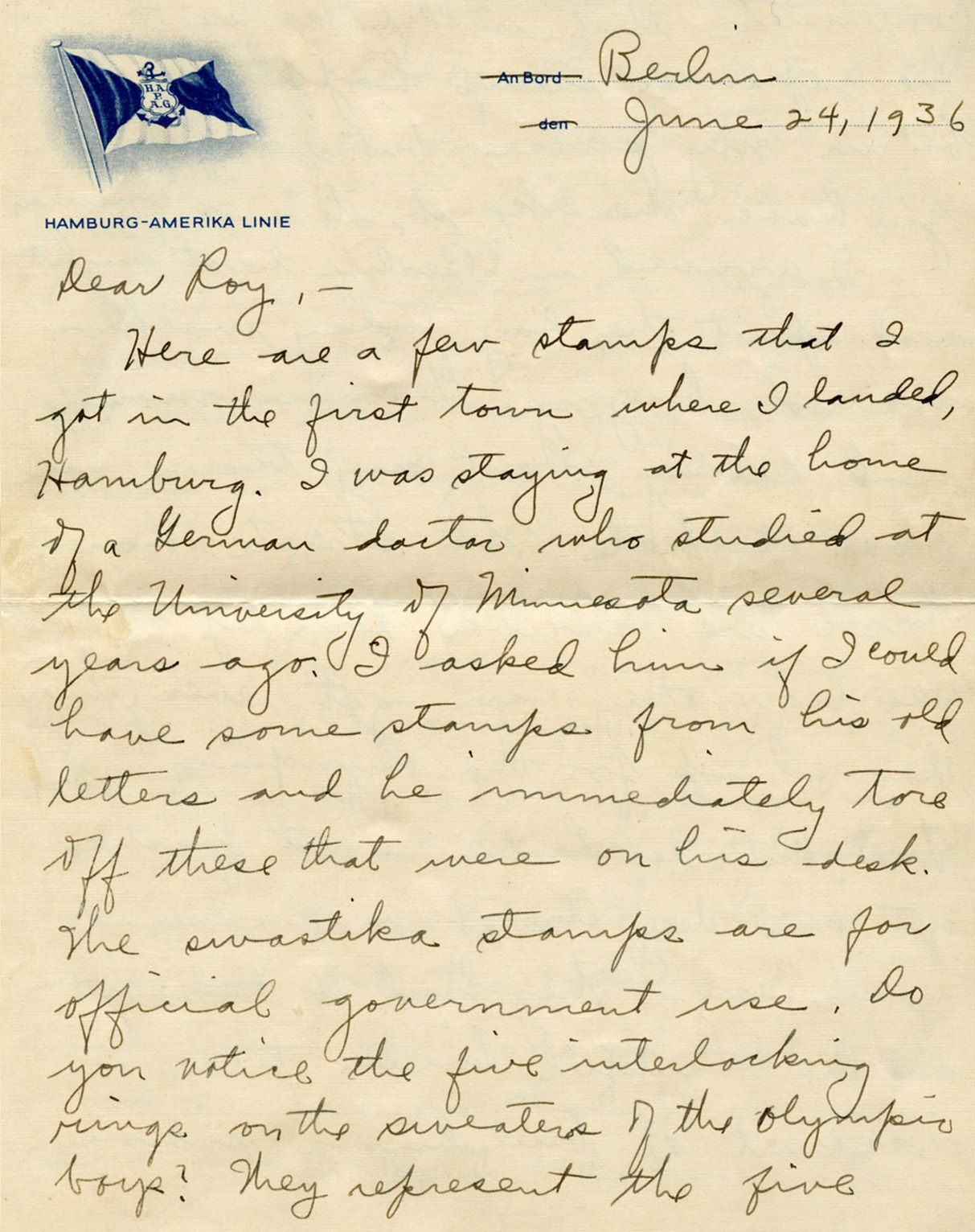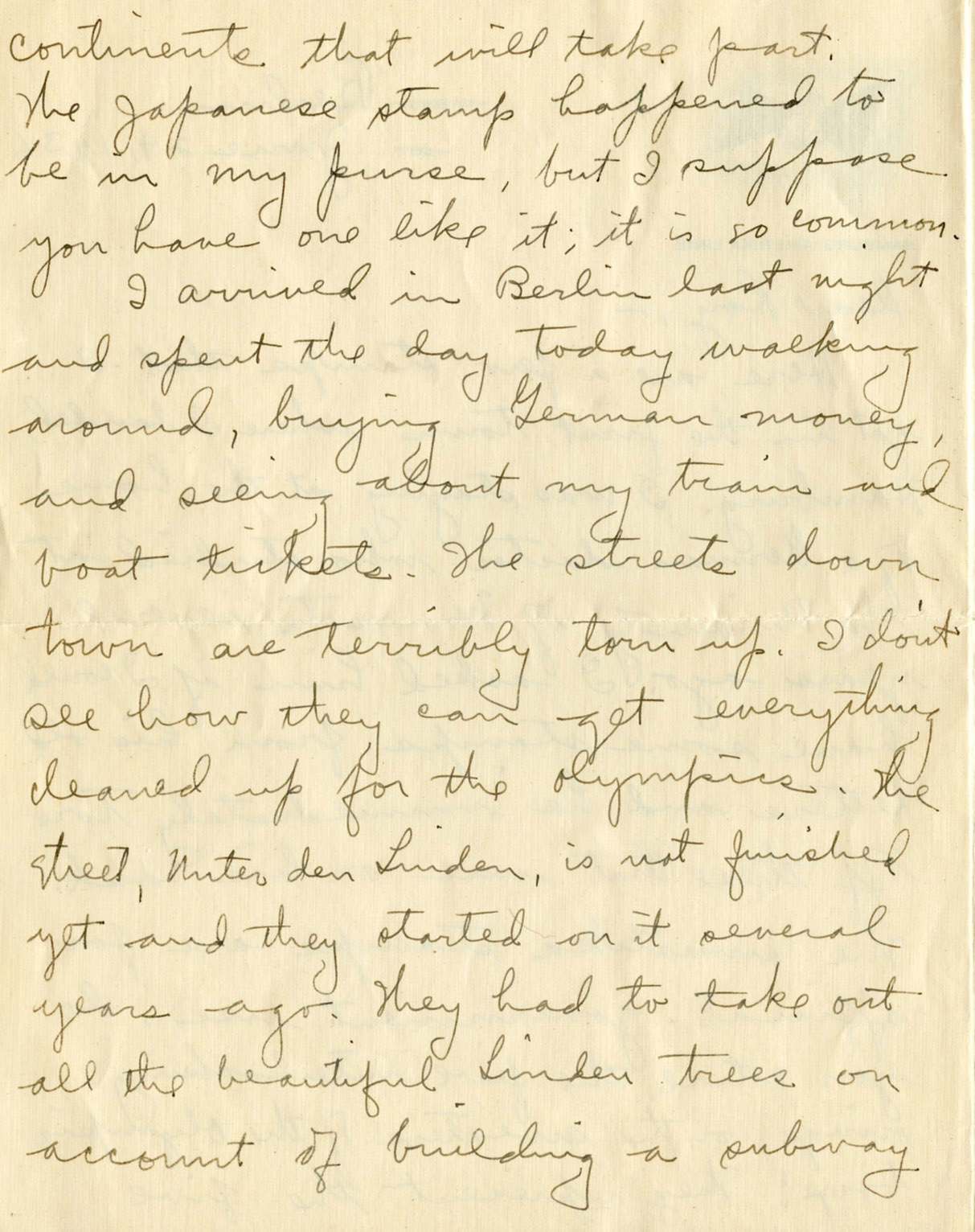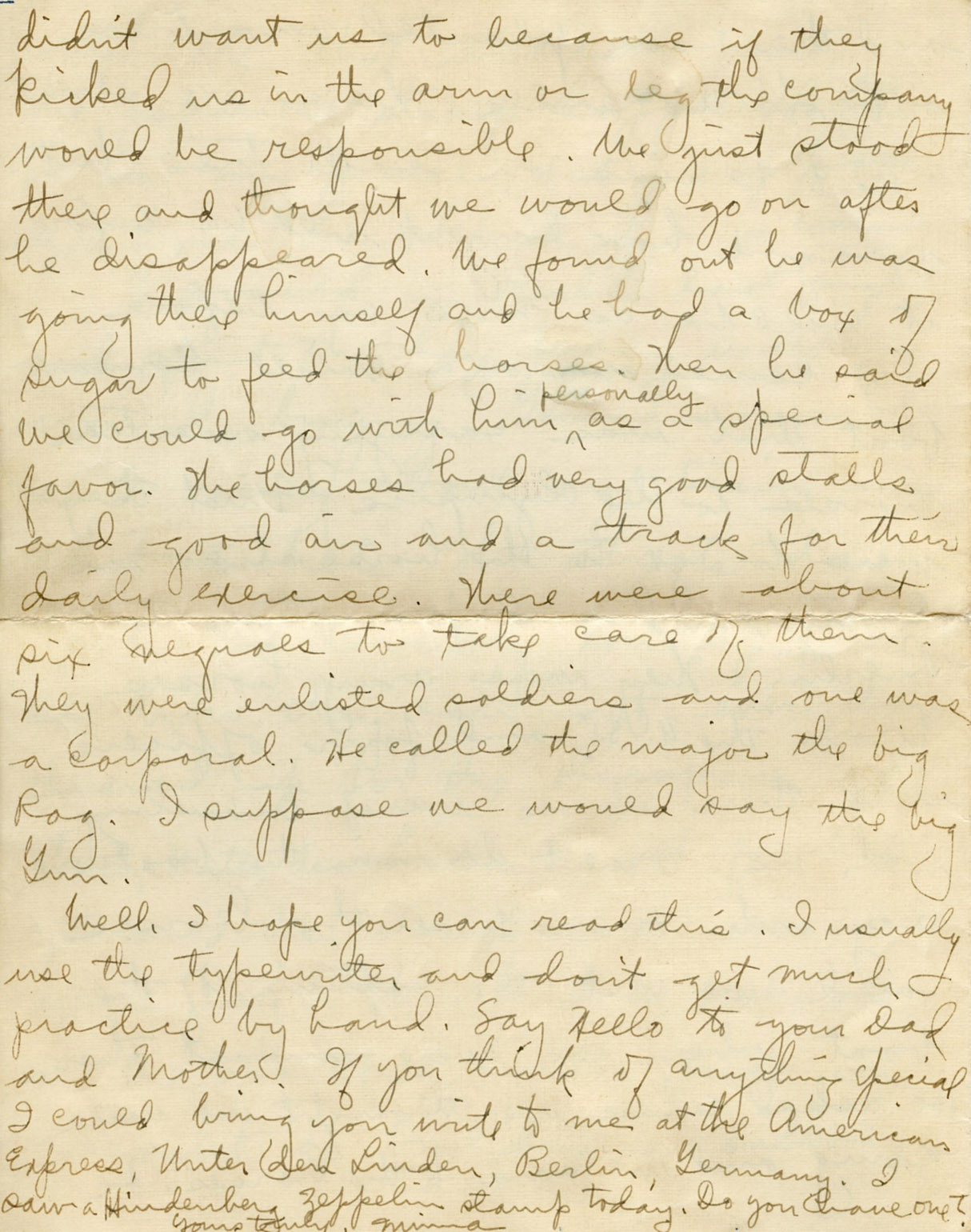 Berlin
June 24, 1936
Dear Roy,
Here are a few stamps that I got in the first town where I landed, Hamburg. I was staying at the home of a German doctor who studied at the university of Minnesota several years ago. I asked him if I could have some stamps from his old letters and he immediately tore off these that were on his desk. The swastika stamps are for official government use. Do you notice the five interlocking rings on the sweaters of the Olympic boys? They represent the five continents that will take part. The Japanese stamp happened to be in my purse, but I suppose you have one like it; it is so common.
I arrived in Berlin last night and spent the day today walking around, buying German money, and seeing about my train and boat tickets. The streets down town are terribly torn up. I donít see how they can get everything cleaned up for the Olympics. The street, Unter den Linden, is not finished yet and they started on it several years ago. They had to take out all the beautiful Linden trees on account of building a subway and they have planted new trees out on the sides. There are about 7 or 8 leaves on each tree, but imagine how long it will be before it will be as nice as before.
I came over on a small German boat that was carrying seventeen horses to the Olympics. First they were to go to the horse show in Switzerland and from there to Berlin. They were army horses from the U.S. and four officers and their wives were traveling with us. I went down in the boat one day with someone to see the horses and we met the captain of the boat when we were almost there. He asked where we thought we were going and we said to the horses. He didnít want us to because if they kicked us in the arm or leg the company would be responsible. We just stood there and thought we would go on after he disappeared. We found out he was going there himself and he had a box of sugar to feed the horses. Then he said we could go with him personally as a special favor. The horses had very good stalls and good air and a track for their daily exercise. There were about six Negroes to take care of them. They were enlisted soldiers and one was a corporal. He called the major the big Rog. [An interesting note, I looked up this nickname and it is 'One whose ball-sack hangs longer than his extremely large penis.' Haha!] I suppose we would say the big Gun.
Well, I hope you can read this. I usually use the typewriter and donít get much practice by hand. Say hello to your Dad and Mother. If you think of anything special I could bring you write to me at the American Express, Unter den Linden, Berlin, Germany. I saw a Hindenberg zeppelin stamp today. Do you have one?
Yours truly, Mina