(Minister of State and Head of the Presidential Chancellery of the Führer and Reich Chancellor)
You'll note it is signed by a man named 'Meissner'. This is Otto Meissner (March 13, 1880 - May 27, 1953), head of the Office of the President of Germany from 1920 to 1945.
[Below: Otto Meissner]
[Below: And finally, the award certificate itself.]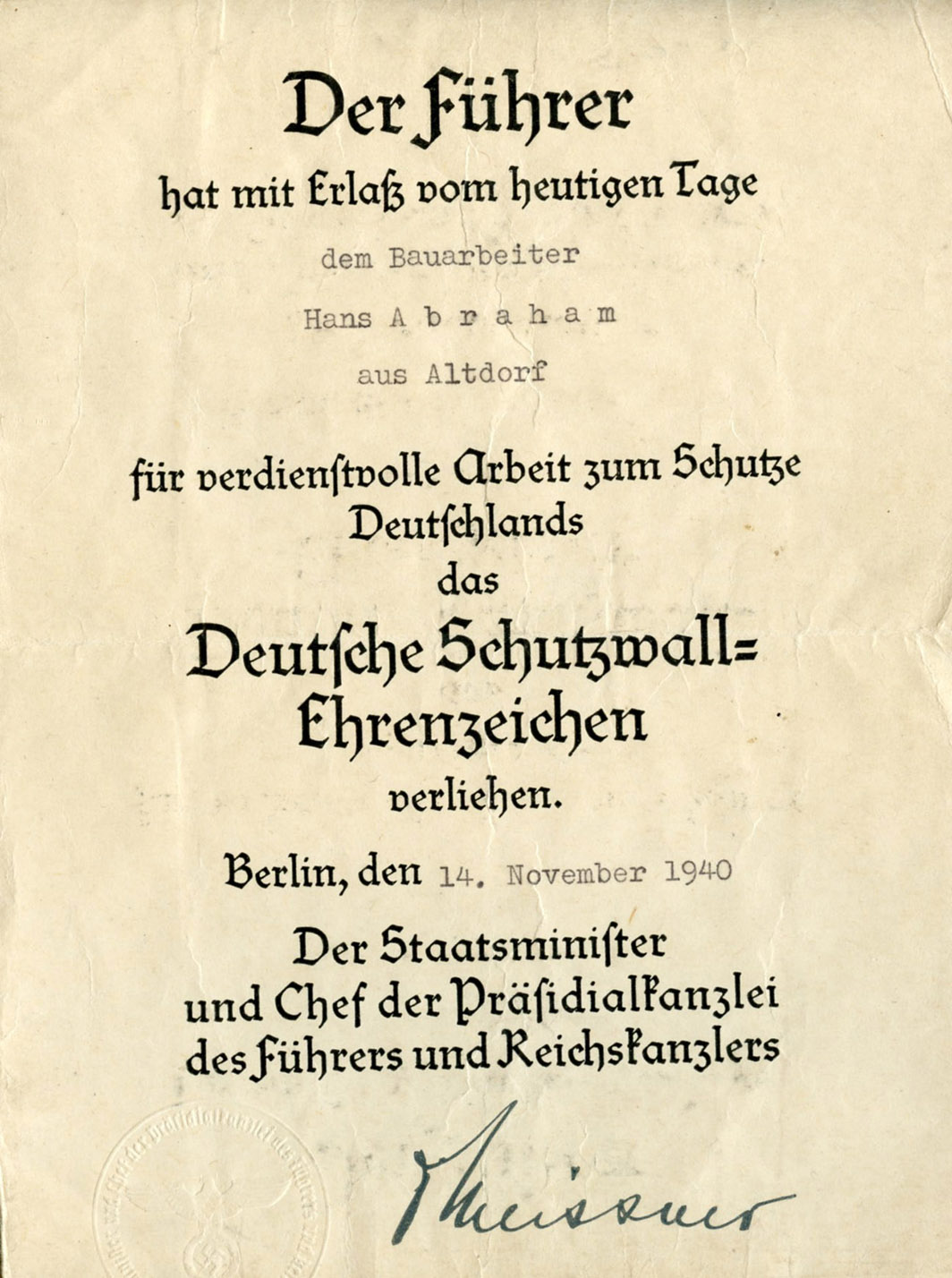 [Below: The 'German Protection Wall Medal of Honor' medal, a rather common medal, is also known as the 'West Wall' medal. It was awarded to anyone who helped in the construction of the massive West Wall (also known as the Seigfried Line by the Allies) fortifications built to guard Germany from attack. It stretched more than 390 miles (630 km); 'from Kleve on the border with the Netherlands, along the western border of Germany, to the town of Weil am Rhein on the border to Switzerland – and featured more than 18,000 bunkers, tunnels and tank traps.'
While the fortified line could never be made into what it needed to be, due to lack of workers later in the war and lack of raw materials and guns, etc., it did partly perform its role in August 1944 during the Battles in the Hürtgen Forest, which proved to be a nightmare for the Americans. August of that year, the first small battles took place on the West Wall in the section of the line in the Hürtgenwald (Hürtgen Forest) area in the Eifel, 12 mi (20 km) southeast of the city of Aachen.
The Americans and British learned a terrible lesson in these battles and the ensuing Ardennes Offensive (Battle of the Bulge): that Germany would prove to be a terrible opponent. The Allies suffered 140,000 battle casualties, and that's just the ones they admitted. Many of the German soldiers on this part of the West Wall fought to the death. The dark and terrible Hürtgen Forest is still haunted with the grisly dead American soldiers who died there. Many of the Allied soldiers there refused to fight or even went mad.
Modern times reveal another comical episode of terror of everything 'Nazi'. Often times lost and buried pillboxes or stretches of the 'Dragon's Teeth' anti-tank barriers are still unearthed in Germany. Money has been specifically allocated to immediately destroy them! Lest modern 'Nazis' use them for propaganda purposes. Historians and even nature conservationists attempt to stop the government are met in failure. What a laughable, pathetic bunch of bullshit, and splendid show of the terror the enemies of truth STILL after almost a CENTURY still have for the National Socialists.]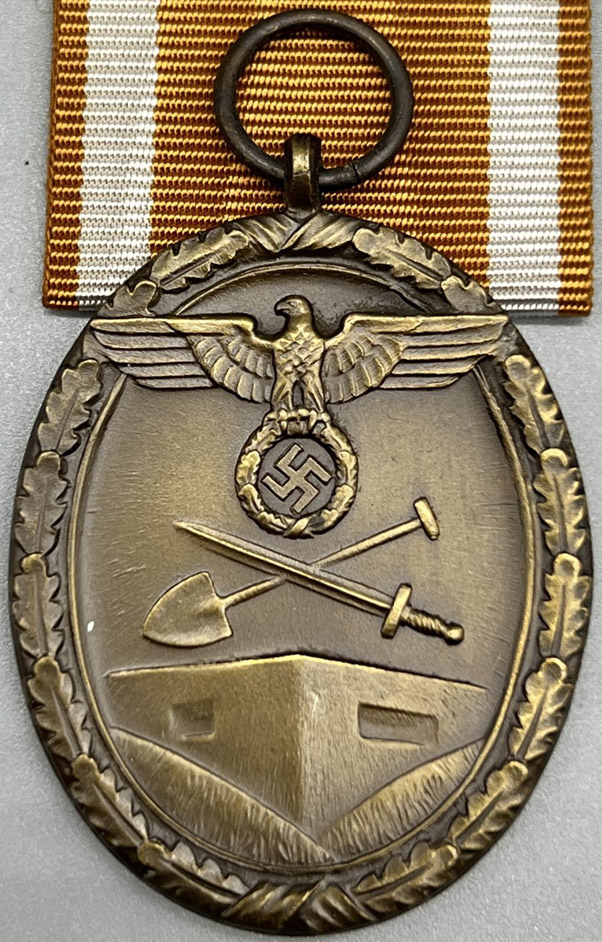 [Below: Here's another West Wall certificate with odds and ends of awardee. First the certificate. Note that it tells that the awardee, Josef Mock, worked in the RAD labor service and worked in the regions of 'Eifel', which is referred to as 'Germany's Wild West' and 'Dauwelshausen', a locality in Rhineland-Palatinate, in Western Germany near the border with Luxemburg.]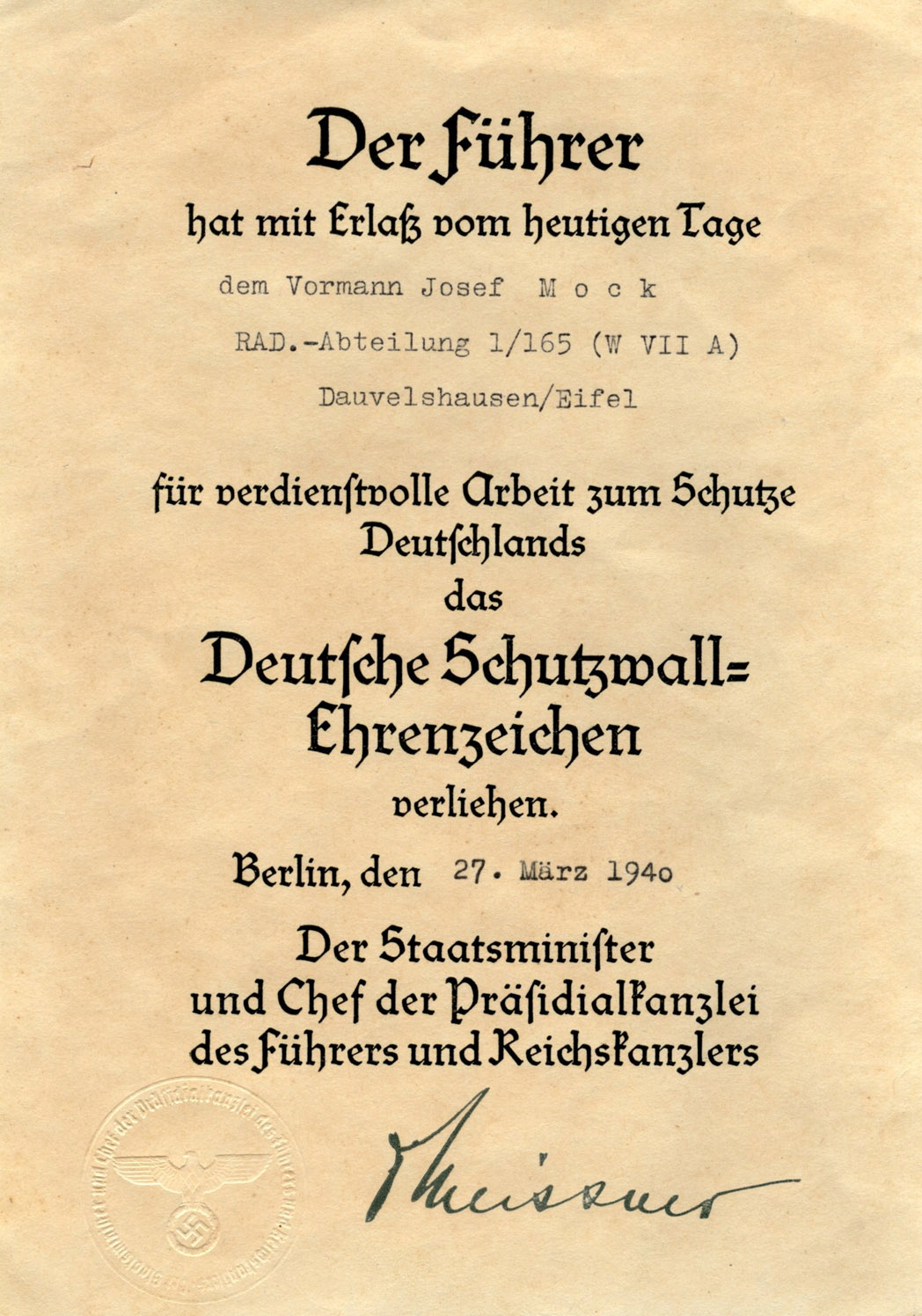 [Below: Here is the award envelope (front/reverse) that the West Wall medal (shown above) was awarded in. The medal and bags are fairly plentiful, since so many workers were involved. The award envelopes are rarer than the actual medals. This is often the case in 3rd Reich awards, since a lot of people probably just threw the envelopes away. Some envelopes and award boxes are worth more than the actual medals they came with. And further, some award boxes actually came inside a cardboard type box... those are rarer still.]
[Below: Here is a tinnie from 1939 dealing with the Westwall. On the bottom you can see the 'Dragon's Teeth' tank traps. Kaiserslautern is a city in southwest Germany in the state of Rhineland-Palatinate and is at the edge of the Palatinate Forest. 'Gau' means region and 'tag' means day. So this tinnie was for the region (Gau) of Kaiserlautern for a Westwall day (tag) in 1939.]
[Below: Here is the postal cancel to match the tinnie above.]
[Below: Front/back. This high quality and rather beautiful little booklet says 'Handwerkskammer für Niederbayern' and 'Lehrzeugnis' (Chamber of Crafts for Lower Bavaria - Teaching Certificate).]
[Below: The first page within reveals that this was issued on October 4, 1940 to a woman named Therese.]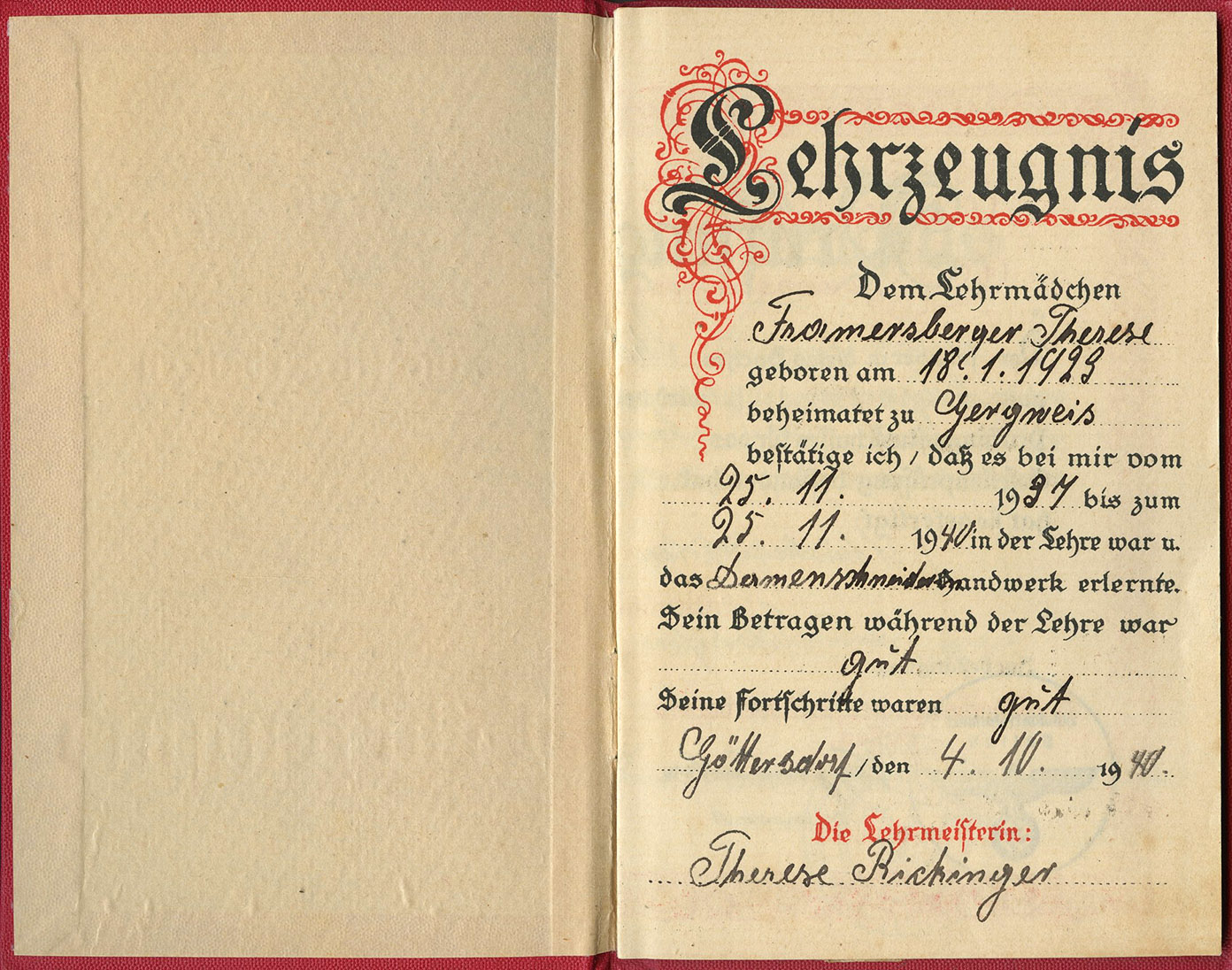 [Below: We can see by the stamp that this was issued in Passau, a city in Lower Bavaria. Passau is a small and ancient city, being over 2,000 years old and having a population of about 50,000, 12,000 of them being students at the University of Passau.]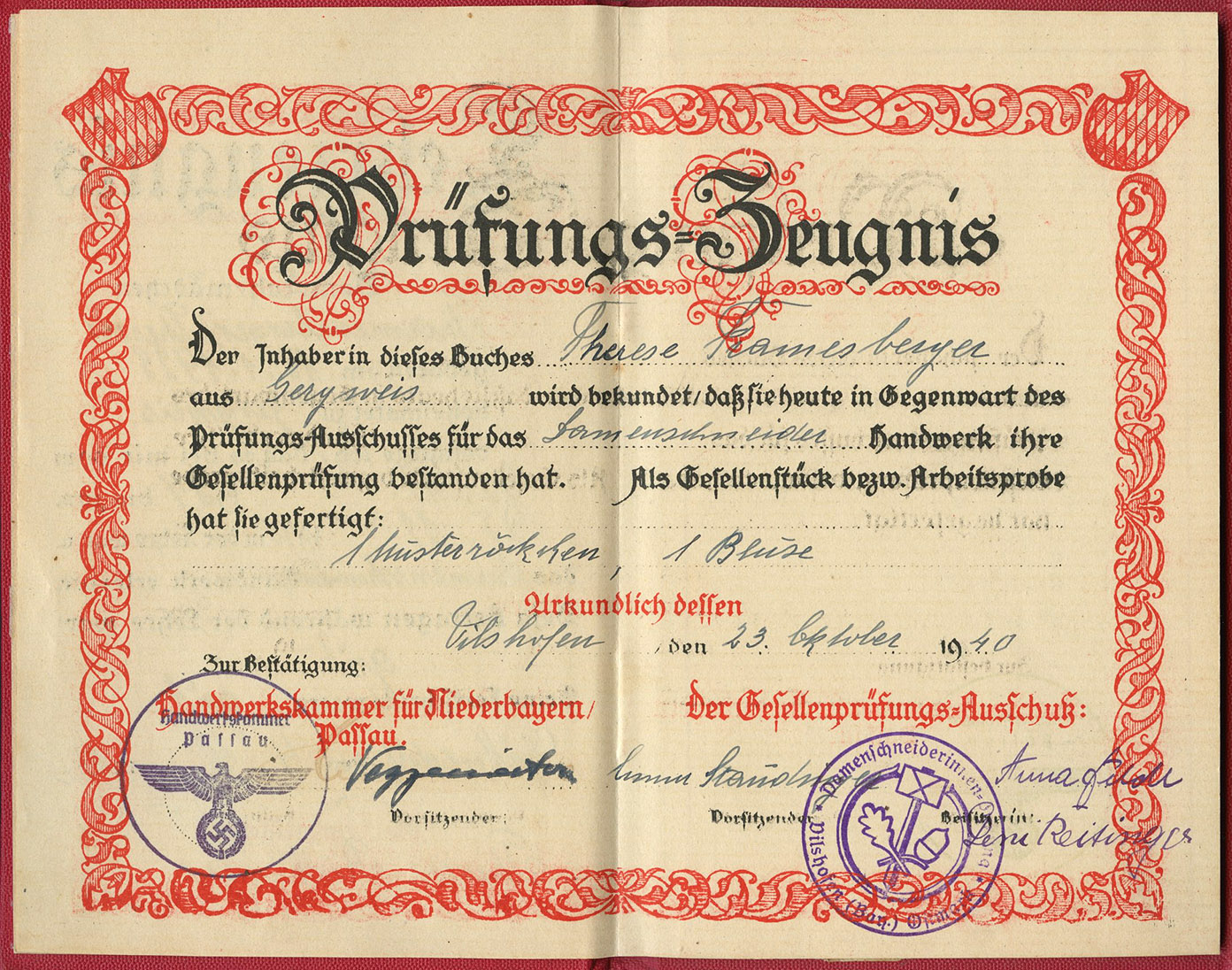 [Below: The rest of the pages are blank.]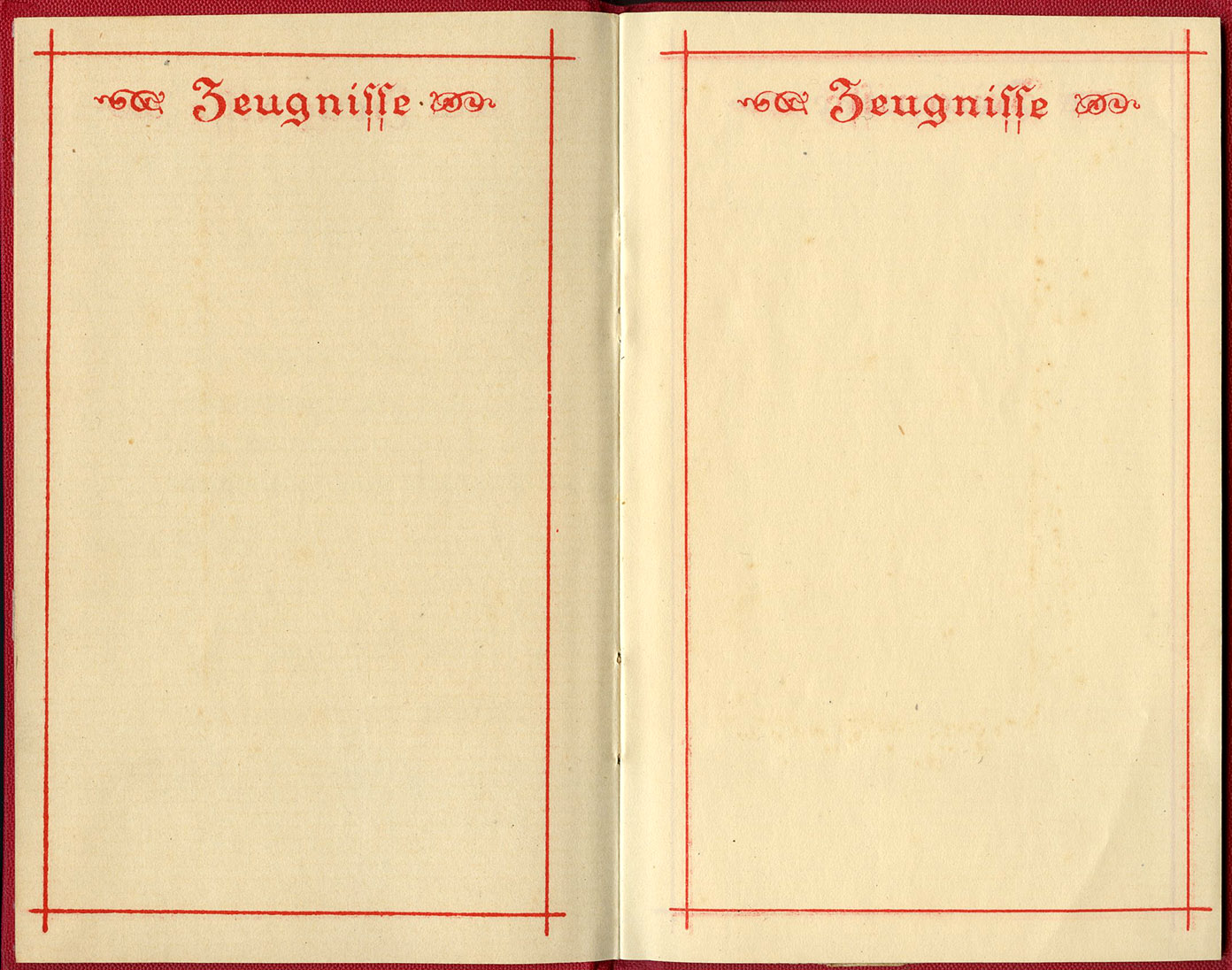 [Below: This award says 'Besitzzeugnis - Im Namen des Führers' (Certificate of Ownership - In the name of the leader) 'Feldwebel' (sergeant) 'der Krimschild verliehen' (awarded the Crimean Shield). And although you can't read the date, it is most likely January 30, 1943.]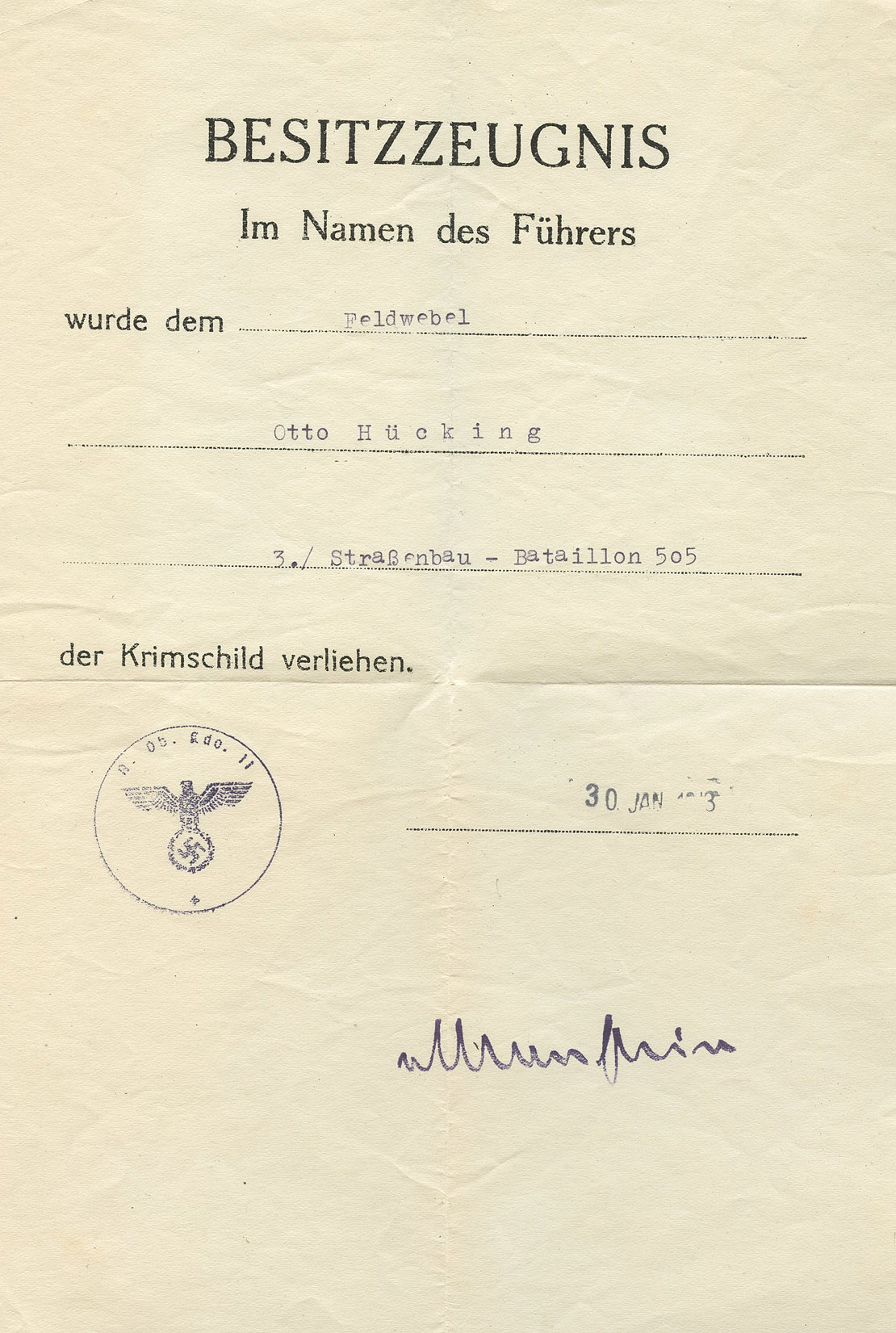 [Below: The Krim Shield.]
[Below: This is an award folder/certificate is from the 'National Socialist League of the Reich for Physical Exercise' (NSRL). This was the National Socialist organization for sports and physical education.]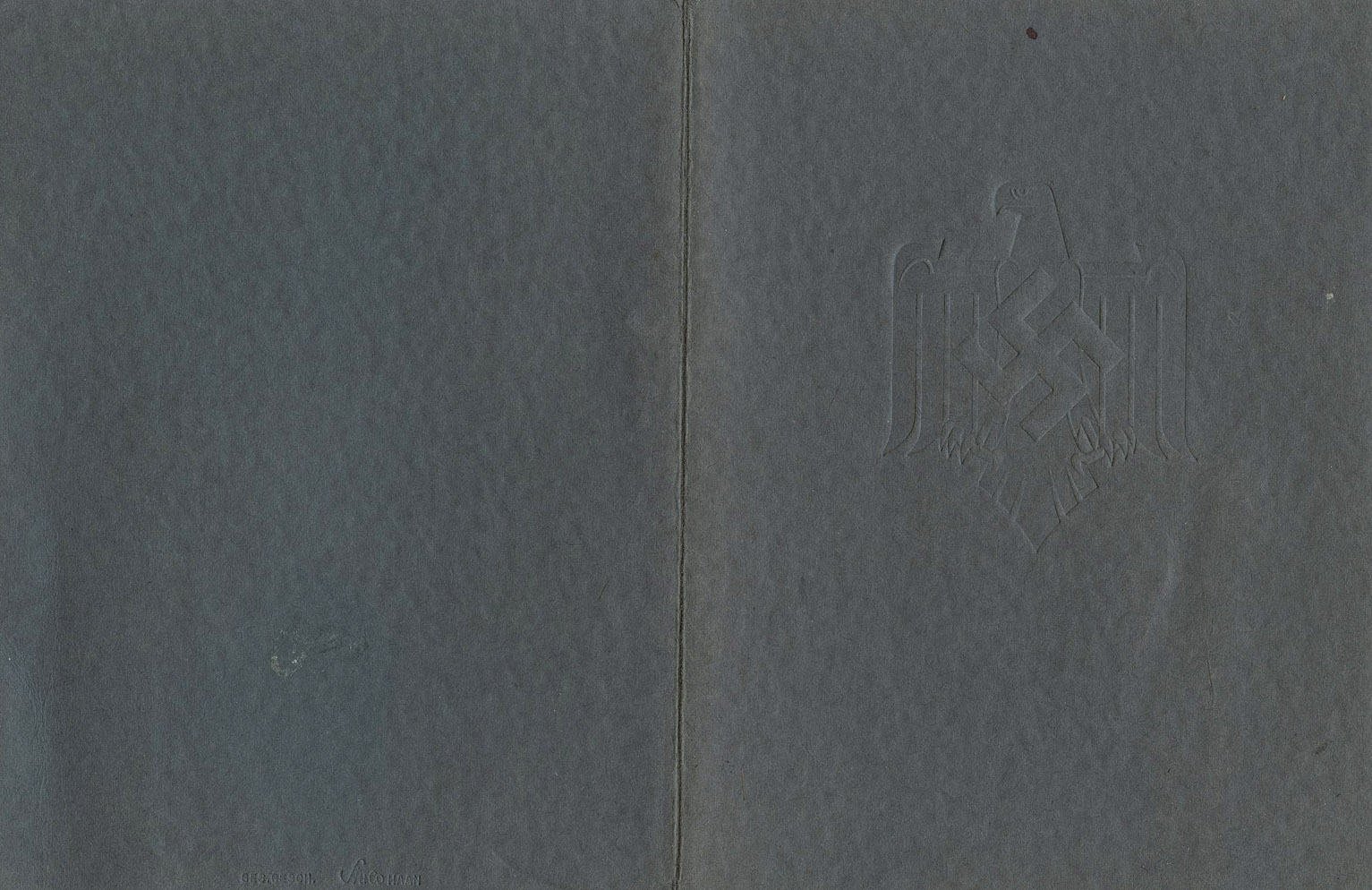 [Below: It says: 'in Anerkennung für den beim fest der Leibesübungen - Schwimmen -' (in recognition of the physical exercise festival - Swimming -).]
[Below: This beautiful certificate, from Berlin 1938, is from the Hitler Youth, it says: 'Beteiligungs Urkunde - Harald Fritsche - hat diese Urkunde durch die Teilnahme am Berufswettkampf aller schaffenden Deutschen erworben' (Participation certificate - Harald Fritsche - has acquired this certificate through participation in the professional competition of all working Germans).]