In 1941 Joyce stated 'I, William Joyce, left England because I would not fight for Jewry against Adolf Hitler and National Socialism.
I left England because I thought that victory which would preserve existing conditions would be more damaging to Britain than defeat.'

____________________________________________________

[Below: A young William Joyce.]
____________________________________________________
[Below: William Joyce, bold and ready for the world.]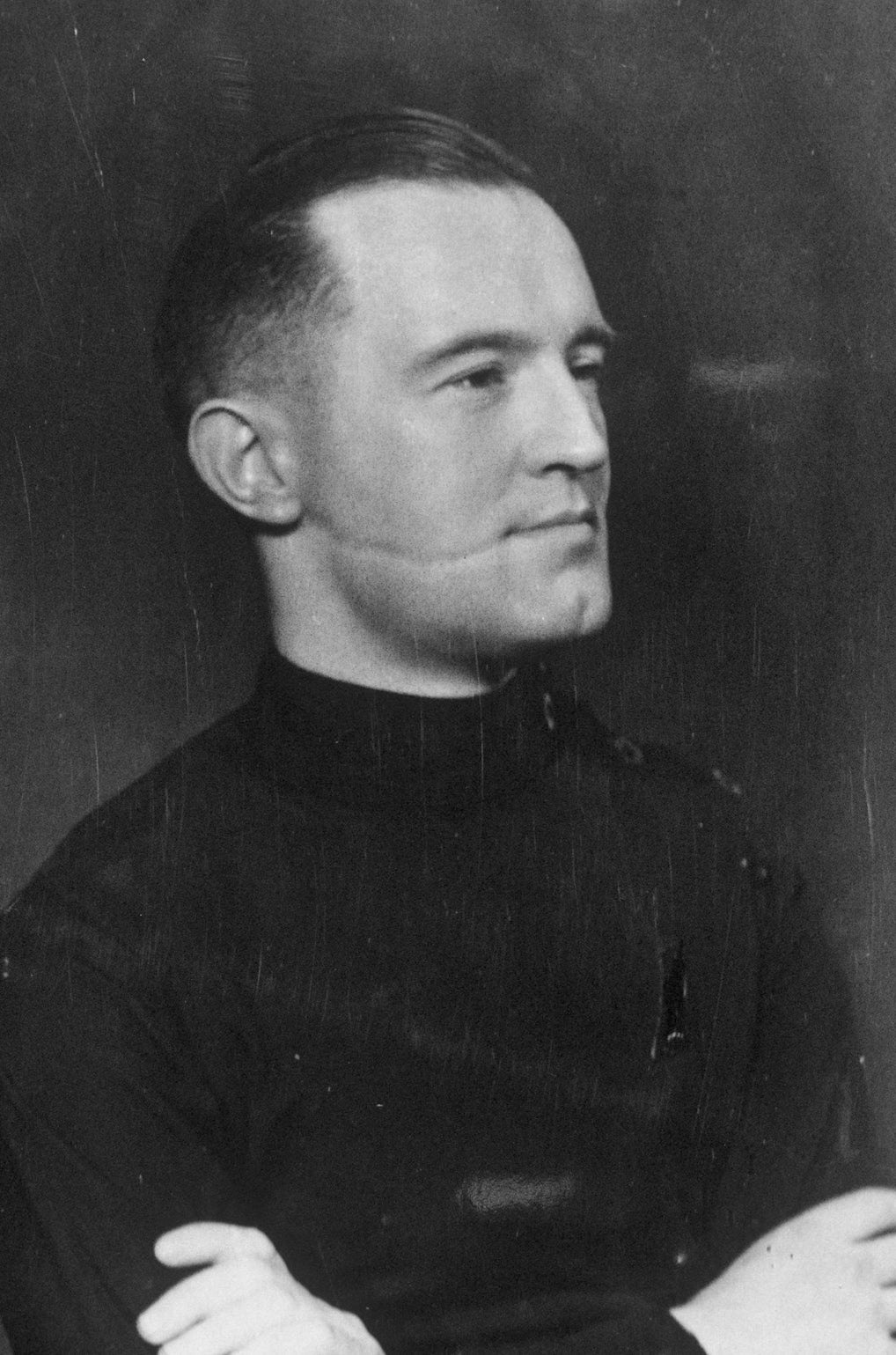 ____________________________________________________
[Below: Joyce's scar was from a communist who cowardly tried to slice his throat without warning.]
____________________________________________________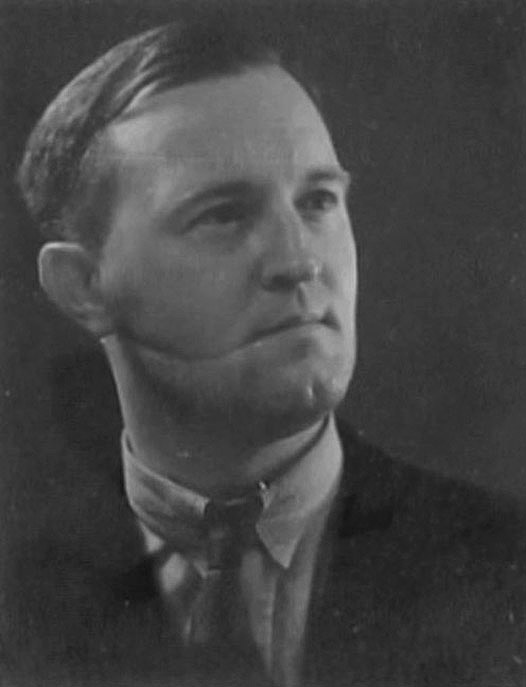 ____________________________________________________
[Below: William Joyce's German passport.]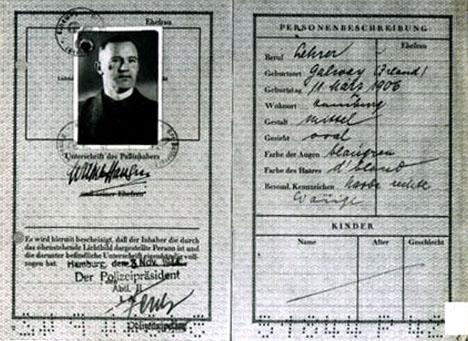 [Below: German passport variation.]

____________________________________________________
[Below: William Joyce calling to his fellow countrymen... WAKE-UP!]
____________________________________________________
____________________________________________________
[Below: William Joyce had exceptional public speaking skills, he would often be a substitute speaker for Oswald Mosley.]
____________________________________________________

'If war breaks out, I will fight for Hitler since such a war would be against Jewry'
-William Joyce, National Socialism Now, 1937

____________________________________________________
____________________________________________________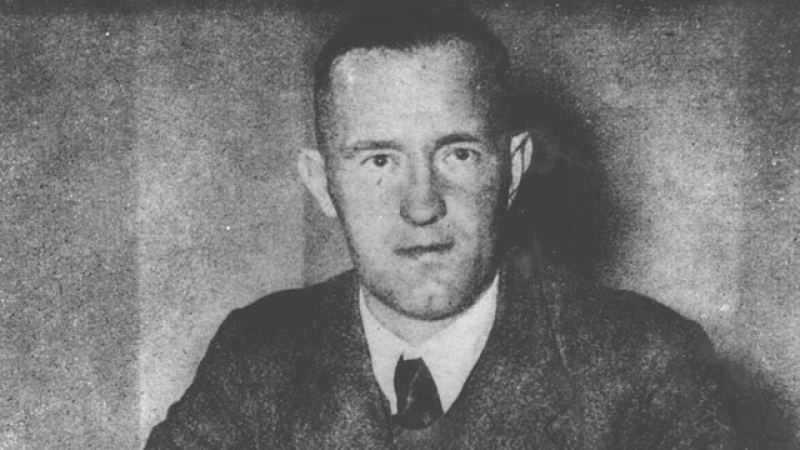 ____________________________________________________
[Below: Oswald Mosley and William Joyce in better days (Joyce on far left).]
____________________________________________________
[Below: William Joyce (front row, far right).]
____________________________________________________
[Below: William Joyce.]
'It is well to realize that Jewish finance is as bent on the enslavement of the British people as of the German. The military power of England, the spurious jingoism engendered by the Jewish need for military defenders and sacrifices of the British military forces all play their part today. But in the event of British victory all this synthesized nationalism will be destroyed in a few months. The supreme fact of world politics today is that the Jews want no nationalism but their very own.'
-William Joyce
____________________________________________________
[Below: William Joyce.]
____________________________________________________
[Below: William Joyce.]
____________________________________________________
[Below: William Joyce in front of the Reichs Chancellery in Berlin.]
____________________________________________________
[Below: Full photo]
____________________________________________________
____________________________________________________
[Below: A defiant William Joyce.]
____________________________________________________
[Below photos: William Joyce, circa 1945, after his capture on May 28, 1945 by British soldiers. A Jewish interpreter shot him through both legs for 'reaching into his pockets'... he was producing his I.D. card! He remained a defiant supporter of Adolf Hitler until his end, less than one year later.]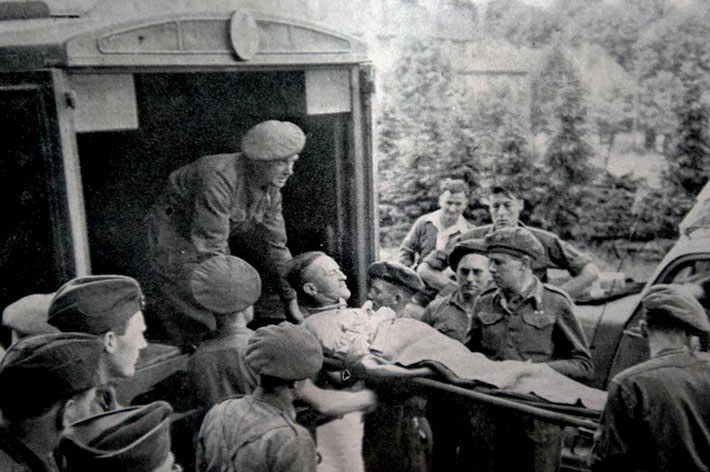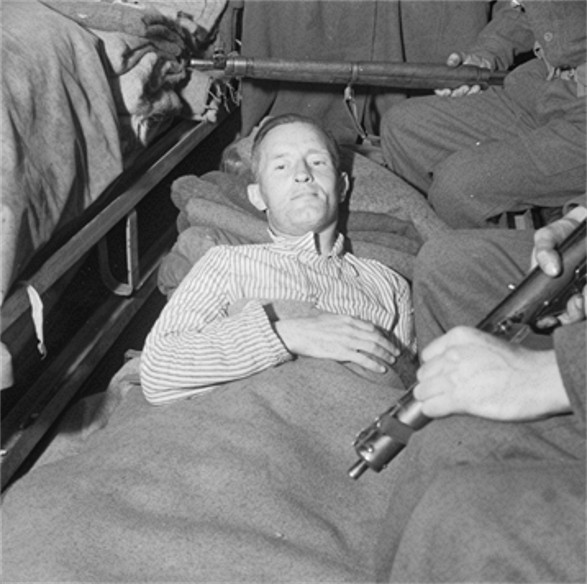 [Below: Close-up]
[Below: The Evening Telegraph, May 29, 1945]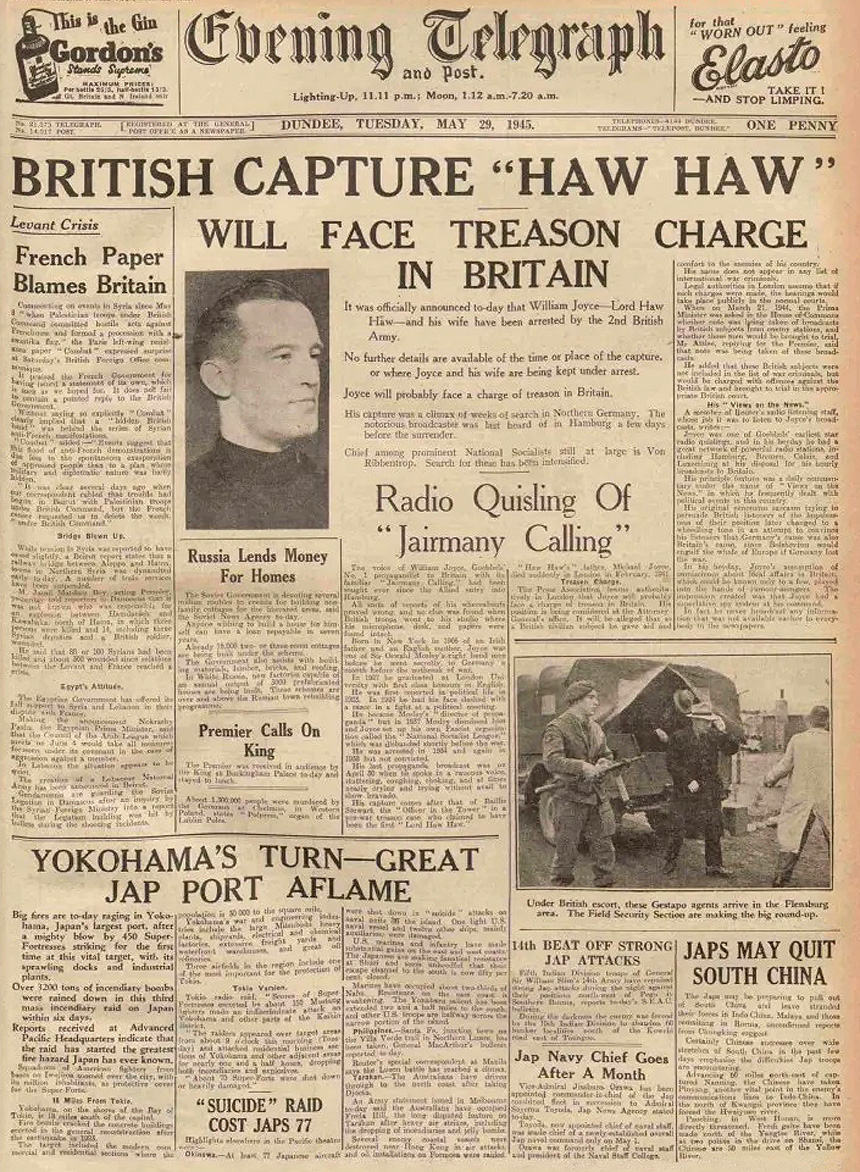 ____________________________________________________
[Below: A car carrying William Joyce leaving the House of Lords after his appeal was predictably adjourned.]
____________________________________________________
[Below: The grave of the great William Joyce.
'DONA EIS REQUIEM' means 'GRANT THEM REST'...]
____________________________________________________
William Joyce was born in Brooklyn, New York in 1906. His parents moved to Ireland when he was three and later to England.
In 1923 he joined the 'British Fascisti LTD', a political party in Britain. He was described as a 'Brilliant writer, speaker and exponent of policy...addressing hundreds of meetings, always at his best, always revealing the iron spirit of fascism in his refusal to be intimidated by violent opposition.' He spent much of his early life street fighting his ideological enemies in Britain.
In 1933 he joined the 'British Union of Fascists.' He became Sir Oswald Mosley's Chief of Propaganda. Even his opponents described his words as 'powerful and moving.'
In 1934 he addressed a rally of 12,000 in Albert Hall. Horst Wessel Lied was played with English words by a brass band.
In 1937 he left the B.U.F. and founded the National Socialist League.
Also in 1937 he married the love of his life, Margaret, a fellow National Socialist, who would stick by him to the bitter end.
In August of 1939 his wife and he moved to Berlin. Later that year on September 19, 1939, the 'Reichsfundfunk', the German state broadcasting agency hired Joyce. The couple then moved to Charlottenburg, a Berlin suburb. That Christmas he recieved Christmas presents from Goering and Goebbels!
In September 1940 he became a German citizen and gave up his British citizenship.
While living in Berlin that same year (1940) he wrote the book 'Twilight over England.'
He spent the remaining war years loyal to his beliefs, tirelessly promoting the ideals of National Socialism to the English speaking world. His broadcasts were almost as popular in England as the BBC!
On April 30, 1945, he made his final broadcast, as the world burned around him. Goebbels knew that Britain would seek vengeance against him and his wife for speaking against them, so one of his final orders was: "The Joyces are at all costs to be kept out of Allied hands." The couple were issued false passports, and plans were made for them to escape to Ireland in a U-boat. Unfortunately, as many plans in those awful days, these plans fell through.

The two instead went into hiding in the northern German countryside. Although it was like Armageddon for them, the two enjoyed one another's company, for at last they had time for love, their terrible battle over. Margaret remembered these times fondly, remembering William as being very 'sweet', their hours spent sitting in the forest -- remembering the good old days, and awaiting the end.

The two had first met at a British fascist rally in 1935. It was love at first sight, William proposed a few short weeks later. During their work in Germany both had been awarded medals by Hitler: he the Cross of War Merit, her the Civil Merit Medal.
[Above: The War Merit Cross]
He was captured on May 28, 1945 by British soldiers. Since he was born in America, Britain could not try him for treason, although they tried. On the first two counts of treason he was found not guilty. But his enemies were determined to see him dead. They raised another preposterous allegation and found him guilty of 'Adhering to the King's enemies elsewhere than in the King's realm.'

The historian Nigel Farndale revealed evidence that suggested a deal was struck between Joyce and the British intelligence service, MI5. The deal: William Joyce's silence for his wife's life, who was also in captivity at the time. They knew they had nothing on him, so they used threats and intimidation. William loved Margaret, and they knew it.

The day after William was murdered his wife was told by the governor of Holloway Prison that she must pack up her belongings. What little belongings she had that is, most of her things had already been stolen by 'souvenir hunters'.

She was ordered "returned to the Continent", the governor said, where he didn't know. The next morning she was driven under armed escort to Croydon airport for a flight to a military prison in Brussels. Two weeks later, Major J. F. E. Stephenson of MI5 sent a memorandum to the head of the British Intelligence Bureau there. It read:
'It has been decided by the authorities in the UK not to prosecute this woman, in effect on compassionate grounds. There is no lack of evidence implicating her in the treasonable activities of her late husband; but the authorities do not think she need be punished further, and would like her to be returned to Germany as a German subject.'

The official reason Margaret was not tried and hanged along with her husband: she was a German citizen! What hypocrisy! To admit that Margaret was a German citizen is to admit that William was also!
The murderous judge who sentenced Joyce to death said:
"William Joyce, the sentence of the court upon you is that you be taken from this place... to a place of execution, and that you be there hanged by the neck until you be dead... And may the Lord have mercy on your soul."

A few days before he was murdered, on December 28, 1945, he wrote a letter to his friend Miss Scrimgeour:
'I trust, like you, that the works of my hand will flourish by my death; and I know that there are many who will keep my memory alive. The prayers which you and others have been saying for me have been and are a great source of strength to me: and I can tell you that I am completely at peace in my mind, fully resigned to God's will, and proud of have stood by my ideals to the last. I would certainly not change places either with my liquidators, or with those who have recanted. It is precisely for my ideals that I am to be killed. It is the force of ideals that the Hebrew masters of this country fear; almost everything else can be purchased by their money: and, as with the Third Reich, what they cannot buy, they seek to destroy: but I do entertain the hope that, before the very last second, the British public will awaken and save themselves. They have not much time now.'

Just days before his death, on New Year's Day, 1946, he wrote his beloved wife and comrade:
'As I move nearer to the Edge of Beyond, my confidence in the final victory increases. How it will be achieved, I know not: but I never felt less inclined to pessimism, tho' Europe and this country will probably have to suffer terribly before the vindication of our ideals...'
On January 3, 1946, he was executed. He was forty years old. He was the second to the last person hanged in the U.K. for a crime other than murder. They actually brought back the death penalty specifically to murder him.
Before dying for his beliefs, he wrote:
'In death as in life, I defy the Jews, who caused this last war, and I defy the power of darkness which they represent. I warn the British people against the crushing Imperialism of the Soviet Union. May Britain be great once again and in the hour of greatest danger in The West, may the standard be raised from the dust, crowned with the words - You have conquered nevertheless. I am proud to die for my ideals and I am sorry for the sons of Britain who have died without knowing why.'

During his hanging his prominent scar burst open in a gory display. Blood ran down his body and pooled at his feet.

His last words before being murdered were: 'Not guilty'

____________________________________________________

[Below: William Joyce's book 'Twilight Over England'. It was written in 1940 and published the same year in September. The English edition ran 100,000 copies, intended to be released in American and India. It was also released in Swedish and German. Twilight Over England was also distributed in P.O.W. camps. Below is a German release.]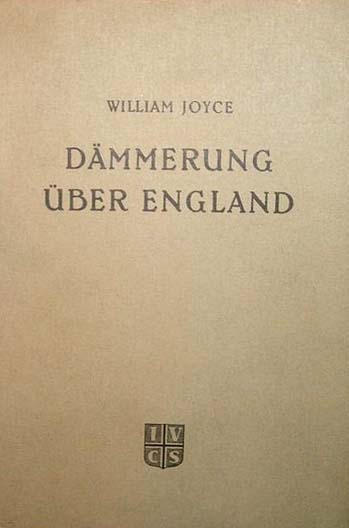 Read Twilight Over England by William Joyce
Read a booklet written in 1933 by William Joyce
Read a booklet written in 1937 by William Joyce