'Fascism promises neither glory nor titles nor gain – only duty and struggle.'
-Benito Mussolini

[Below: A young Benito Mussolini mugshot, 1903.]
____________________________________________________
[Below: Benito Mussolini in 1911.]
____________________________________________________
[Below: The early years.]
____________________________________________________
[Below: Mussolini was an accomplished violinist.]
____________________________________________________
[Below: Mussolini in 1930, courtesy of the Bundesarchiv.]
____________________________________________________
[Below: Benito Mussolini with his wife Rachele and their children.]
[Below: Benito and Rachele.]
____________________________________________________
[Below: Signed photograph of Mussolini while yachting, signed on September 10, 1931.]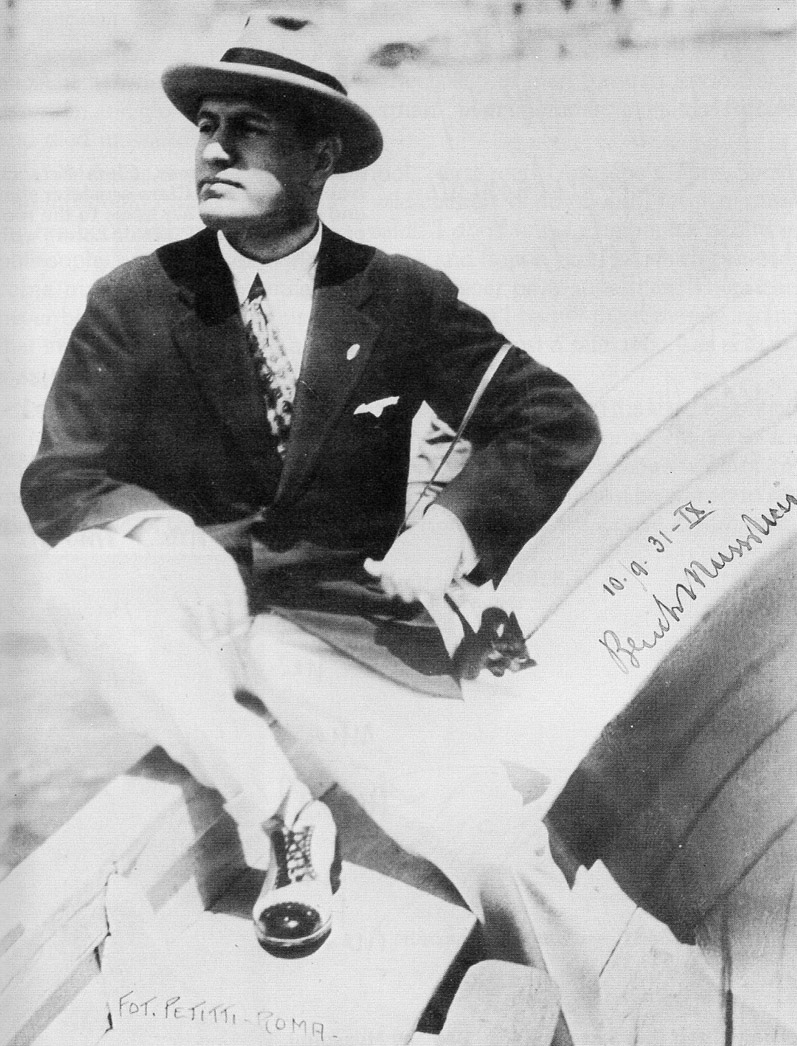 ____________________________________________________
____________________________________________________
____________________________________________________
____________________________________________________
____________________________________________________
____________________________________________________
____________________________________________________
[Below: Mussolini with other fascist party members.]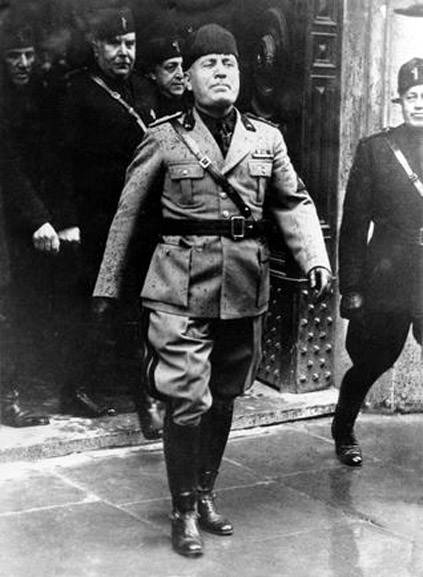 ____________________________________________________
[Below: Mussolini with farmers, taking part in the first threshing of the wheat in Latina (central Italy).]
____________________________________________________
[Below: Mussolini, 1926.]
____________________________________________________
[Below: Benito Mussolini with his wife Rachele. Behind them are his traitor son-in-law Galeazzo Ciano and his daughter Edda.]
____________________________________________________
[Below: Benito Mussolini.]
____________________________________________________
[Below: Benito Mussolini.]
____________________________________________________
[Below: Benito Mussolini.]
____________________________________________________
[Below: Benito Mussolini.]
____________________________________________________
[Below: Benito Mussolini.]
____________________________________________________
[Below: Benito Mussolini with fellow Italian fascists on the historic March on Rome in 1922.]
____________________________________________________
[Below: Benito Mussolini with fellow Italian fascists.]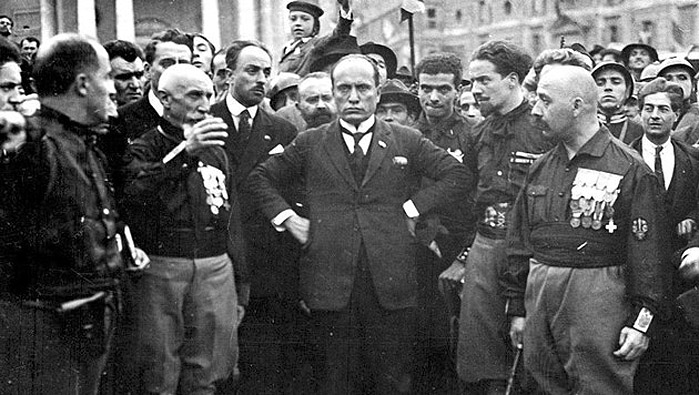 ____________________________________________________
____________________________________________________
[Below: Benito Mussolini.]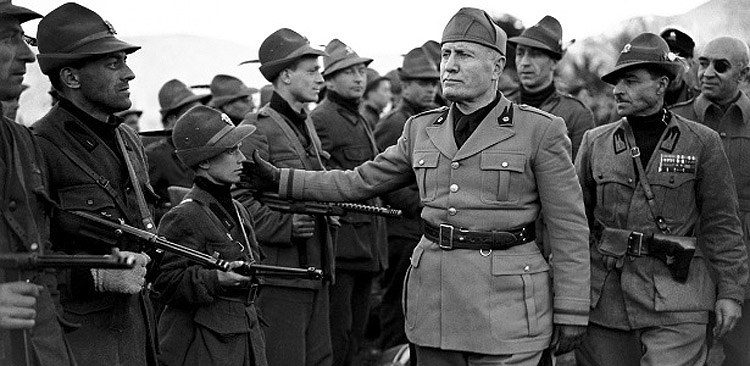 ____________________________________________________
[Below: Benito Mussolini.]
____________________________________________________
[Below: Benito Mussolini.]
____________________________________________________
[Below: Benito Mussolini on the balcony of the Palazzo Venezia.]
____________________________________________________
[Below: Benito Mussolini.]
____________________________________________________
[Below: Benito Mussolini with soldiers.]
____________________________________________________
[Below: Benito Mussolini.]
____________________________________________________
[Below: Benito Mussolini.]
____________________________________________________
[Below: Benito Mussolini.]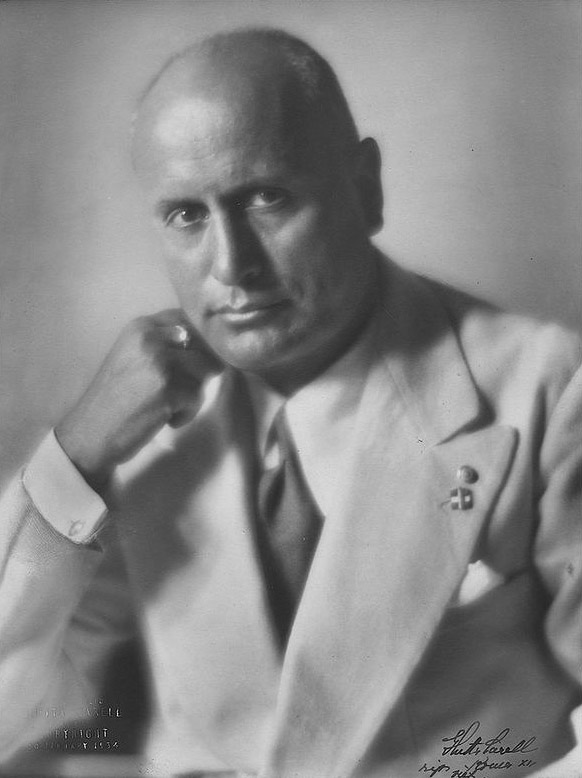 ____________________________________________________
[Below: Mussolini visits a wounded soldier.]
____________________________________________________
[Below: Benito Mussolini, 1944. Courtesy of the Bundesarchiv.]
____________________________________________________
[Below: Benito Mussolini.]
____________________________________________________
[Below: Benito Mussolini.]
____________________________________________________
[Below: Benito Mussolini.]
____________________________________________________
[Below: Benito Mussolini with Hermann Göring and others.]
____________________________________________________
[Below: Benito Mussolini with Hermann Göring and his wife.]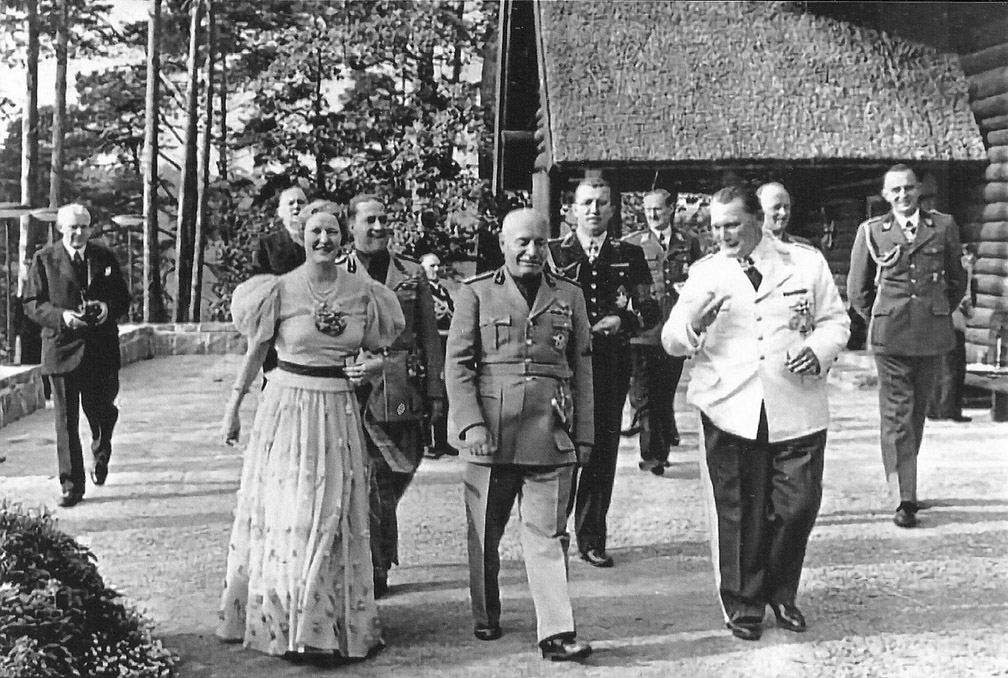 ____________________________________________________
[Below: Benito Mussolini with Hermann Göring's wife Emmy, 1937.]
____________________________________________________
[Below: Italian Fascist Women's Militia march past Benito Mussolini, 1939.]
____________________________________________________
[Below: ...]
____________________________________________________
[Below: Benito Mussolini enjoying fencing.]
____________________________________________________
[Below: Benito Mussolini enjoying fencing.]
____________________________________________________
[Below: Benito Mussolini in fencer's attire.]
____________________________________________________
[Below: Benito Mussolini inspecting fortified positions, 1944.]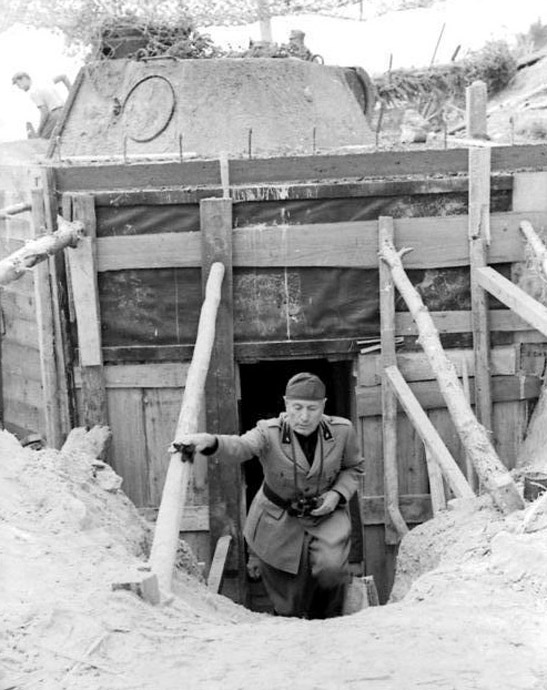 ____________________________________________________
[Below: Benito Mussolini with his son.]
[Below: Here is a postcard version of the above photo, with an added Mussolini signature fascimile.]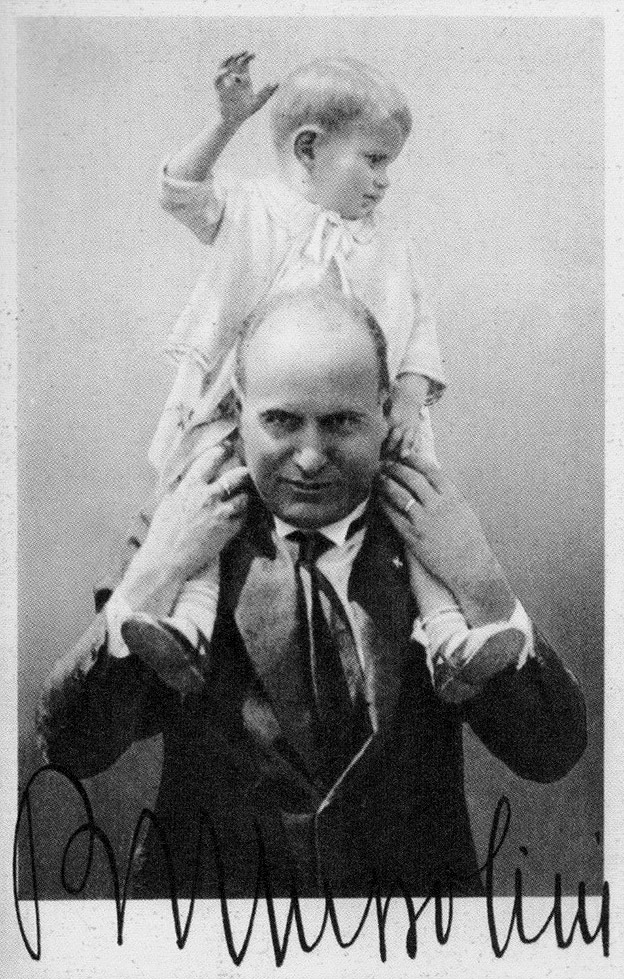 ____________________________________________________
[Below: Bruno and Vittorio, Benito Mussolini's sons.]
____________________________________________________
[Below: Benito Mussolini and family.]
____________________________________________________
[Below: Benito Mussolini with two of his sons, Bruno (left) and Vittorio, 1935.]
____________________________________________________
[Below: A stern Benito Mussolini presides over a meeting of the 'Chamber of Fasces and Corporations'.]
____________________________________________________
[Below: ...]
____________________________________________________
[Below: ...]
____________________________________________________
[Below: ...]
____________________________________________________
[Below: ...]
____________________________________________________
[Below: One of the last photos of Benito Mussolini.]
____________________________________________________
[Below: This is believed to be the last photo of Benito Mussolini, taken April 25, 1945, at the Prefecture of Milan.]
____________________________________________________
[Below: Mussolini with Daluege, Heydrich, Himmler and Wolff.]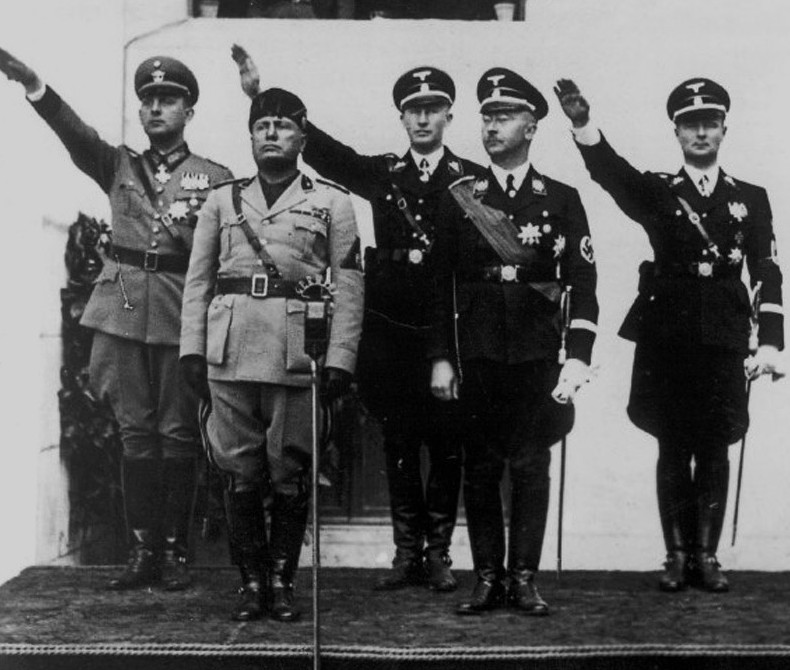 ____________________________________________________
[Below: Mussolini with Daluege, Heydrich, Himmler and Wolff.]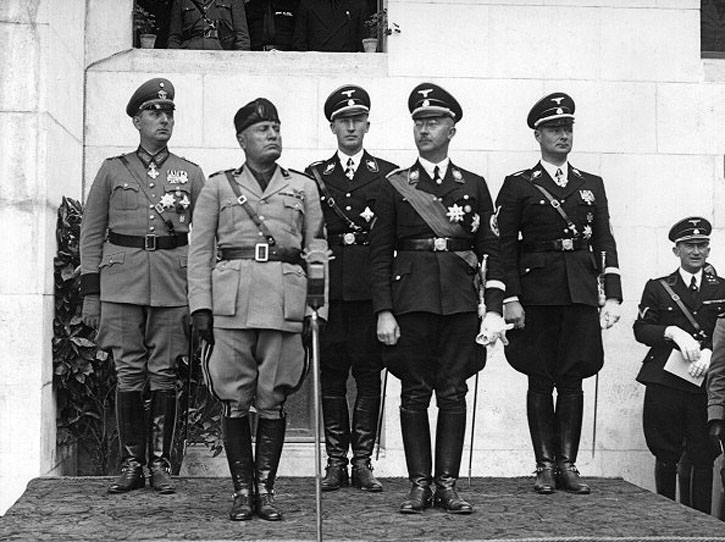 ____________________________________________________
[Below: Mussolini with Rommel.]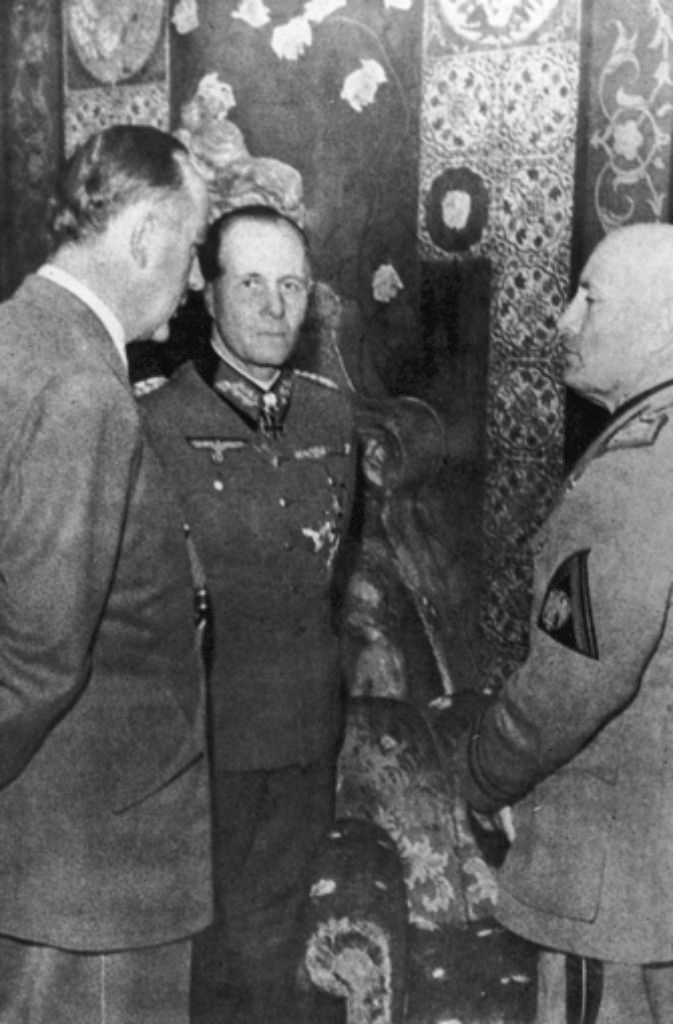 ____________________________________________________
[Below: ...]
____________________________________________________
[Below: I love this picture in the rain. Mussolini's wife, Rachele, is on the far left.]
____________________________________________________
[Below: Mussolini is seen here on horseback.]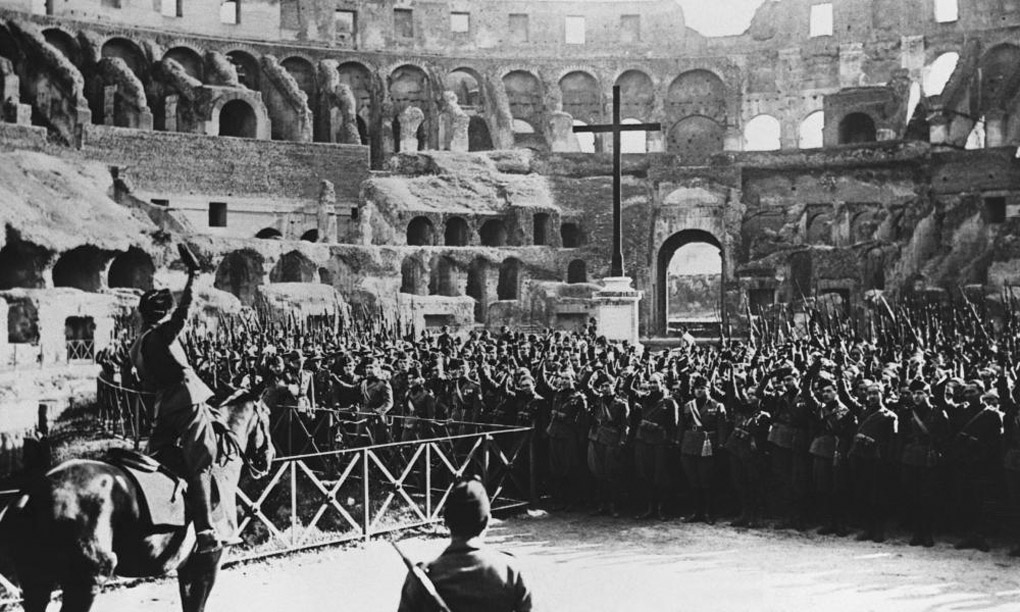 ---
Pictures with Adolf Hitler
---
[Below: Adolf Hitler is seen here on a visit to Italy wearing an honorary Italian dagger and fascist patch on his sleeve.]
____________________________________________________
____________________________________________________
____________________________________________________
____________________________________________________
____________________________________________________
____________________________________________________
[Below: ...]
____________________________________________________
[Below: ...]
____________________________________________________
[Below: ...]
____________________________________________________
[Below: ...]
____________________________________________________
[Below: ...]
____________________________________________________
[Below: ...]
____________________________________________________
[Below: Adolf Hitler shows Mussolini the bomb damage from the cowardly July 20, 1944 assassination attempt.]
____________________________________________________
[Below: Friends until the bitter end. April 1943. Courtesy of the Bundesarchiv.]
____________________________________________________
[Below: A meeting of titans...]
____________________________________________________
[Below: ...]
____________________________________________________
[Below: ...]
____________________________________________________
[Below: Adolf Hitler and Mussolini with Army Group South, August 28, 1941. From left: General Ugo Cavallero, Benito Mussolini, Adolf Hitler, Field Marshal Gerd von Rundstedt and Colonel-General Alexander Löhr.]
____________________________________________________
[Below: September 29, 1938. Courtesy of the Bundesarchiv.]
____________________________________________________
[Below: Adolf Hitler, Mussolini and von Rundstedt in Russia. Courtesy of the Bundesarchiv.]
____________________________________________________
[Below: ...]
____________________________________________________
[Below: ...]
____________________________________________________
[Below: Adolf Hitler and Mussolini reviewing fascist troops.]
____________________________________________________
[Below: ...]
____________________________________________________
[Below: ...]
____________________________________________________
[Below: ...]
____________________________________________________
[Below: Adolf Hitler, Mussolini and Ciano.]
____________________________________________________
[Below: ...]
____________________________________________________
[Below: ...]
____________________________________________________
[Below: ...]
____________________________________________________
[Below: ...]
____________________________________________________
[Below: ...]
____________________________________________________
[Below: A cool and rather rare photo of Hitler and Mussolini and others.]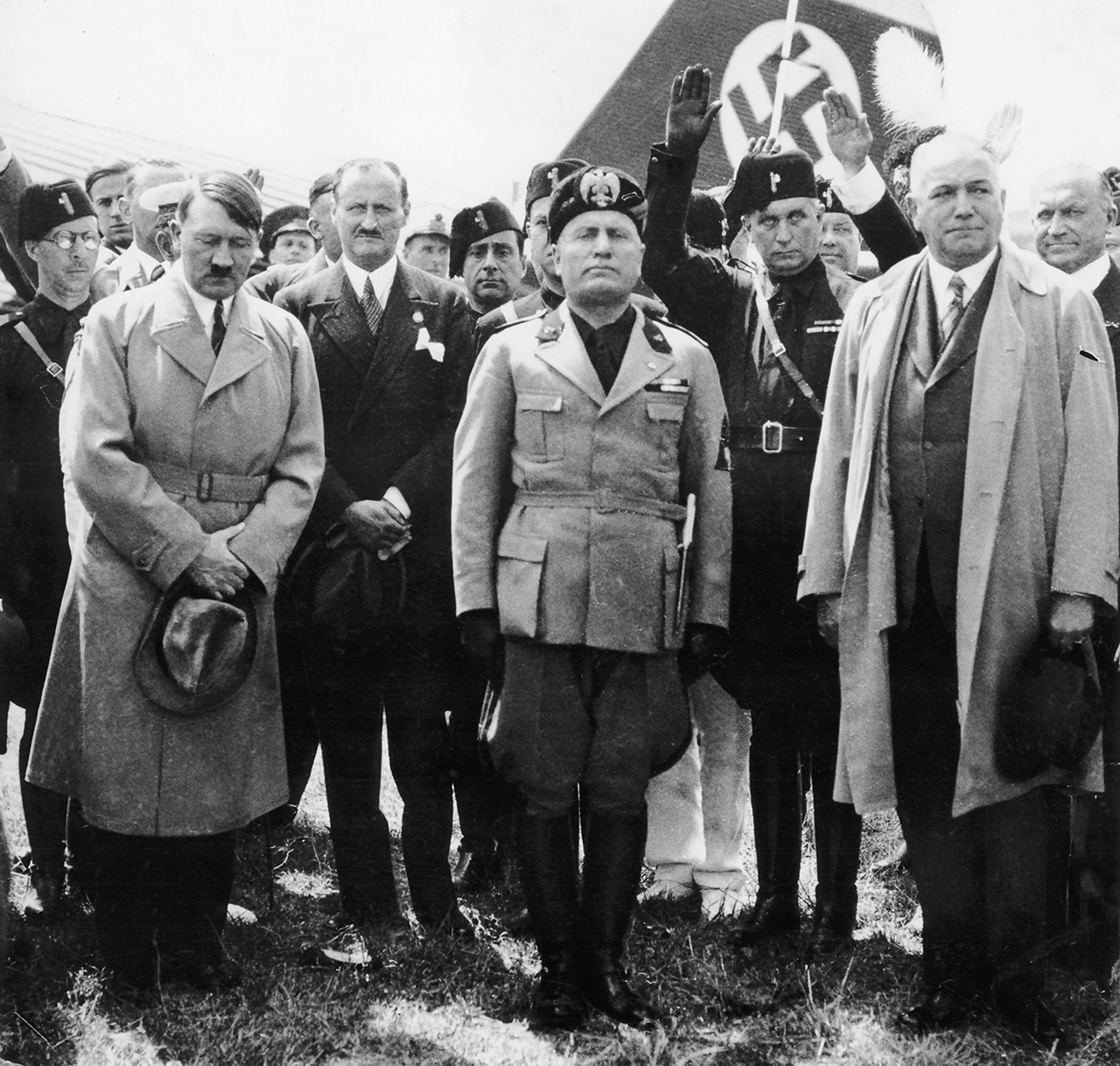 ---
Pictures with Mussolini during his rescue by Otto Skorzeny, September 12, 1943...
Benito Mussolini later recalled his imprisonment to Otto Skorzeny:
'I was guarded heavily and watched day and night. The carabinieri sent the population away and were themselves rotated often, out of fear that they would be too friendly toward me. The food was terrible, but they allowed the locals to secretly bring me fruit. By night the police patrolled with trained dogs. I myself thought of Italy, of those continuing the struggle, of my family and everyone I loved - but also of the ingratitude of man. I was convinced that you, the Germans, would not abandon me. But how were you to pick up my trail? A stairway led to the small house down to the Tyrrhenian Sea, whose waves lapped the bottom steps. The day of July 29 seemed especially long to me: it was my sixtieth birthday. I scanned the horizon, always expecting to see an enemy battleship appear...'
[My Commando Operations: The Memoirs of Hitler's Most Daring Commando, page 243, by Otto Skorzeny, Schiffer Miltary History 1975/1995]
At the moment of Mussolini's daring rescue, Skorzeny told him he was there to rescue him on the orders of Adolf Hitler...
'He shook my hand and hugged me, with the words, "I knew that my friend Adolf Hitler would not leave me in the lurch!" Benito Mussolini was extremely moved and his black eyes glistened. I must confess that this was one of the greatest moments in my life.'
[My Commando Operations: The Memoirs of Hitler's Most Daring Commando, page 268, by Otto Skorzeny, Schiffer Miltary History 1975/1995]
Adolf Hitler himself called Skorzeny after he brought Mussolini to safety:
'I took the receiver and heard Hitler's voice:
"...Not only have you successfully concluded an act unique in military history, Skorzeny, but you have also returned a friend to me. I knew that if anyone could do it, it was you. I have promoted you to SturmbannFührer of the Waffen-SS and awarded you the Knight's Cross. I know that you are wearing it already, for I gave the order that they were to present it to you immediately...'
[My Commando Operations: The Memoirs of Hitler's Most Daring Commando, page 273, by Otto Skorzeny, Schiffer Miltary History 1975/1995]
Mussolini later dedicated a photo to Otto Skorzeny, which read:
'To my friend Otto Skorzeny, who saved my life. We will fight for the same cause: for a united and free Europe.'
[My Commando Operations: The Memoirs of Hitler's Most Daring Commando, page 279, by Otto Skorzeny, Schiffer Miltary History 1975/1995]
Also of interest, after Mussolini was captured after the traitorous coup, German troops were very eager and ready to help him. German troops occupied South Tyrol and penetrated into Italy in swift and able movements. Spectacularly 'The trains transporting the troops were gilded with writings praising Mussolini and pictures of the fallen dictator.'
[Bianchi (1963), p. 713]
---
[Below: Courtesy of the Bundesarchiv.]
____________________________________________________
[Below: Courtesy of the Bundesarchiv.]
____________________________________________________
[Below: Courtesy of the Bundesarchiv.]
____________________________________________________
[Below: ...]
____________________________________________________
[Below: Courtesy of the Bundesarchiv.]
____________________________________________________
[Below: Courtesy of the Bundesarchiv.]
____________________________________________________
[Below: ...]
____________________________________________________
[Below: ...]
____________________________________________________
[Below: The heroic men involved in Mussolini's freedom.]
____________________________________________________
[Below: Bronze heads of Benito Mussolini and King Victor Emmanuel III, locked away in the basement of the Palazzo degli Uffici.]
____________________________________________________
[Below: This bust of Mussolini was done by artist Antonio Morera.]
____________________________________________________
[Below: Mussolini's signature, Rome, August 29, 1931.]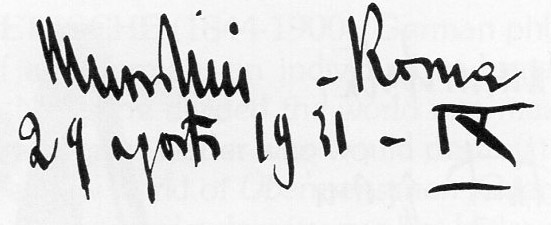 ____________________________________________________
[Below: Mussolini's crypt at San Cassiano Cemetery in Predappio. Predappio is Mussolini's birthplace and is a town in the province of Forlì-Cesena, in the region of Emilia-Romagna in Italy, with a population of a little over 6,000. Thousands of people from all over the world come each year to pay their respects.]