The following interview is done with Sucoth Benoth and Murmúrio and was originally done for the 'zines Garm/Cry of the Wolf (Germany).
*Special thanks to the editor W. Wolf
---
Circa 2015
If I can remember correctly I got my first AMEN CORNER CD, an unknown Brazilian band to me at the time, back in the end of the 90s/beginning of 2000 from an order from Iron Pegasus Rec. here in Germany. It was the Cogumelo CD-release from 1994 of their "Fall, Ascension, Domination" debut-album with the four extra tracks of the "The Final Celebration"-EP. The album was pure Black Metal with an unmistakable atmosphere in the spirit of the 80´s Black Metal. Even the next releases of the band were true masterpieces of Black Metal art. Here I have now the honor to interview Marcelo / Sucoth Benoth and Tito / Murmúrio, founders of the band back in 1992.
---
1. Blackest Regards from Germany, thanks to you two for this kind of special interview. Let's begin to talk about your latest releases "Christ Worldwide Corporation", which was your fourth full length album and released by Cogumelo Rec. The new release has great artwork and contains a poster, the normal CD with nine songs plus enhanced elements like a documentary and the official video of the song "Leviathan Destroyer" and a DVD which includes twelve live-shows from the past (1993 - 2011). Besides the normal line-up the guest musicians behind the album are Caos (ex-CAMOS, HECATOMB), Angel (ex-VULCANO), Moloch (DOOMSDAY CEREMONY), Ashmedai (DUNAMYS) and Meburack Baal (DARK SONGS OF MEGIDDO).
Looks like Cogumelo did a fantastic job for this release, so how satisfied are you about the release of "Christ Worldwide Corporation" and the works of Cogumelo?
Sucoth Benoth: Hail brother! At first of all, it's a honor to answer the interview. We are so happy with the release of "Christ Worldwide Corporation" and with our label Cogumelo Records and for all the support provided. In the new album, we have the guests of some friend musicians that further enrich our music. As a 20th year release, we decided to release a DVD within the release and the final work was excellent.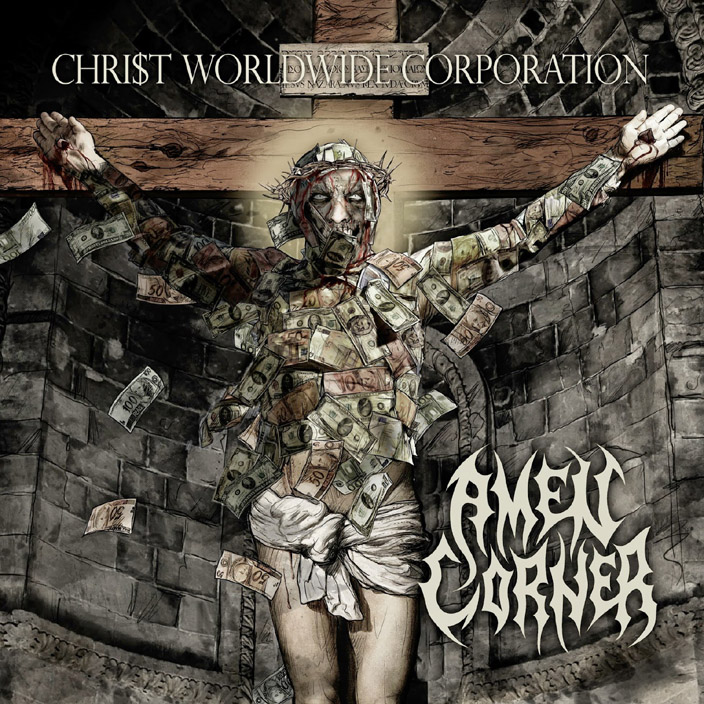 [Above: Christ Worldwide Corporation - 2014]

1.1. Cogumelo was in the past your first and second label and is still your label for the latest releases. About the "Darken in Quir Haresete" Ep which you released through Demise Rec. and your official third full length-album "Lucification" released by Maléficas, why did you change labels? What happened with the deal with Cogumelo from that time? Because not all bands or people from Brazil left good words about Cogumelo in the past, so I wonder what happened with AMEN CORNER from that time.

Sucoth Benoth: After the release of "Iachol Ve Tehilá" by Cogumelo the band was suspended till 1998 when we received a very good offering from Demise Records to release "Darken in Quir Haresete" and with that we decided for a new label and a new experience, which worked fine. After "Darken in Quir Haresete" in 1999, I participated in the releases and shows till 2000, after that I was away from Amen Corner and formed my own band called Camos. Since 2000 to 2007, I was not performing any work and I was not in the band, but returned in 2008. We're now in contact with our former label Cogumelo Records and we again work together as a partner.

1.2. About Demise Records, owned by Wilson Junior who played in the band IN MEMORIAN, I haven't heard good words about either ( I heard that he ripped off a lot of people and bands). By the way, IN MEMORIAN was a good Death Metal band beginning and middle 90s… How were your experiences with Demise Rec.? Did you had any problems with him or his works from that time?

Sucoth Benoth: We of Amen Corner do not have any problem with him. All was dealt with and performed in the rules of our contract with them. I've heard these rumors that other bands have had problems with Demise Records, but that is not our case.
[Above: In Memorian - Insantification - (1996)]

2. Back to "Christ Worldwide Corporation", how have the reactions to the album been?

Sucoth Benoth: We have received excellent reviews by our fans and the media itself, some even considered the it the best album ever from the band since the beginning. We are very satisfied with that result.

2.1. The artwork with the "Money-Je$u$" are a fantastic work by Anderson L.A.… Marcelo you are behind the anti-Christian and Luciferian lyrics of the band for this album, so what can you say about the lyrical background and the concept behind "Christ Worldwide Corporation"?

Sucoth Benoth: Natureza Morta's Anderson developed an excellent work of graphic design. I wrote all the lyrics and in that album I wished to attack directly the religious sect which has spread over the entire world -- the Pentecostal and Neo Pentecostal, which are the ones that take advantage of human misery to enriches themselves. Christianity is shit! Ave Lucifer 666!

3. Lets talk about the past, Marcelo you were active in the band INFERNAL until you left in 1991 after the release of three demos and before the release of the debut-album "Chalice of Sin" in 1993. So INFERNAL was your first musical activity and band, how much influence did you have in that band and what can you say about that time and the three demos?

Sucoth Benoth: As a matter of fact, Infernal was my former band. From 1987 until 1991 we released some demo tapes and one 7" Ep. But in that time I was too involved with Black Metal, so I wanted to change. The opportunity arose in 1992 when I left Infernal and joined Amen Corner.

3.1. INFERNAL was active from 1986 until 2008. After you left the band, did you still have contact with the other band-members? What do you think about their other releases? Or did you lose interest in the band after you left the band back in 1991?

Sucoth Benoth: I was so concentrated on Amen Corner that I totally lost all my interest in the band.

4. AMEN CORNER formed back in 1992; you two are the "only" founding members of the band -- Marcelo you left the band once, but lets talk later about that. In the past the band had a lot of line-up changes, especially in the positions of drums which have been filled by seven members and bass player by five members. Are there any special reasons why so many members left the band?

Sucoth Benoth: The most important reason for all these changes was the lack of commitment with Amen Corner itself. That in mind, we must always ask for people that honor the band's name and spill their blood for the band.

4.1. From the first line-up of 1992 there was Paulo Costa on Drums and Mane Flach on Bass; do you know what they have done after they left the band? Were they still active or did they leave the Metal scene after they left AMEN CORNER?

Sucoth Benoth: We have no contact with them at all, but I was informed that they have no contact with the Metal scene any more.
[Above: Amen Corner]

5. In the first three years of your existence you published the first demo "Eternal Prophecies" in 1992 and one year later a "Rehearsal"-tape and your first album "Fall, Ascension, Domination", and in 1994 "The Final Celebration" with four songs. How hard was it to create your first works, songs and your debut-album?

Sucoth Benoth: As a matter of fact, it was not hard! All was second nature, we had wild feelings to compose and record new tracks, with much vodka on our minds and Satan in ours hearts.

5.1. Back in the day when publications or information through the internet or other media didn't exist we had to get information or new underground releases from talking to other people, magazines, fanzines, tape-trading or handwritten letters. Do you have any special memories about these years and from that time?

Sucoth Benoth: Yes! I remember tape trading stuff with Hades from Norway, Varathron from Greece, Marduk from Sweden and much more. All through letters, internet didn't exist yet. It was a wonderful age.

5.2. About the present, I don't like to talk about the bad sides of the www, because we all know about them and that's not just from Edward Snowden and his revelations that gave us insight into the impact of global surveillance and the espionage practices of the intelligence services. Before the social networks, bands had their own web-pages for information and contact, but since Facebook and others bands prefer to use this kind of space. You are still having the web-site under www.amencorner.org. So how important and helpful for you are social networks and the internet in general for your musical activities and private life?

Sucoth Benoth: Espionage/etc. is a part of human kind since the last World Wars and there is nothing we can do about it. I consider the websites and social medias as a positive tool to disclose your work, as you yourself spoke about how much more difficult it was making global contacts. Nowadays I enter our website, for example, and see people worldwide visit us. It's a quick and easy way to show the world who you are and what you think.

6. In 1995 you released your second album called "Jachol Ve Tehilá", this album was marked with the text "This work is dedicated to one of biggest wizards that ever existed - Aleister Crowley, to the great Euronymous and Dead (for their ideals and fight for Black Metal). We would like to show our respect and admiration towards to the afro-Latin cults, to the honest occultists and historians, whom through hard work try to find out and rescue the hidden truth … We register our hate against … some boys that call themselves occultists, and they are only trying to spread discord, that shame the Black Metal and the really followers. Over every thing, we dedicate this work to "HIM", the prince of this world, the first one of the querobins."
What do you think nowadays about this statement and what's special about MAYHEM? Do you still follow their music, or did you stop listening to them after the death of Euronymous?

Sucoth Benoth: First of all, the latter part of our statement does not have a reference to any Norwegian or Nordic ones. That work was dedicated to the Sumerian gods, in other words; gods of war, of agriculture and richness, gods of love and procreation. We refer in that statement to ancient Hebrew kings who feared god, which in that time they knew stranger's cultures and envied them. They came to adore gods of another land and other kingdoms.
[Above: Amen Corner]

6.1. Have you ever been in contact with other bands or people from Europe, especially from Scandinavia in that time back in the 90s?

Sucoth Benoth: As I said earlier, I had contact with Marduk and Hades from Scandinavia. In those years I maintained contact with people and bands worldwide during the development of Black Metal itself.

6.2. Everybody who is even a little bit interested in Black Metal knows about the incidents like the defilement of graves, murders and church burnings in Norway / Scandinavia in the early / mid 90s, whether from stories, comments / statements in interviews, from books, etc. … What do you know about that?

Sucoth Benoth: I think that it was a justified action and reaction facing the invasion and desecration of the ancient culture and mythical roots of that people. All of us are anti-Christian beings and we are injured because of the spread of the Christian cancer that seeks to destroy ancient and rich ancient cultures.

6.3. Have you ever had problems there in Brazil with Christian institutions because of AMEN CORNER or any other blasphemies?

Sucoth Benoth: I never had any problem with these fools because a lot of them here are just a bunch of cowards and useless, they just speak and act from their stupid mouths. I remember a show where I ate some bible pages and afterwards a cop asked me: "Why did you eat the bible?" And so I answered him: "I was hungry!"

7. Back to music! In contrast of many other Black Metal bands you always created a variety in your songs with some slower, faster song sections and the creation of a morbid atmosphere that lets us see the creative potential of the band. It looks like you never like to create monotonous or senseless nonsense with your music. A good example is the opening song "Seventy Seven Guardians" which lets everybody hear how useful keyboards can be to create a mighty and dark atmosphere.
Where do you get the inspiration for your music? Do you think there is a special feeling needed to make this kind of music for a good Black Metal-release?

Sucoth Benoth: We always have the objective to perform dark and atmospheric music. Amen Corner prefers that kind of darkness and transcendental feelings...

8. Marcelo, after the release of "Darken in Quir Haresete" you left the band and formed the band CAMOS, tell me why you left AMEN CORNER? Was it more a personal decision to leave AMEN CORNER and to create something new with CAMOS? Because CAMOS sounds more in the traditional VENOM-Black Metal-style.

Sucoth Benoth: When I left Amen Corner in 1999 I formed Camos. One of the reasons was I didn't agree with some band members behavior, which was to promotes themselves upon the Amen Corner name.
So, I took that time to assembly my project called Camos. After that these pathetic guys were gone and I went back to the band.
[Above: Darken in Quir Haresete - 1999]

8.1. CAMOS is the name of the god of war and wealth for the ancient Moabites, people who lived in the desert and were the enemies of the Hebrews, why did you choose the name CAMOS for the band?

Sucoth Benoth: The name sounded good and the name Camos already was titled on the album "Iachol Ve Tehilá"... I already have an identity with the name and the god Camos.

8.2. With the band you released from the time 2000 until 2009 three demos and one CD-R, most material / songs from that got published on the only full-length album "Kaim 666" (Cogumelo) back in 2009.
What can you say about your time with CAMOS and about the releases? Why did you split-up with the band?

Sucoth Benoth: It was because of two reasons which forced me to stop the Camos work: First the guys in the band were drunks... they really drank a lot, much more than necessary and it affecting future works. Second, I always loved Amen Corner, even at a distance and when Murmúrio called me again and I saw that the aforementioned suckers were gone… I decided to come back.

8.3. CAMOS was not just your only band you created back in this time, you formed the band-project DARK SONGS OF MEGIDDO, which was more atmospheric music, with a morbid style like MORTIIS. Are you still active with this project?

Sucoth Benoth: Dark Songs of Megiddo was a project, but never more than this... It was created by me and Baal Anamelech. I didn't have the time to lead the project forward... that's the truth.

9. Murmúrio, in this time you found a new vocalist for the band, Lokiam Satanas War Commander (ex-DOOMSDAY CEREMONY, now PILLARS OF EMPIRE), but still needed seven years to come back with the album "Lucification", why was there this long time of silence?

Murmúrio: I resumed the band to perform some shows only, in those years we got together just once a month for rehearsals and to create some new songs and to record with this new line-up, we decided to release the CD "Lucification" with only 1000 limited copies.

9.1. What can you say about "Lucification"? How much was this album different with a new vocalist?

Murmúrio: Some tracks are faster and different from traditional Amen Corner style... and it works very fine! About the Lucification's vocalist he also wrote lyrics and I took the responsibility of the music compositions... which is not too different than the current way of the band.

10. Lokiam left the band and Marcelo you came back to AMEN CORNER in the beginning of 2008. You were back on stage with the live show in March 2008 with the bands MARDUK and VADER who were on a Brazilian tour at that time. How did it feel to come back to AMEN CORNER and to share the stage with bands like MARDUK and VADER?

Sucoth Benoth: Exactly! We were reborn! Great shows, great events. The sensation was the same sensation to as to see a friend that you have not seen for 20 years or to drink a cup of water after a week in the desert... It was an indescribable sensation!

10.1. MARDUK is one of the Scandinavian bands who never left their roots in my opinion! The band released at the end of last year their new opus "Frontschwein". Did you have the chance to listen to the album?

Sucoth Benoth: I agree with you... Marduk is Marduk but I have yet to have the pleasure to hear that album.

11. "Leviathan Destroyer" was released two years later and in the same year, Belial Songs and Impaled Records released an official tribute to AMEN CORNER called "The Return of the Sons of Cain". It featured thirteen bands from the Brazilian underground-scene.
What do you think about the AMEN CORNER-tribute and what are your favorite's cover-songs?

Murmúrio: It really was a great honor for us, not just for the homage but also because the quality of the work itself. The bands' performances were very good. Congratulations to all!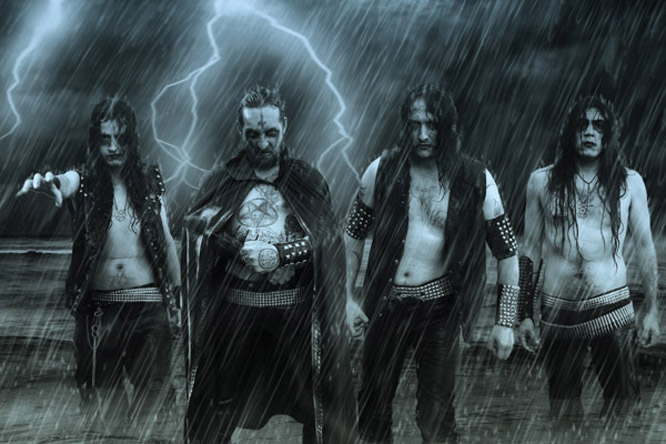 [Above: Amen Corner]

12. In the beginning I already mentioned "Christ Worldwide Corporation", but this album was not the only release from 2014 that had the name AMEN CORNER on the cover; you also share a split-compilation with BLACK ANGEL from Peru on the "South American Tribute"-tape-release, how did this release come about and why BLACK ANGEL?

Sucoth Benoth: In a grateful alliance of union between the Brazilian and Peruvian scenes. It was released in tape format because here, in South America, we still use tape decks anyway.

13. With AMEN CORNER you two and the other members are still using one of the most recognizable and symbolic characteristics of Black Metal, painted faces, better known as "corpse paint".
What meaning does corpse paint have for you and what are you trying to express with it?

Murmúrio: The corpse paint is a part of our music's theme and it is the expression within the message that we pass through our work.

14. Back to the beginning of the first and second wave of Black Metal, around the middle / end of the 80s / early 90s when this form of extreme Metal was less known, more mysterious, different, even more dangerous, politically incorrect and special.
Since everyone was once young and started from the beginning, what was different back then and what made Black Metal music so different compared to today?

Murmúrio: I've seen a great decadence in the musical development within the last decade. In the past everything was done with creativity and seriousness...

14.1. Why do you think the main reasons were that Black Metal became so popular and publicly acceptable? Or is it completely normal that when something gets successful it will be accepted, maybe even become a trend and is therefore exploited just to get some fast money?
What do you think is better and what is worse today compared to back then when you first began to listen to and play this kind of music?

Murmúrio: I think using technology reclaims that core versus the old times when that resource didn't exist yet...websites and social media etc. I first saw those trends in 1985/86 with national bands and international bands.

15. About the Metal-scene in your country: in the middle / end of the 80s and the beginning of the 90s in Brazil a lot of cult bands were formed who released a few classic albums in the past. The most inspiration from the time came of course from overseas from the European bands like SODOM, HELLHAMMER, CELTIC FROST, DESTRUCTION, VENOM etc. for example … but what was unique in the extreme Brazilian Metal-scene was always that they prefer more leather, chains, bullet belts, corpse paint and more extreme sounds.
What do you think about the past when it comes to the Metal scene in Brazil and what in your opinion are the five best album releases?

Murmúrio: The band that was the pillar of influence at that time was Venom... In Brazil there was an avalanche of bands in the 80s that were an influence.
5 albums that I listened to in the 80s: Vulcano - Bloody Vengeance, Sepultura - Morbid Visions, Sarcófago - INRI, Holocausto - Campo de Exterminio, Dorsal Atlantica - Dividir e Conquistar.

15.1. When it comes to the extreme South-American Metal-scene, the foremost notable bands mostly came from your country.
So what about influences from other South American countries? Like from Peru with MORTEM, HADEZ, LEVIFER, GOATSEMEN or BLACK ANGEL for example …
Do you agree Brazil had the most important scene in the past when it comes to the extreme Metal-scene overseas?

Murmúrio: In South America without a doubt Brazil was and still is the most important in Extreme Metal. Just look at the amount of festivals and shows that we have here with only national bands.

16. You both are from the area of Curitiba, Paraná, where other bands like IMPETUS MALEFICTUM, LADO OBSCURO, BLACKMASS, DOOMSDAY CEREMONY, MURDER RAPE, OCULTO ODIO, ALOCER, EVILWAR, and others come from …
Please tell me about this kind of life, the living-conditions, how the people and mentality are in your area and of course about the Metal-scene?

Murmúrio: Here in Curitiba we have a good scene, with bands working hard in their goals and the shows and festivals are very well planned. Almost all of the musicians have jobs and don't live off music. Here in Brazil it's so hard to maintain only a band without also working. We always meet guys of other bands and we have a very good relationship with all of them.

16.1. How much is the economic and political situation changed for you since the military dictatorship ended in the middle of the 80s and since transitioned into a democratic state?

Murmúrio: I'm not sure that I can speak of a dictatorship... The dictatorship just existed to a few "pot smoker" guys that were expulsed from Brazil after misbehavior, and some called those guys musicians, even poets... In that time the citizens could go to the streets calm and carefree without any concern of being kidnapped, instead of nowadays when we are arrested in our own homes. In the time of the dictatorship, our PIB (Total amount of production) was 14% and nowadays, in the democratic regime, around a poor 0,11 and days ago it was 0%!

17. By the way, MURDER RAPE came back in 2013 after twelve years of silence with a new album "For Evil I Spill My Blood", I tried to contact the band or Agathodemon of Evil Horde Rec. a few times in the past, but never got a response. Special Evil Horde Rec. released in the past a bunch of good releases with fantastic layouts.
What can you say about the band and Evil Horde Rec.?

Murmúrio: I have rare contact with their guitarist only, it's a band that does few shows and I don't know the exact reason.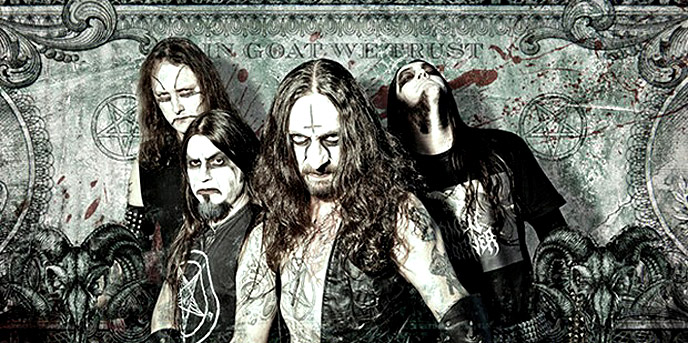 [Above: Amen Corner - In Goat We Trust!!!]

18. The people in Brazil have many different ethnic backgrounds, due to the colonization from the past. Around 1930 or a few years later and between and after the Second World War a lot of people came from Germany, Spain, Portugal and Italy to Brazil.
How much influence or even problems arise from the different ethic backgrounds in the society and daily life in Brazil?

Murmúrio: Considering the fact that I have a descendant, my mother's grandfather, I also have had the opportunity of working with a firm of German immigrants so I've learned that Germans are a very disciplined people.

18.1. As a German, I'd like to know how much German influences still exist in your area and in Brazil in general?

Murmúrio: Brazil was indeed built by the immigrants bringing different costumes, gastronomic things, etc. Immigration was due to the industrialization here at the time and because of the vast lands that the country offers and course due to the war too. In the south exists a large concentration of Italians, Germans and Japanese immigrants. We have no difficulties living with our differences...

19. Marcelo, I know you like the books from Stephen King and are interested in history, especially in the two World Wars. A lot of bands like BOLT THROWER or HAIL OF BULLETS, for example, are lyrically inspired by war themes. What do you find fascinating about these themes?
For me, when it comes to these themes and the historical part of it, I like to know why and what is behind these tragic wars. I see we don't know the whole truth because when it comes to the end of war the winners will always write the history.
What is your opinion about the two World Wars?

Sucoth Benoth: Well... about Stephen King he is a great writer. I have almost all of his books. About the two World Wars, sure, the victorious side always will have the advantages. The people always think that, for example, in the 2nd World War the Germans were cruel and insensitive. But it's not true. I have a book written by Sven Hassel that was a Nazi lieutenant, where he describes the Monte Cassino's battle where an American soldier falls inside a German bunker and they take care of him and become his friend. They later even released him. It is a great book that tells an unknown history.

19.1. How is your view of life and what are your thoughts about the modern world nowadays?

Sucoth Benoth: I think that the modern world and its science is providing undeniable proof that religious myths and human perceptions of goodness and hope are false. And day after day, the fact is: we are not alone in universe.

20. Back to AMEN CORNER and to music before the end of the interview… Some bands look like they will be active forever, like IRON MAIDEN, JUDAS PRIEST, BLACK SABBATH and more.
You two are at the middle/end of your forties, how long would you like to be on the stage and in the studio with AMEN CORNER?

Murmúrio: I have no plans to stop Amen Corner, but I'm sure we will reduce the release frequency. I've spent a lot of time in the studio and it's so hard and tiresome.

20.1. What are your future plans?

Murmúrio: Our goal is to do more shows and not only in Brazil... we are searching for the opportunity to play in other countries too. We are in studios a lot and travel only a little, we would like to invert that position.

21. Alright, I think we can end the interview now! Please state your last comments before we close the gates of hell!

Murmúrio: Thanks for the opportunity of this interview, Amen Corner is at your service when you want!
We are working hard here and any help with exposure is more than welcome! Thank you!

Band website:
www.amencorner.com.br/
---
Back to Interviews
---