The following interview is done with Clive Jones.
Special thanks to Marco and The Black Vomit 'Zine for contributing this interview.
---
Here is a very special interview with Clive Jones of the legendary Black Widow from the UK. Hello Clive, thank you for your time and for doing this interview. I'm honored to have this interview in the pages of my 'zine. First, how are you?

I'm very well, thank you. Very busy, but I will tell all in this interview.

I heard and read that you had met in December last year with Tony Martin (ex-Black Sabbath) and have begun planning for a new Black Widow release in 2010/2011 with Kay Garret. What is the news?

Yes I have met with Tony nothing is for certain yet but Tony is seeing if he can do a track on the next Black Widow album 'Sleeping with Demons.' The problem we have is most of it has already been recorded before the idea of having Tony guest was thought about, so there was not a song written with him in mind. Some of the other songs were not in the right key or didn't sound right for Tony's voice, but he's in touch regularly and there is still a good chance he will be there. I have written a song for Kay 'Even the Devil Gets the Blues' and she has recorded it and helped with some backing vocals. It was the first time she had been in the studio for many years and her voice is still brilliant.

Black Widow originally formed in 1966 as 'Pesky Gee!' The band was active for three years and released the album 'Exclamation Mark' in 1969. After they split up, in the same year, Black Widow was formed. What can you tell me about this time in the 60's and the band Pesky Gee!?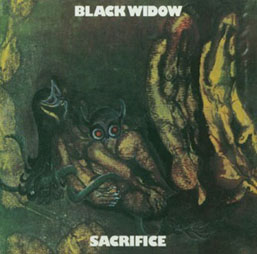 Pesky Gee! was the most fun I have ever had in a band. We played the usual soul covers, 'In the Midnight Hour,' 'Knock on Wood' and later the more prog rock things. We used to be resident band on every other Saturday night at an all-nighter in Leicester 'The Night Owl.' So we were support to many of the up and coming bands. We do have get-togethers where we talk and laugh about the fun we had, and yes we are all still alive, but a lot older.
About Black Widow, the band was mostly known for its early use of Satanic and occult imagery in their music and stage acts. How much did Satanism and the occult influence you and the other members of the band at that time? Are you still interested in such things?
Yes I am still interested (and I have met the Devil twice, once on my own, in the daylight and once at night with some other band members, from another band), so for certain I am a believer. We learned a lot about black magic for the first album 'Sacrifice' and as you know we met Alex Sanders and his wife Maxine who I'm still in touch with. Black Widow is mentioned in her book 'Firechild.'
Black Widow released their legendary debut album 'Sacrifice' in 1970 with songs like 'In Ancient Days,' 'Way of Power,' 'Attack of the Demon' and 'Come to the Sabbat.' Every track on this album was about Satan, black magic, demons or occult things. The most popular song 'Come to the Sabbat' has been covered by many bands and artists like Death SS, Bewitched, Timberjack... Where did you get the idea to write a song like this at that time? Did you have any idea how influential it would be?
Not really. But the song 'Come to the Sabbat' has been amazing for me. With so many covers coming out. It's also been banned in most countries and still is in the UK, I think. The only band I know who had a hit with it was a band called Timberjack from NZ. It got into the NZ Top 10 (lol). They got all the publicity for covering the song that should have been ours. Even the B-side was based on 'Come to the Sabbat' and they took the credit. But I am very honored when people cover it. I know that another band plans to cover it this year, I think there are fifteen covers so far!?
After 'Sacrifice' the band had a few line-up changes and moved away from the darker occult imagery. You released the albums 'Black Widow' in 1971 and 'Black Widow III' in 1972. Why did the band abandon the imagery after 'Sacrifice' and what can you say about the other albums and the differences between them and the debut album.
Well, this is a long story. Myself and Clive Box, the drummer, wanted to stay with the black magic imagery, but other members thought it was taking over from the music. Sure there were some problems with the press but I think that would have been good for us in the long run. Jim and Kip were sure it was stopping them from being known as 'musicians' (lol) so they caused a lot of problems for the band and some members were sacked, even Clive Box, who had the idea in the first place. They also brought drugs into the band, and it was downhill from then on. I can't say I really like some of the songs on the other albums. They were not good live songs, but those two had their way and it was the beginning of the end for us at that time. For myself it was a horrible time to be in the band and I was treated very badly by those two. The new Black Widow is back to the black magic that we never should have left.
The band split up in 1973 before the last album 'Black Widow IV' (finally released in 1997 on Mystic Records) was released, how come you broke up?
Well the band had gone in the wrong direction. Kip and Jim had brought drugs into the band and for myself it was a very low period. Jim then left and we brought in John Culley from Cressida and things started to look up music wise. We recorded the fourth album and then half way through Kip left to work with Jim, we found out later to work on a new Black Widow, to go to the States to do the black magic show. (This failed when the backers pulled out. I guess no work had been done.) We found a new front person Rick E. from the States who had been the lead singer who had been the lead singer for Twisted Sister before Dee Snyder. We felt the band was at its best, but with all that had gone on before, we struggled to get work and find a record company to release the new album. So, sadly we called it a day. The band had been destroyed by two guys who had left us to do other things after destroyed the band, and I can tell you no one has ever forgiven them.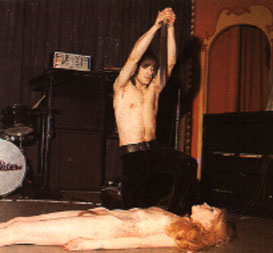 I think one of the legendary photos of the band was the one with Kip Trevor kneeling with a sword in his hand in front of a naked woman lying down in front of him. What can you tell us about the live rituals and gigs from those years? Do you remember any special moments on stage?
Well, there were many moments on the stage rituals that were correct. Alex Sanders always said that we could make something appear on the stage, even if we could not see it at the time. I think when we first started doing the act live, we played at a club in Derbyshire and priests turned up to try and stop the show, holding crosses up in front of the stage, the crowd did not take kindly to them and they soon left. And there was the first London show at the Lyceum where they used to hold the Miss World contest, Eric Morley got to hear about us and said we could use the theater, but the girl must not be naked. Somehow that all went wrong (lol) and the girl was naked. The security guards for the club started to drag her off the stage and stop the show. The crowd went wild and all hell broke loose. Everyone leaving was searched and had their cameras confiscated. But one guy from the News of the World managed to sneak past the guards and the next day it made the front and middle pages of the paper, we of course loved it.
After the break, and years of silence, the releases 'Return to the Sabbat' in 1998, 'Come to the Sabbat- Anthology' from Sanctuary Rec in 2003 and 'Demons of the Night Gather to See Black Widow' (a live CD/DVD in 2008) were published. How much were you and the band involved in these releases?
After the band split no one wanted to know about us. We were a dead band. Things had moved on, but as the years went by the band became a cult band. We were the first band to use black magic and now all these other bands were springing up and everyone wanted to know who had done this idea first. Of course, it was Black Widow. I had a friend in London who had been a fan of the band. He was a banker but gave it up to start a record company releases older type material from bands like Family and Curved Air and many others. When I told him I had a lot of unreleased stuff under my bed he went crazy and said let's get it out. Well it was doing nothing so first out was 'Black Widow 4,' followed by 'Return to the Sabbat,' this was the demo of 'Sacrifice' with Kay as a vocalist. They were collector's things, but still really good albums. I was later contacted by Sanctuary Rec who wanted to release an anthology of Black Widow. They held the first three albums and I had all the others and a few things never released. So I was very happy to have that come out complete, with our little Demon on the front cover that a few other bands had tried to pinch. A few years later I found the film from Beat Club for the 'Demons of the Night' DVD. That was a fantastic find. We had forgotten all about recording it, possibly because it was the very last time that all the original Black Widow played together. So I had done all this without any contact from other band members. It was a lot of hard work. I don't think I could have done it without my friend and fan of Black Widow Pasi Koivu from Finland. He set up all the BW sites and promoted everything. Without him, there could possibly be no new Black Widow music.
Black Widow had and still have a great name in the underground and influenced a lot of metal (not only) bands. The band became had a tribute album 'King of the Witches' under an Italian label in the year 2000, but the big musical break-through in the 70's was missed, why do you think this is?
Yes I had forgotten about the tribute album. Black Widow Records in Italy, a company named after the band, but nothing to do with us, released a tribute album. I had been in contact with them and been a guest on a few of their artists albums. They asked me to do an introduction to the album. I really enjoyed that the intro was titled 'Theme for Abingdonia.'That was where most members of the band used to live, at a house on Abingdon Road in Leicester. Like I said, certain members of the band missed the chance with Black Widow. We had a lot of bad luck for sure, but if we could have stuck together, we could have done so much more. We were always confused with Black Sabbath, then our manager took Black Sabbath on, and that made it more confusing. Plus because of the black magic and being linked to the Charles Manson black magic murders in the states, they would not let us in the USA, so we were replaced with Black Sabbath, who at the time denied anything to do with black magic, of course. Also, we were on CBS label, and at the same time they released 'Sacrifice' they also released 'Bridge Over Troubled Water' by Simon and Garfunkel. And that was such a big seller at the time they stopped pressing anything else and no one could find our record. So what were they given? Black Sabbath instead. Talk about bad luck.
What did the other members of Black Widow do after the band broke up and what are they doing nowadays? Are you still in contact with them?
Well we are still alive, but all over the world now. Yes I have at time been in touch with everyone. Jim lives in Australia and has been there for many years. I've had a few messages from him, I think he plays for a house band and does a few sessions for artists. Kip lives in London, he did come to see me a few years back. Kay still lives in Leicester and as I've said is on the new album. Bob Bond is also still in Leicester, but has given up on his music career. Clive Box lives in France and has also given up music. Romeo Challenger is still with Showaddywaddy and has been for 30+ years, they are still very successful. Zoot Taylor still has his organ but strangely it was struck by lighting and caught fire in his home (true.) Geoff Griffiths lives in Thailand, I went over last year to record most of the last album in his studio. John Culley lives in the Isle of Man and has his own studio and plays in a band now and again.
After Black Widow you formed Agony Bag with Clive Box, the original drummer of Black Widow. The band took Black Widow's theatrical presentation a few steps further with curious (at that time) costumes and make-up and outrageous stage shows. What can you tell us about Agony Bag?
I think it was about 3 years after Black Widow I got together with Clive Box. He always had some good ideas and we decided to form the crazy Agony Bag. This meant I could be lead singer, something I always wanted to do. Agony Bag was a much heavier band and we wanted to sing about subjects other bands would not touch, usually sex. For instance, one song 'Golden Shower Passer' was about piss, a sexual fantasy that is never spoke about. We later included 2 girls who would strip on stage.
You've been active for many years in the music scene. Can you tell me about your positive and negative experiences?
All I can say is I think Black Widow nearly destroyed me as a person and musician. I was always told by Jim and Kip that I was no good as a musician. It took all my confidence away and made me wary of people who you think are your friends and to be very aware that they will stab you in the back to get to their own goals. Agony Bag restored by confidence and I realized with their encouragement that I was a good musician and a great front person for any band.
Many metal bands (most black metal) were influences by the music and image of the 'Sacrifice' album and Black Widow. At the end of the 70's and beginning of the 80's, many bands formed in the UK and worldwide with Satanic and occult touches. Bands like Death SS, Venom and Wytchfynde and more from the UK. Denmark's Mercyful Fate, Acid from Belgium, Running Wild and Tormentor (now Kreator) from Germany. Over the years the scene got much bigger (sadly most bands now use it for commercial profit) and with black metal came a whole genre of such bands. How much are you interested in the metal scene?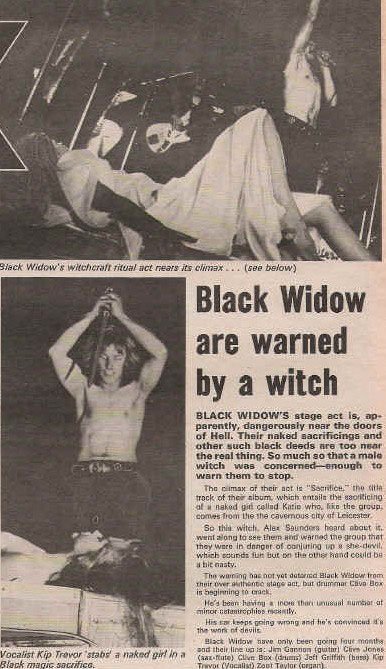 I find many bands boring now, although there are a few I really like. Death SS are a great band and I know Black Widow was a big influence on them. In fact I was a guest on their last album. As for a lot of other bands the subjects they sing about and the vocal style is all a bit old. There is a way to scream and a way to laugh, many bands put devil in the title and think they are singing about black magic.
What do you think about such bands and do you agree that your band was a big influence for this scene?
Yes, Black Widow were the first and that's all that matters. Whenever there is a compilation album about the dark side they have to include Black Widow. That's why with Geoff's help we have nearly finished the new Black Widow album and have gone back to the black magic we should never have left. I have also written the follow-up to 'Come to the Sabbat' after 40+ years because I felt there has never been a song like it, well now there is.
What can you tell me about your coming projects and how can we imagine the future of Black Widow? Maybe there will be a reunion with Agony Bag too?
Well the songs on the new album 'Sleeping with Demons' are a cross between Black Widow and Agony Bag. They will surprise many people. This time we will show that black magic can be fun, not just horror and death. Twice in 2009 I was on tour with the band Propaghandi, a fantastic punk band who stand up for human and animal rights who have been going for 23 years now. They got in touch with me because the recorded 'Come to the Sabbat' a few years back and also put a version on their new album 'Supporting Caste.' I did about 8 dates with them and everyone knew 'Come to the Sabbat,' it was amazing. I've also put a flute part on the new album by keyboard wizard Paolo Apollo Negri and Paolo returned the favor with some keys on the new Black Widow album. At last I have some interest in my musical 'Metal Heart' from Australia of all places, so let's see if I can finish that project this year. There has also been my Agony Bag 5 track EP 'Piss Out Your Trash' released on ITunes as a download. Many years back I did a one man show 'Dr. Pesky' after Pesky Gee! Who knows if he shall return but beware if he does. I write rock and pop music and have had some success in Sweden with a band called The Airwaves and a song using ABBA song titles called 'Hey you, ring me tonight.' There is now about to be a disco version made so that's interesting. I'm still waiting for a disco version of 'Come to the Sabbat' to be made by someone. (lol)
OK, we've come to the end of the interview. Thanks very much Clive for the time you spent answering my questions. I wish you all the best with your projects and I look forward to come to the sabbat again... please give me your last words.
Well many thanks for the interview. If anyone wants to make contact I try to reply to everyone personally at Will Black Widow ever take to the stage again, well let's see? If we do it will for sure be something different again and if we can collaborate with Tony Martin from Black Sabbath maybe the rivalry will start all over again. I wish you well...
---
Back to Interviews
---