---
Spirits in my Eyes


..Descend into black
Abyss of knowledge
Solo empire to assassinate
This flesh I bear
Scorned!


Transcend, boil, burn, and ruin!
Transform, rise, strength, ruinous
War!


Draw my blade glide it across my throat
My calling
Embers invision me
Die with…
Spirits in my eyes!

---
The following interview is done with Jon...

Let's begin by you giving us a history of DARKMOON...
     The entity known as DARKMOON began with the inevitable departure from DEMONIC CHRIST in early 97 to expand our music as well as us. We had to escape the inferior mentality and conceit of an individual in order to obtain our sacred unity. Now we can incorporate new dimensions and be relieved of weakness and vulnerability. As with DEMONIC CHRIST we were that band, writing 99% of all material that was displayed and released from 1993-1997. To be blunt we were DEMONIC CHRIST and will not let anyone take away from our accomplishments!!!! A new day has dawned, a day of revenge, a day of reckoning.... Alas The rising of DARKMOON!!!!!
      DARKMOON is a force that dwells in all blackened hearts, churning forth hate and rage. Spawning chaos and fury, but still brooding with melodic ecstasy that our dark souls will always desire. Our theme is to seek revenge on our enemies that have plundered so long in this world, the senseless killings of our people, the raping of our land and women. Christ has been a cancer of our society and nature, his vile ways shall be banished and his light dimmed for eternity. Then and only then will our minds, bodies and spirits be free from oppression and our ancestors avenged!!!!
Explain a bit about your departure from Demonic Christ.

Well it has been almost 3 years since that but I will explain it simple; Demonic Christ started with Dana Duffy and then I joined up , then we got the drummer that we needed (the one that is with Darkmoon now). After 4 years of ME writing all the material I noticed that all the mail was being answered to people who she had favorites to or if she thought they were hot or what ever. Then I received a returned letter talking shit PERIOD taking all the credit for all the music that I wrote. I then found out that she was thieving from the bands funds and the lies began piling up. I personally do not TOLERATE THIS at all therefore I said it was time that I go on my own and then the rest of demonic Christ came with me and we started DARKMOON. We had finally received our freedom to write what ever we wanted because we all can play it. Dana couldn't play alot of what we wrote and we had to simplify it to almost beginner levels. That is just a portion of what we went through, I could go on and on and on about it but that part is in the past for us . She has been declared as an enemy and she knows that battle awaits her! But for now DARKMOON IS PRIORITY, there really isn't need to waste time or energy on her . But if it came down to it, well, we all will know the result! TOTAL VICTORY ON OUR BEHALF! If anyone questions us about that just look at it this way WHO DOESN'T HAVE A BAND! AND WHO LEFT WHO!
So then Demonic Chirst is not around anymore, or...?
(laughs) WHO CARES! It doesn't have the right elements it has a fake fat whore talking shit !
So you played on and wrote most the material of Demonic Christ's 'Punishment for Ignorance' release?
Well I played on it and wrote half of it. Some of the songs were from my old project and hers before we joined up. I do not recommend that cd!!!!
Well now, on with the new, DARKMOON. Tell us about this? And the differences between it and Demonic Christ?
WELL DARKMOON AS A BAND IS A TIGHT CIRCLE OF BATTLE BROTHERS!!!! COMPARED TO DC WHERE THERE WAS CONSTANT HIGH SCHOOL GAMES, THE MUSIC IN FACT IS SO MUCH MORE!!!!!! DC was very basic and not well thought out. We tried to get good ideas on the table and were shot down so when we started DARKMOON our very first song was ALL THE RIFFS SHE COULDN'T PLAY OR SAID SHE DIDN'T LIKE (laughs) just to spit in her fat ass face! That song was called WRITHING GLORY! WE BELIEVE THAT THIS BAND WAS FORMED OUT OF PURE BROTHERHOOD! For some reason all of us just happened to stumble upon each other and we hit it off and we have grown to fight and bleed for each other! No man within our circle is greater than the other... but all outside and enemies we usually are weary about due to the total amount of idiots we have running around! (laughs) It is hard to find people who think and feel as we do. Sometimes people feel (people as in some in our scene locally, if you want to call it that ) that we are too intense and live the lifestyle too great! But that's how we have always been . It is in our blood and pumps eternally within our veins! So why resist the rage!
About the sound of Darkmoon. Describe it to those who have yet to hear it...
We have always believed in our musical freedom! To write what we want and to say what we feel! We try to write music that gets our blood racing and our hearts cold! BATTLE METAL, we try to create it to sound like a march into war! Some have different opinions but that's what it makes us feel like and alot feel the same ! Very intense and fast yet has the triumphant feel of VICTORY WITHIN IT!!!!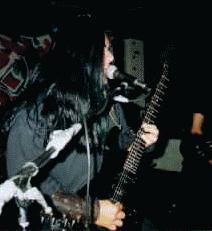 What sort of instruments do you implement into the music?
Well the usual guitar , bass, drums, but I use a guitar synth that has created our feel. I am not a great keyboard player so I try to stay off of it! (laughs) I can write some things on it but the guitar is where I dwell!
Tell us about the lyrics of DARKMOON and who writes them?
Well, me and the bass player write most of the lyrics. I personally like to write about battles and rage! It is my vent of RAGE to create the atmosphere to where I can take myself there. I can not speak for DEVON so he may have another interpretation of his lyrics, but we all know that VENGEANCE IS AWAITING!
Vengeance against whom or what?
I HATE humanity. I hate the fact that people of free hearts have suffered. Mainly against CHRIST! AND ALL WHO FOLLOW! THEY DECLARED WAR UPON US!!! SO BE IT AND WAR THEY WILL GET! Some people laugh at that theory and if you do then you jump in with all those who will be laid to waste!
So is DARKMOON your weapon to fight these things you hate?
DARKMOON IS MY WAY PERSONALLY TO JOIN UP WITH UNCOVERED BROTHERS AROUND THIS WORLD! And my vent so I don't get too AGGRESSIVE IN THIS WORLD because I cannot accomplish what I want sitting in prison, When I am ready to die if I can help it then I will do JUST THAT! I feel that it is a weapon, a weapon of joining us! If I don't join all of us a few is better than none! At least we can keep each other sane! Or is it insane? (laughs)
On the opposite side of the spectrum, tell us what you like in this world and what you deem worth fighting for?
MY BROTHERS AND SISTERS! That's all that really matters and DARKMOON'S MUSIC I would fight for that ! I WOULD FIGHT FOR AN ANIMAL BEFORE A MAN!
An animal before a man? Explain... ?
Well those who are not BROTHERS I would watch them bleed before me! As for an animal I would at least PUT IT OUT OF ITS MISERY OR HELP IT .
Tell me about some of the things that inspired you when you were growing up?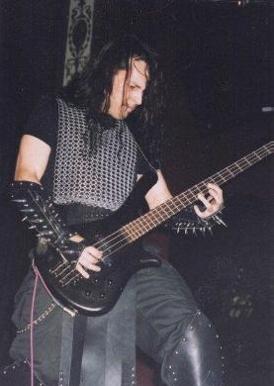 Well, I lived in Montana for 3 years. That was very inspirational and allowed me to discover my inner realms without the outside distractions. As for the rest it is just basic living that has set me off!
What about people, living or dead, is there anyone whom you derive inspiration from?
Other than slain brothers I have known in my life as of now. I can't really say a person, I just feel this way! What about the dead. Who IS really dead? To me they always live!
You've expressed your hatred for Christianity, now tell us the reasons behind your hatred? Have you read any of the Bible or ever been to Church in your life?
I have been to church as a child, and that is common. My hatred... hmmm... if I have to ask myself what is my reason? Then there isn't one, I know! I have no reason. I see it and feel it . And they admit to it!
They?
Christians... they admit to declaring war upon us! NOW THERE IS A REASON!
When did you first realize this?
That is hard to say, I guess I have always known and felt this way . Even as a child I despised the sight and the stench of it!
Do you see that Christianity is gaining power or deteriorating in power around the world?
GAINING!!! THEY ARE GAINING POWER NOT IN THE DOMESTIC HOMES! BUT IN YOUR GOVERNMENTS, PEOPLE WHO HAVE CONTROL, AND THEY ARE GETTING MORE MILITANT EVERY YEARI HOPE PEOPLE SEE THAT IT IS COMING DOWN TO A LINE! AND IF WE AREN'T ORGANIZED THEY WILL TAKE YOUR LIFE, WITH YOU JUST STANDING THERE THINKING IT WILL NEVER HAPPEN! WE MUST PROTECT EACH OTHER. THE CHRISTIAN COALITION IS MORE POWERFUL THAN WE GIVE THEM CREDIT TOO. YOU MUST TRY TO KNOW YOUR ENEMY! I WISH I KNEW MORE!!!!!
What about the heathen religions? Your opinions?
Such as?
Such as Asa-tru (Odinism) or the many others? What are your thoughts on the Gods/Goddesses of our fallen ancestors?
I think that the goddesses and gods are deities of strength in our hearts. BUT, do I draw my energy from them ? It is possible. I try to focus on my own power and strength. I do many things to obtain all the energy I desire! Ancestry are the ones who BLED UPON THE BATTLE FIELD.
Ok, so you do not believe in such things as the Christian God or the Old Gods as actual beings or entities, but rather forces or powers, correct?
I feel that brothers who have died before my life span and present are my deities. I try not to put a label on it, I feel many different things, but yes they are forces!
That leaves Satanism? Your thoughts?
I do not acknowledge such a being for it is a Christian term and a Christian belief created BY Christians to Create Fear amongst themselves to SUBMIT TO THEIR FILTH! I feel that if I acknowledge that I am feeding them! That's all I have to say about that.
Your thoughts on the world... will things , in your view, grow worse before better?
THE WORLD IS DOOMED! As in the way of humans, the earth will cleanse itself after we have sucked all of its resources away.
Now, a few hypothetical questions.
uh oh (laughs)
If you had the opportunity to go back in time, anywhere, anytime, for one day, where would you go and what would you do?
I would LOVE TO BE IN BATTLE WHERE MY LIFE EXPECTANCY WAS ZERO. THE TOTAL RUSH OF FIGHTING JUST FOR YOUR ONE KILL!!!! ANY BATTLE FIELD WHERE SWORDS AND ANY SORT OF TOOL IS USED! THE RAWEST OF RAW!
Hypothetically speaking again, if you could ask an 'all-knowing being' one single question, what would it be?!
I would ask that if infinite light travels for infinity then what is infinity? And if he answered then it isn't supreme!
Lastly, if the Christian 'God' were listening, what would you say to him?
I would be silent! Because there IS ALWAYS CALM BEFORE A STORM!!!!!!!! And such a thing doesn't deserve to hear my thoughts!
You have been signed to Music for Nations. What are your plans for the future now?
Just to continue what we have always done, HATE! We also want to join with our brothers in other parts of the world and if DARKMOON CAN TAKE US THERE , THEN WE WILL GO THERE. TO CONTINUE WRITING MUSIC FOR OUR ARMY!
What about releases? What is available and what is on the way?
We have a CD that is going to be redone in the studio for our first CD with MFN with 3 new tracks.After that who knows, we would like to keep releasing music.
What is this cd going to be called?
That has yet to be determined, we have been focusing on the recording part of it.
Your last comments and words of wisdom to the readers?
Well, it has been a pleasure to meet you, and to everyone else! NEVER SUBMIT AND HESITATION LEADS TO FAILURE! STRIKE DOWN THE ENEMY THAT STANDS BOLDLY BEFORE YOU!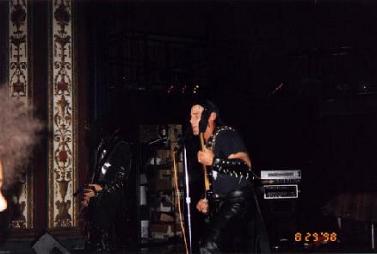 ---