The following interview is done with Lord Occult...
---
Please begin with a bio and introduce yourself and Mortal Wish to the world.

L.O: Hails... I was born on 26/09/85 in a religious family. I started to play very young, at 10 years old I started to play drums. After a few months, I stopped for a long time only returning to play when I started Mortal Wish in 1999 with two members, Lord Dark and another drummer...
I started to play bass and guitar, but Lord Dark left the band a few times after that due to many personal problems/drugs, etc... I continued with others members for a while, but I'm a very meticulous person and I have many problems with people. I stayed alone for some years until I met Plogojowitz and we played for many years until he left due to many problems between him and me and our families... But now after 7 years, recently we started to talk again and we are playing together as of a few months ago...

Can you tell us about your newest release, 'Around the Infernal Spirits'?

L.O: This was my second professional CD. It was recorded by me on 2005 and released by many labels including my own! It was released on tape, CD-R and CD by different labels in many different formats because here in Brazil it is very difficult to do a professional release, especially in my region because I'm from the northeast of the country...
Brazil is very separatist, but it is changing with time. With much blood and honor I got the respect of the underground scene and of a few outside of Brasil. My friends from B.F.H. Records "Colombia" helped me a lot to release the "Around the Infernal Spirits" CD and I'm very grateful for that!...
Sometimes is necessary for someone outside the country to release stuff on their own labels to see our work, since it is difficult here... But now I have two new releases on CD, my 3rd CD "Occultum" and 4th CD "Abraçando A Escuridão." Both were released by my label with much help from the true Brazilian underground- distros, labels, zines... I have others releases on tape, CD-R, splits, etc... next year will come new stuff...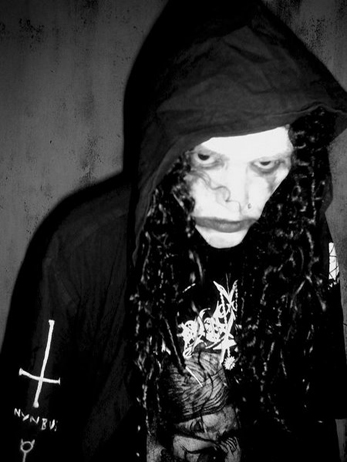 You are involved in many, many other bands and side-projects. You also are involved in a label and distro, correct? Can you tell us about any other projects you are doing that you think we might be interested in?
L.O: I have/had many projects, correct... well I have "had" these projects below, but only some projects/bands have recordings!
Beleth - (RIP) black/thrash - an old band of mine, but we had nothing recorded. I played drums.
Black Witch - (RIP) black/death/thrash - another old band of mine, also nothing recorded. I played guitar.
Nocturno Culto - (RIP) black/thrash metal - they had one demo CD-R/tape before I joined the band from RN-Brasil. I recorded the second demo CD with them. I played drums.
Mistaken (RIP) - heavy metal - another old band of mine, I played bass. We had nothing recorded, but the music "Dimoni" on the "Around the Infernal Spirits" was in honor and memory of my good friend Roberto Cordeiro (RIP) who played guitar with me in this same band...
Abyss of Darkness - (RIP) death metal - had 3 releases, first one on tape, second on CD-R and third on CD, but before I played in the band. The band ended before we recorded another CD. I played bass sometimes and guitar thereafter...
Lord Darkness - raw black metal - this is a project of mine and my friend Marques "Pagan Spirits Horde." He writes some lyrics and I did the music of our first demo CD-R/tape which was released in 2006. I recorded the instruments and some backing voices but Marques is the principal voice...we have another second release since 2007 but Marques still didn't record his voice on it...
Jezebedth - black metal - we recorded the only one demo on CD-R this band has. I played drums before I left the band but they continue actively with completely different members than from the beginning...
Demons of Creation - black metal - me and Mallignus recorded two tapes/CD-R and after that we were joined by 3 more members. We stopped for 4 years and now we are back with 4 members and we plan to record a new album... I play bass and voices...
Cadaveric Infection - black metal - a one man band that had one CD-R before I joined. Now we are on two members. The original member William Seth "guitars/bass/voices" and me on drums. We are finishing the second CD-R...
Lastly, a new project we don't have a name for yet with one Catacumba and Delicta Carnis ex-member on guitar/voices, and me on drums. Also Mortuus of "Demons of Creation" guitarist has joined to play the other guitar...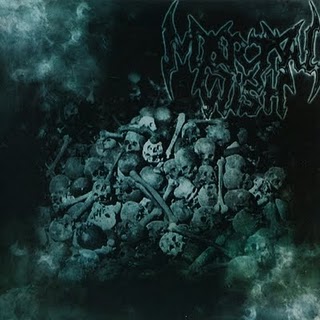 Mortal Wish is full of dark energy and intensity. South America in general seems to have a wide assortment of interesting bands these past years. Do you play live? What are the shows like down there?
L.O: Yes I agree with you! South America has many very good bands! Especially in Bolivia, Chile, Argentina and Colombia... I believe this happens because of the life style mixed with the influences of each one that makes them so different...
I played live last on 2005 in Arapiraca-AL/Brazil, but I also played live a few other times, although only 6 or 7 times with Mortal Wish. I don't like to play live all the time, it depends on the stages of my spirit...
Mortal Wish is also not a band to play live many times! The sounds of Mortal Wish are more for a person to listen to alone, there are many sounds that are not exciting in a live concert. Best to listen to alone... misanthropic sounds...
What is your favorite era in your countries past? Can you tell us anything about ancient Brazil that interests you particularly? What about the ancient gods/goddesses and the culture that existed before the coming of Christianity?
L.O: Brazil is country of followers, the people of Brazil follow the steps of those around the world. The people don't have much self identity. It's the same with metal here, I think the best era here in Brazil was in the 80's and 90's.
This era I think was the best in all the world of metal! When the people did it or listened to it because they really liked it, not just to enjoy the sounds or style and leave it shortly after... Today most of the people don't buy stuff, but in the 80's and 90's everyone would kill to buy the stuff of an underground band. they loved the sounds and you definitely don't see that now in these times!...
I don't follow any religions. I believe only death is the true master ! Only death is the true and nothing more!
All religions and mythologies were created by men trying to give a name to their fear about death. That is the foremost and biggest mystery of life and never will anyone solve this mystery... Only the spirit of men and death is my ideology! When I say "spirit of men" I mean fear, evil, anger, hate, pain. These feelings describe Mortal Wish!
The ancient religion here in Brazil was goddesses and gods like the sun, moon, earth, etc... The gods of the shamanist indian men of Brazil and South America are different by individual tribe. After a time it mixed with the African culture brought to these lands...
There are a lot of ancient ruins left behind by ancient civilizations in the Americas. Fallen civilizations like the Olmecs, the Mayans and the Incas. Anything to see in your area? Have you ever visited any of these mysterious places?
L.O: Here in Brazil we don't have these kind of influences, we are not Mexican or Central American. Most of the people here descend from different indians and african blood and culture of "religious shits." A few from European blood like Germany, Portugal, Italy, France... But it is a religious country full of different Christian religions and separatists inside the Christian scene. This kind of shit you must hate!
I really would like to visit these places, to see the pyramids and many others interesting things... But not yet, one day maybe, I hope! As you know here in this country the money situation is very difficult. To see these places means many years of saving money!
Give us your thoughts on the world. Do you think that something has gone wrong and that things seem to be getting worse and worse?
L.O: The world is the only thing "real" after all. The humans, animals, everything and their religions one day will be gone and only the globe will still be here. All we do and have ever done will be destroyed and lost, forgotten with time and humans will finally be no more... It was an eternity in the millenniums before humans... and will be again one day!
Humans can steal, kill and destroy themselves! But in the end, that will mean nothing to nothing!...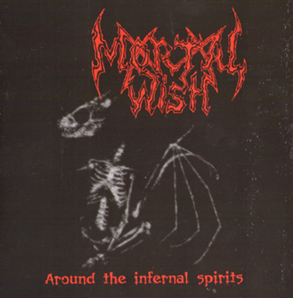 When you contemplate death, what do you envision... do you see possibility in a part of us living on, or is this just a human hope derived from a fear of death?

L.O: Yes, everything is about death and fear. The strongest desire of men is eternal life. Humans don't know how to accept death and embrace it, they are so selfish...
They want to have everything they can't have, to be a person they are not, they want to live forever and to be immortal. They created something called 'GOD' out of their arrogance and self-centeredness and they created it in their self-image!...

If you could learn the answer to any one question, what would the question be?

L.O: What is death after all?! No! The only questions I'll have, I'll have the answers for when I die! Life is to live because after that is there is nothing more!...
The questions I have are the same questions everyone has though... Why die?! What comes after that?! But don't depend on an answer, there is only death!...
I don't ask questions about something I know we'll never have the answers and will never understand anyway... I just live my life as it should be... being yourself and not corrupted by weak peoples beliefs... One day death will tell me why...

If you could meet one person who has already died who would it be and why?

L.O: I don't have a person to meet...

What sort of things influence you outside of music. What do you do in your spare time?

L.O: I don't have much time to spare. I work a lot and the free time I do have I play or listen to music only! I like only metal music, and also a few classic or tribal/mystic music too!...

How can those interested obtain your work(s)? Are you getting any international distribution?

L.O: well those interested in my work can contact me at:

mortalwish@hotmail.com

or

At this time I release and distribute all the Mortal Wish material myself. I also do many trades around the world to share the materials of Mortal Wish and others projects, plus I have other stuff I support and distribute...

Alas, your last words to this tired world?

L.O: Thanks for the interview, sorry about the BIG delay to answer... Hails to the real underground people who really support the ideology of metal!...
---
Back to Interviews
---