---
---
      This is a 1990 interview done with legendary director Leni Riefenstahl
---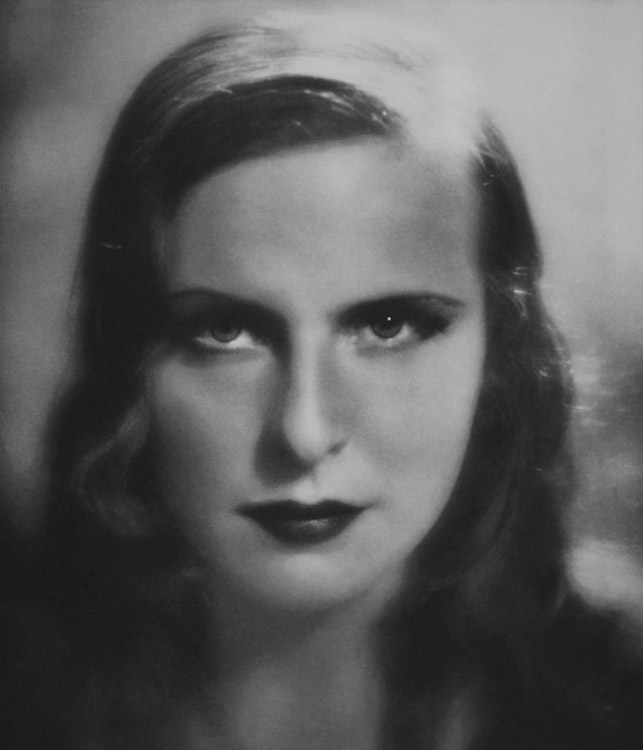 Thank you for meeting with me on such short notice. I would like to ask a few questions regarding your time during the third German Reich.
Leni: Please do junge [young man - ed.] ; I do not shy away from the media or anyone who is curious about my work and past. What I am going to share with you I would ask that you do not publish or take to newspapers until I am gone, please honor this wish.
NS has always been portrayed as anti-woman, meaning that women were encouraged to be "barefoot and pregnant" during Hitler's time. How did you manage to rise above what is called the ceiling today and do what no other woman did, become a premier film director.
Leni: Wow that is quite a question for a junge. Let me see, I was always encouraged from a very young age to have an interest in the arts. I was always encouraged to paint, dance, and act. You are right that in Germany, and indeed the world, women were discouraged from positions of power, especially in the arts, unless you were a sex symbol and gave men something pretty to look at.
It all began for me after ww1. Germany was in chaos, jobs and food were scarce, and many people just looked forlorn and unhappy. My personality is always to see the bright side, one of the gifts of the arts. I came from a good family who was able to provide for me, and still encourage me to pursue my interests. We found ways to get me into dance school, then acting. I met some very good early film producers who started to teach me what I still carry to this day.
The political situation in Germany was devastating; the left fought the NSDAP in pitched street battles that eventually led to the NS revolution. I became a full supporter of Hitler after hearing him for the first time. He was focused on resurrecting Germany from the quagmire our society had become. Women in the republic were nothing more than playthings; I was appalled more than once at how mostly Jewish film scouts and producers treated us. Marlene Dietrich is an example at how they used women purely for their sex fetishes, and sadly, she was proud of this.
I knew Hitler and Dr. Goebbels long before the election to power, and my works had impressed them both, Hitler remarking " The German people will be inspired by your talent, we need more women to show our people the way". I was quite impressed, that here was a ww1 fighter, a man's man, telling me that I had a destiny. 1933 was a big year, because I was given a big contract to start working with the Reichs Film Chamber, under Dr. Goebbels. It was one of the happiest times in my life; here I was a woman, in a society that traditionally shunned women, who was rising to the top to direct movies for Germany, I was one of many great women in NS Germany.
Therefore, to answer your question, women in the third Reich had more freedom than in any other time in history, including today. It is true that those who wanted to marry and be mothers were very encouraged even paid, so that the losses of a generation due to ww1 could be repaired. Those who wanted to pursue other areas or a career were not discouraged, like in times past. However if one wanted a child in the interim the state made it possible to do both.
Thank you. What was your impression of Hitler and Dr. Goebbels?
Leni: I had and still have a very high opinion of both men. Hitler more so, due to his honesty and love for our people. It showed in everything he did from the very beginning. I can tell you that in the many talks I had with him, he was very emotional about his mission, even to the point of weeping for the people when the Allies started to bomb our cities and target civilians. No one else knows this. His love for his people and this nation was on a completely different level than the politicians in office today. He was awe inspiring, like I have never seen before, almost as if he was heaven sent to save a nation.
I read today all the accounts about him ranting and yelling at subordinates, being a mad man, and ordering the deaths of millions. I do not believe any of this. The man I knew was very caring of other's feelings, and wanted to make sure us, as NS made a great impression on everyone we met. He was that kind of a man, and a very special leader, a nation only gets a leader like that once, sadly.
Dr. Goebbels was a very hard worker who was a master at understanding propaganda and the will of the people. He always impressed me by going out into the masses and asking what they wanted out of the state. He always wanted to instill hope and pride in the German people, and give them a sense of purpose. I remember he loved all things artistic, just like the Führer, he would talk endlessly about movies and how moving they could be. He was always polite to me, and allowed me to do my movies as I saw fit, rarely stepping in to make corrections. He also kept those who did not believe a woman should be making films away from me.
My one observation I did not care for was his penchant for other women, he had such a wonderful wife and family. I also blame the women who threw themselves at a married man, however, he should have been stronger willed. Even the Führer had to get involved in his affairs, and it was no secret. Other than that, he was an outstanding boss whom I enjoyed working with.
[Above: Leni with Adolf Hitler and Joseph Goebbels]

I read in a book about you, during the war with Poland, that you saw a war crime and lost faith in Hitler. Can you talk about this?

Leni: I will speak about it as it was hard to watch and left a lasting impression on me. It was during the invasion of Poland, and I was shooting a war report with the Wehrmacht. Much has been made about this by those who do not understand what war is like, or who have an axe to grind against NS Germany. I too did not understand at first what I saw.

The group I was with, happened upon a post battle scene that we thought would make a good shot for the home front, to show our triumph. Coming down the road was a group of about 20 civilians led by a Wehrmacht unit. They stopped in a field and lined these people up, and while we were watching lined up and shot them, I was angrily shocked. I was furious and yelled at the officers that were with us as to why this happened. They felt it was not my business to question what they were doing, saying I knew nothing about what had happened.

I said I would report them all to the Führer and have them shot I was so angry. I could still see the blood shooting from these victims it was terrible. If these officers had explained to me what I just witnessed, then it would have made sense, and I would not have been so hostile. I left with my crew and returned to Berlin. I immediately asked for a meeting with Hitler, after telling Dr. Goebbels about what I saw. The Führer vowed to look into the matter and said he would get answers. I was asked to meet with a Wehrmacht General and some of his men who were in Poland, a month later.

What they explained to me was that the Wehrmacht had endured many attacks by civilians, causing the deaths of several soldiers. In accordance with the laws of war, any person who takes up arms while not in uniform is subject to execution, he said. The group I saw were tried by a special court set up by the division commander, and sentenced to death for the murder of German soldiers. At this same time, the news about Bromberg had broken, and I was starting to hear about the atrocities committed against German forces. Pilots killed after capture, wounded soldiers executed, and the German civilians killed by Polish soldiers and civilians.

These stories, verified by friends of mine, really made me see things differently from this point. I still had no desire to go back to the front due to this and the danger posed by partisans. The civilians I saw shot had been guilty of attacking and causing harm to German soldiers, which they had to know was wrong and could get them in trouble. They did it, and they sadly paid a heavy price. It was no war crime in my mind, and I believe that so many of the stories told today about the Wehrmacht had the same circumstances, crimes committed against them were harshly dealt with, as most armies did back then.

What was it like to make such films as Triumph of the Will, and Olympia?

Leni: It was a lot of work but well worth it, we had a big budget to work with and tasked with creating a truthful account of the 1934 party rally. I wanted a film that incorporated aesthetics like none before; the scenes were natural and unrehearsed which makes the film speak to its audience and draw you in. I made other films before Triumph, but it is my pinnacle achievement. Olympia is a very close second place, and I would even say a slightly more important film, due to it being a film for the whole world to view.

I dedicated Olympia to all the nations and athletes that took part in the 1936 games, the Führer asked that the film give equal representation to all nations, not just Germany, as he wanted the world to see we were fair. I try not to get into politics, and revisionism; however, I want to mention that the world's media made such a fuss about the American Jessie Owens, who was very popular in Germany, winning gold medals. Supposedly making a mockery of Germany and Hitler. The truth is that Germany dominated the medal count, applauded the Negro athlete, and ended up having one of the best showings up to that time, of any nation. I met him personally and he was very impressed with Germany, and how our society welcomed him without judgement, something he lamented did not happen in his own nation.

Stories about the Führer deliberately not shaking his hand are false, and the Führer did meet with him and other athletes who did not receive a handshake. The world's media has this wrong.

Can you tell me what it was like living in Germany during the war?

Leni: War, all you young people care about is war. You should be asking about my films and philosophies on life. However, I will indulge you. After Poland, the war did not interest me; I wanted nothing to do with reporting it. Asked to help on the Wochenschau newsreels I gave technical advice and shooting hints and that was the extent of my involvement. After speaking with Dr. Goebbels, we decided that it was best to help the home front weather the angst about our situation. I worked on creating more films for people to enjoy, taking their minds off the fighting and destruction.

I was paid to consult on major works being produced, and I toured film schools and lectured to students in the arts all over Europe. The war was terrible, I would hear of losses from those who lost lovers, husbands, and brothers. My own brother fell in Russia, this only served to make me hate the war even more. His loss was a hard one on me, but the Führer shared my grief also and met with me to say he was sorry that our beloved Germany was drawn into such a bloody war. To this day I truly believe the Führer did not want to fight, and was pushed into doing something he really had no joy in doing. Today the world condemns him as being a warmonger, but I do not believe this.

When the bombings started on our cities, I was flabbergasted that the Allies would stoop to targeting women and children. When Americans interrogated me after the war, I brought this up. The answer was that we did it first, and were only given a taste of our own medicine. My reply was if indeed we did these things, why in the world would you take the same approach, when you claimed to be fighting for peace and freedom. Our Luftwaffe never ordered civilians to be deliberately targeted for murder like England's Bomber Harris did. It was very depressing to see up close and personal the destroyed, once proud cities. The stories of the losses became overwhelming at times.

The smell after a bombing raid is something you never forget, I hope I never have to see anything like that again in my lifetime. I should like to add that Dr. Goebbels has impressed me by going out to the people to reassure them and attend to their needs. I was in Berlin after a very nasty raid; he went out while smoke still billowed from the buildings to give out food and supplies. These were the leaders of the Reich, never afraid to help their people and to set good examples for youth to follow.

What was it like at wars end?

Leni: Heartbreaking. I saw my people give their all in a fight for freedom against a vicious foe. Due to my affiliation to the NSDAP and the Führer, they sent me before kangaroo courts, kept me in isolation during some of the time, and treated me very badly for someone who only made movies. I was very surprised at how we were treated, the Americans I knew in 1938 were not the same ones who invaded Germany in 1945. There were some exceptions, some enlightened officers were very interested in my works and even tried to woo me you might say.

There was even talk of me helping in Hollywood, bringing my expertise with me. Because I refused to belittle the Führer this made it difficult for me to get work in the film industry. This is something that still clings to me to this very day. From what I witnessed with my own eyes, I would never turn my back on the man who gave so much to care for his people. When snobby elites tell us murderers are heroes, and heroes are murderers, my moral compass causes me to stand up for truth. I wish I would have said more, but I selfishly wanted to produce my films and bent to the will of those who hate a man they did not know.

I have interviewed others who say that at wars end the Allies put them in camps, did this happen to you.

Leni- Yes, the Allies were both good and bad. Germany was in ruins, and there was no food, safe water, or medicine. The Allies quickly brought in necessities to support life but I remember many dying from malnutrition, including children. The Americans were especially quick to help civilians, and to restore power and get food out.

To contrast with these acts of mercy, they also were very vengeful. Anyone who was in the NSDAP, government offices, propaganda, or SS ended up in camps for interrogation. They asked about all my affiliations, Hitler, Dr. Goebbels's, and my films. Everything I owned was confiscated; they charged me as an offender, for helping the NSDAP. I was angry that the people, who claimed to have freed Germany from oppression and terror, were now doing the same things they claimed to have freed us from, it seemed hypocritical.

I was terrified as I did nothing wrong and I even thought of suicide to avoid being tortured and humiliated. I understood then why Dr. Goebbels's did what he did, if you were on the wrong list life became very hard for you, the stories I was hearing made my heart sink. Children taken from mother's due to their party membership, fathers being threatened with Siberia so that they would never see home again. Old, young, women, invalids, anyone who served their nation was arrested and charged as a common criminal. It was like a bad dream in which collective punishment was the watchword, for losing the war.

To add insult to this, many of the American interrogators were former German Jews who had a strong bravado to them that sometimes bled into actions where they assaulted prisoners and used force. I ran into one of these types who threatened to have me sent to the Russians where he guaranteed I would receive even worse treatment, even rape. I had to endure this on and off until late 46. A court declared me a follower and finally left me alone to begin rebuilding what was lost.

I always ask for thoughts about the crimes Germany stands accused of, can you comment?

Leni: My personal thoughts are things are not what they seem. I was accused of using camp inmates for film projects etc. I did interact with them, I never shied away from that, and they seemed well fed and cared for. They were prisoners indeed, but none ever came to me to ask for help or to complain. They were left alone and unguarded, and never escaped, so that says a lot to me. It is said the camps were hell, and millions died. I never witnessed any of this, and I frankly do not believe it. I knew many officers in the SS and not once did any of this come up, they talked about resettling Jews in the east, and sometimes they did have to hang criminals and partisans, which was hard, but nothing about a state policy to kill anyone. I jumped to conclusions before, like I mentioned in Poland, and I feel that the many photos that are used to prove crimes have another side.

Therefore, why I am very open to hear other opinions and experiences from those who claim persecution, I am very skeptical, and take what they say not at face value. I feel that many people do not want to tell the truth, but only advance their hidden agenda. The Third German Reich was not a nation who wanted to harm people and destroy nations. The Führer only wanted peace, but he was robbed of that dream and I was a witness.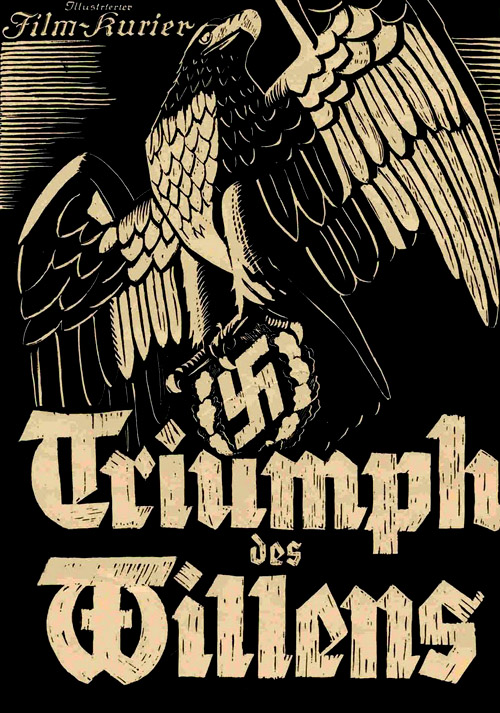 [Above: Triumph of the Will, 1935]
---
Back to Interviews
---