---

---
      Interview with Hildegard Helmke (Wittmann), widow of Knight's Cross winner Michael Wittmann, 1988.
---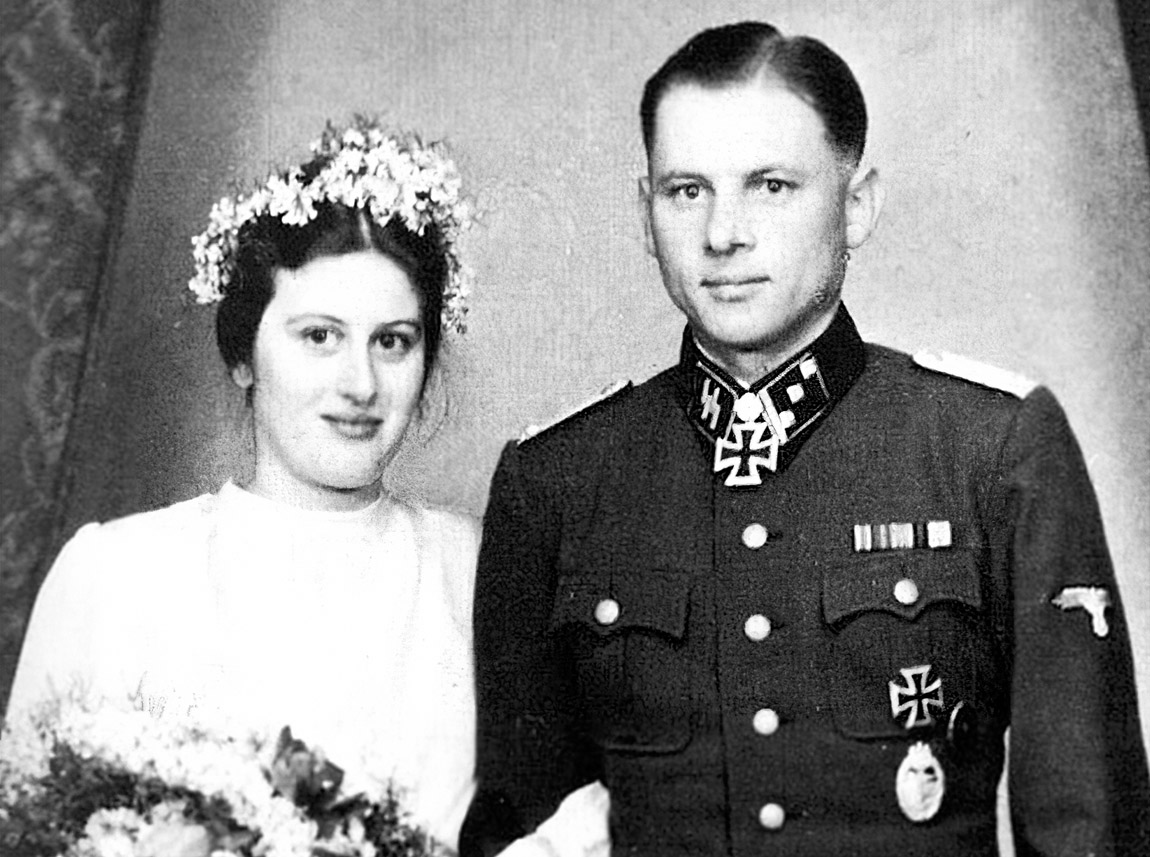 [Above: Hildegard and Michael Wittmann]

Before we begin, here is a very short introduction to the hero and legend Michael Wittmann.

Michael Wittmann (April 22, 1914 – August 8, 1944) was legendary Waffen-SS tank commander, perhaps best known for his ambush of elements of the British 7th Armored Division on June 13, 1944. Commanding a single Tiger I tank, Wittmann destroyed fourteen British tanks and fifteen personnel carriers, along with two anti-tank guns, in the amazing short span of fifteen minutes!

But even before this superhuman feat Wittmann had earned the Knight's Cross on January 30, 1944. But not stopping at that, on February 2, 1944 he was awarded the vaunted Oak Leaves by Adolf Hitler himself. He was rightfully called a 'tank ace', being awarded these coveted awards for the destruction of 117 enemy tanks! After the daring destruction of the horde of British armor in June of 1944 Wittmann was awarded the Swords to go with his Oak Leaves on June 22, 1944.

This hero was killed on August 8, 1944. How he died is a matter of speculation to this day. There are some historians who even believe that the British put a bounty on him and he was singled out in combat and murdered. This sounds a lot like Allied behavior, as they were well-known to be assassins, such as when they violated the rules of war and murdered Admiral Yamamoto, commander of the Imperial Japanese Navy's Combined Fleet.

But as a true hero Wittmann was more than just a warrior, he was also chivalrous and kind-hearted, even to his enemies. In Franz Kurowski's 1992 book Panzer Aces, he describes German troops 'showing concerns for the Russian wounded, despite the many atrocities' committed against the Germans by the communists. Kurowski writes of one event where Wittmann had destroyed eighteen tanks in a single engagement, after which he was awarded an Iron Cross and asked by his superior if he has any requests. Without hesitation, Wittmann asked for assistance for a wounded Russian soldier he had previously seen on the battlefield. A true modern day knight and a legend.
---
Thank you very much for allowing me to greet you Frau Helmke, as I mentioned I only want to ask you a few questions about the war and your former husband. May I start by asking how you met and why he joined the SS?
Hilde: Yes Brian, you are most welcome and I am told you are very interested in our point of view and history. I sadly do not receive many of my former husband's comrades any longer as time is calling them away. It is so nice to have you here and I shall tell you about my man.
He was a shy boy from what I learned of him, he went into the army to try to settle down into his place in society. All that did was awaken him to the SS as he wanted better. He always said the SS were the faithful men to the Führer, and it was their honor to be the chosen.
He told me how hard it was to become an SS member; he had to pass hard fitness tests, and to take written exams also. He told me one of his proudest days was putting on the black uniform with those silver runes. He felt he was part of Germany's past united to the present. I still remember being a young girl and seeing those boys walking down the street, they looked knightly.
You know he was in the Führer's bodyguard, they called themselves the Leibstandarte SS Adolf Hitler, and Sepp Dietrich was their commander. I met him many times; you would have loved to meet him, and must meet his sons someday. He loved to tell the stories of times past but sadly he died 20 years ago. His heart was broken by the outcome of the war, and his comrades who never came home.
Michael was so very proud to serve his nation and the Führer, and I will never forget how he felt about it. He was a true warrior of Germany and lived a life as an officer in the SS with honor. That is how I met him; he was attending officer school at Bad Tolz. We had mutual friends who introduced us, but we were both quite shy. Once that awkwardness wore off I was asked to go out for a walk and maybe a movie. The SS school always was having some sort of festival there like a dance party, movie night, or sports competition. He was asking me to go to more and more with him. This helped me blossom as I met many girls who were dating the men there.
For the time he was at Tolz, we saw each other often and when it was time for him to go he gave me the most passionate kiss I had ever had. I knew then this was more than just a friend. He wrote me often from the front and told of his exploits, he was very proud of his men. He came to meet my family, and my father adored him. It was then we came into a relationship that was very serious. I will tell you I wept every time he left for the front, but he always said he will return. God was protecting him and his crew, and he had a coin of St. Michael, whom he was named after. This gave me little comfort, however, as I saw the death notices in the papers.
What was your wedding like?
Hilde: It was a happy time for me. Michael proposed marriage and wanted to start a family as Reichsführer-SS Himmler asked all of his men to do. Once he proposed to me, he had to apply for us to become wed. The race office quickly approved as he was a hero of the Reich. He telephoned me from Russia to tell me it was all done and approved.
I set to work planning a venue and got help from the party and the local SS district. He was a Knight's Cross winner and now famous so the press loved him. The party even had a special reporter come to our house; I remember seeing his official armband. Whenever a winner got married the state wanted to make it a big affair.
The wives of many of the officers of the Leibstandarte SS Adolf Hitler reached out to offer help, especially Sepp's wife Ursula, she gave me a lovely gift of a pearl necklace. She loved pearls, I remember, and always wore them, as a necklace or ankle bracelet. Sepp had promised after the war my man would receive a race car to enjoy.
Our wedding was held in Luneburg and was a mix of the old and new. We had a religious wedding, but also with the traditions of the ancestors. We did the bread and salt plate and pledged ourselves to be faithful to the SS and the ideals of National Socialism. We did this while also asking God to accept our union.
Bobby was his best man, and you must meet him, he was around my husband more than me, as they served together at the front. We danced and held a party until late in the night. We were provided anything we could have asked for, it was a nice respite from the war. It was very simple yet fulfilling; it was hard to explain how solemn it felt.
For the honeymoon I can tell you it was an extended one. The panzer regiment he was in was transferred to France and I remember greeting them in Mons for his birthday. We were granted the responsibility to find a place for his company and we found an abandoned Chateau that needed much cleaning. The townspeople said it formerly belonged to a family who immigrated to America. The boys went to work fixing every inch of the place, and their wives and girlfriends were invited to stay as well. We had the time of our lives there, as the boys trained, us girls went sightseeing, sunbathing, and enjoyed the grounds. They took us for rides in their vehicles as well; we had a pond where they could try out a new swimming car [see piture below].
It was a very nice vacation for me and the war seemed so distant then. I made some very close friends, as we girls were all in the same boat; we loved men who were brave warriors who may not come home.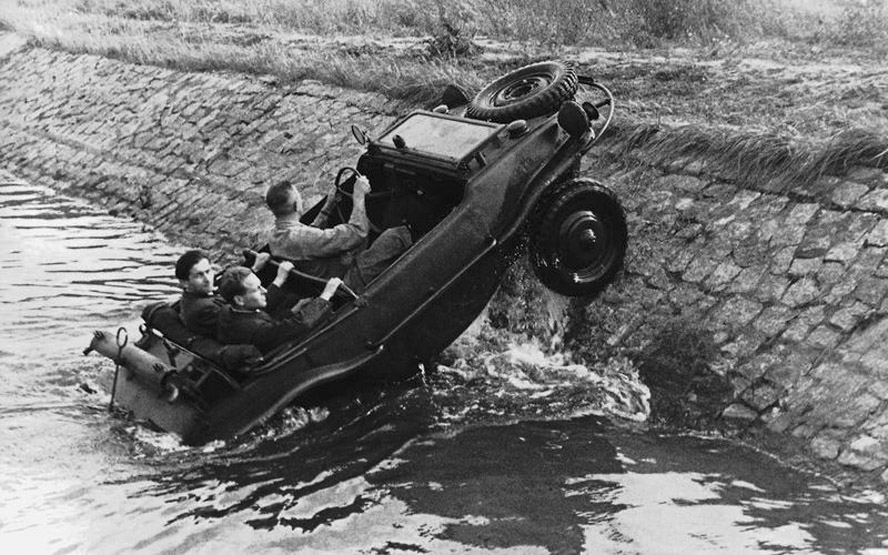 [Above: The Volkswagen Schwimmwagen was a four-wheel drive amphibious vehicle.]
How did the French people treat you while you were there?
Hilde: It was not like as they say today. The people knew their country was the one that declared war and brought about the fighting and occupation. As Germans we did not treat them as defeated and went out of the way to show friendship. This was returned in kind by most French. A few of my husband's men had French girlfriends and they would come to visit often. They often brought wine and fine cheese with them to share, even in wartime we all found ways to eat well. They say the resistance was everywhere and active, I saw none of this and do not think it is true.
All the French we saw were friendly and very accommodating to us on trips. Some of the NS ones were telling us how well off they had it with the new form of government. The workers were treated better and the people had more money. Of course the war put curfews on some areas, just like in Germany, but one could go out if you wanted, it was not enforced.
I know that around any military places they did keep civilians away and past curfew could arrest you if you did not pay attention. In France I felt very free and without worry about any of this. We had fires at night while drinking wine or whatever was available. The boys told wild stories of the front and their exploits.
My man would laugh when they described a shell hitting a panzer, and the loud bang it made, like being in a bell. He also told a story of him and Bobby knocking out a tank and the crew being so scared that they shit in their pants and the soldiers who took them to the rear had the job of helping them clean. They sent my man the dirty pants as a joke, which he quickly threw in a fire.
Those were the times I will tell you, we even were invited into the nearby town for dinner parties on the weekends. The French were counted as friends back then and many came to Germany to work freely for good pay. We never forced them into anything they did not freely choose. Today the story has changed.
Can I ask what happened after the invasion?
Hilde: Yes, well all good things must end and I was notified my husband fell in Normandy. A comrade reported his panzer was hit in the rear by a rocket from a Jabo [abbreviation for the German term Jagdbomber for a fighter-bomber aircraft]. He was leading an attack from the front and fell into a trap the enemy laid. I am told it was a fast and painless death. I am at ease now also as I know where he rests. For many years I wondered [Wittmann and his crew were buried next to the wreck of their tank in an anonymous grave. It was rediscovered in 1983 and the grave exhumed. They were reburied in a collective grave on La Cambe War Cemetery].
[Above: The grave of a hero whose legend will never die.]

When told of this, my parents took me in, as I was very depressed and with the war situation it made it even worse. Sepp and many comrades came to our house to visit and pay their respects. Many of the wives were there for support as well. The Reichsführer-SS made sure we had all we needed.

My man died a hero of Germany, and that gave me some comfort. He died as he would have wanted, leading his men into an attack. He always told me it could happen, and that I needed to be strong for him, my family, and Germany. He has been found and laid to rest with his comrades, you must go visit him and show him your respect.

He would have liked to meet such a person like you; you would have gotten along well. I will tell you after the war I was appalled and shocked at the hateful and vengeful Allies. The Führer brought forth a new idea for a better world, and the Allies robbed us of that. My nation was destroyed, my man gone, and Allied soldiers pillaged everywhere they could. They treated us very poorly, even the British, who like to pretend they showed us the utmost mercy. You can not even imagine what it was like living right after the end. A woman could not even walk down a street with them for fear of being assaulted or grabbed. I was in a very small town so they did not stay long which was good. We had friends come to us who told horror tales of what happened. One of my good friends killed herself after being raped by a soldier. She could not bear the shame. Many of the SS men who survived were sent away to the camps, the wives left to care for the home.

The wolves came out now, many turned in anyone associated with the SS and this brought harsh rations and restrictions. They searched homes, taking anything they wanted, and many people disappeared forever. It was a bright spot that my man was a famous panzer leader as others wanted to learn about him. When they found out where he lived and where I was they asked what could be done to help me. I was angry and refused, but they assured me they only wanted to help the widow of a famous warrior. One man from America told me in confidence he was a National Socialist and hated what they had done. He offered money and help for my family to put us back together. Little by little things began to get back to normal for us but my life would never be the same.

May I ask you how you feel about the Waffen-SS being labeled as a fanatical army of criminals?

Hilde: Do not believe what they say. These boys were nothing but professional soldiers of Germany. You must remember those who won the war control how we remember the war. The Federal Republic is doing well now and has no interest in defending the honor of these men. The protection from the west is all they crave.

The Russians took the entire east and it is their servant now, the truth is forbidden. Calls have been made to unite us but I am not sure that will be allowed. The world fears a united Germany, and then wars would break out to destroy that unity. I am angered that even some Germans here report that these boys committed crimes and so forth.

I will never believe they did so, I only saw kindness and chivalry from all of them. The leaders would never have allowed their honor to be tainted by allowing crimes. My man spoke of how they treated the enemy, and it was not bad. He once told me of a time he knocked out a panzer and the crew was captured. It was a successful crew and he gave the leader a toast and a handshake for a good fight.

There was no hate of the soldiers, only the ideas for which they fought for. That went for all nations. I know this because he told me so. Bobby will tell you these same things as well, I must introduce you. Do not believe what the Jews say, I was forced to watch the films and they are works of propaganda. These men did not kill these people; the Allies caused all that you see in those photos. I can tell you they are lying about what happened.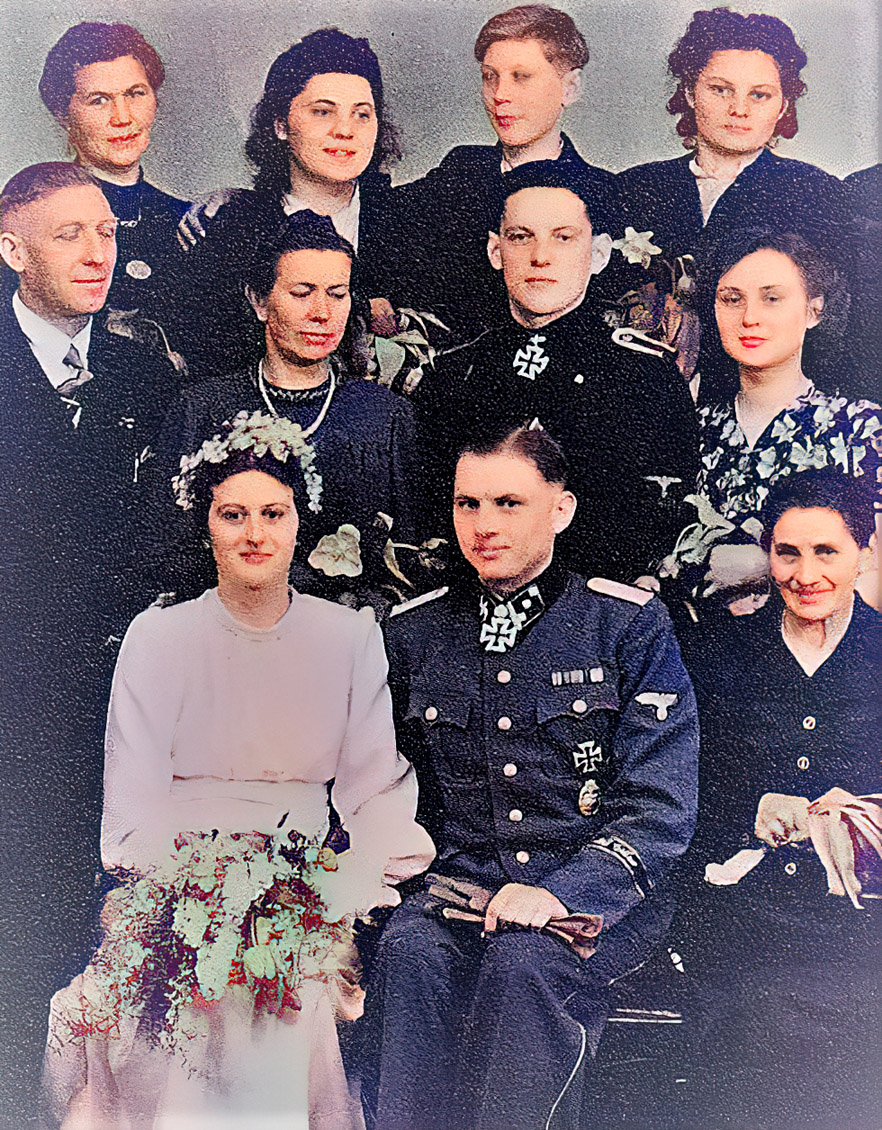 [Above: Hildegard and Michael Wittmann (seated in front)]