-Here is a section where we will post stuff that has been:
(a) sent to us over the years (by people, bands or labels for advertising/propaganda purposes and promotional materials.) Out of the literally thousands of flyers sent to us over the years, here are a very small selection).
(b) music related and other items which are interesting in some way, for good or for ill, some we love, others we hate, hence the name Trash and Treasure.
(c) stuff that has been contributed by viewers to this page.
The only rule is it at least has to be interesting. If you have something, send us a picture and a brief description.
Lastly, don't try to order anything found here amongst the flyers! They are out-of-date, many of them over a decade old. We advise you to contact any addresses listed before ordering anything!
Special thanks to those who wrote the interesting letters that appear in Trash and Treasure, you're as awesome as you are weird!

And lastly...

COPYRIGHT WARNING:

THE USE OF ANY COPYRIGHTED MATERIAL IS USED UNDER THE GUIDELINES OF "FAIR USE" IN TITLE 17 § 107 OF THE UNITED STATES COPYRIGHT LAW. SUCH MATERIAL REMAINS THE COPYRIGHT OF THE ORIGINAL HOLDER AND IS USED HERE FOR THE PURPOSES OF EDUCATION, REVIEW AND CRITICISM ONLY. NO INFRINGEMENT OF COPYRIGHT IS INTENDED.
---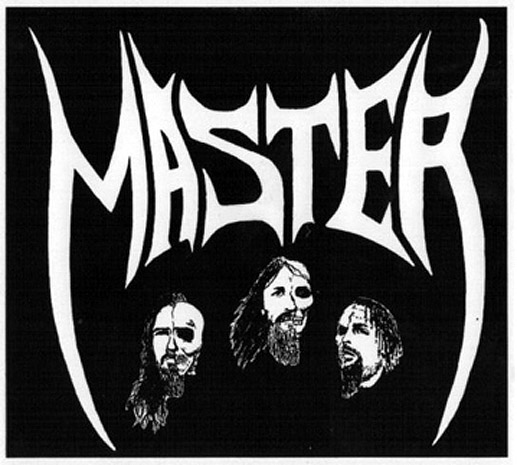 [#1]
Master
Promotional stickers

[Note: Wow. I think these crude stickers were drawn in a cave during the Stone Age.]

[Below: I haven't heard anything from Master for... forever, but I stumbled on this 2007 release that uses the same wonderful artwork as the sticker above!
Note the demon guy's face has been redone for some reason...]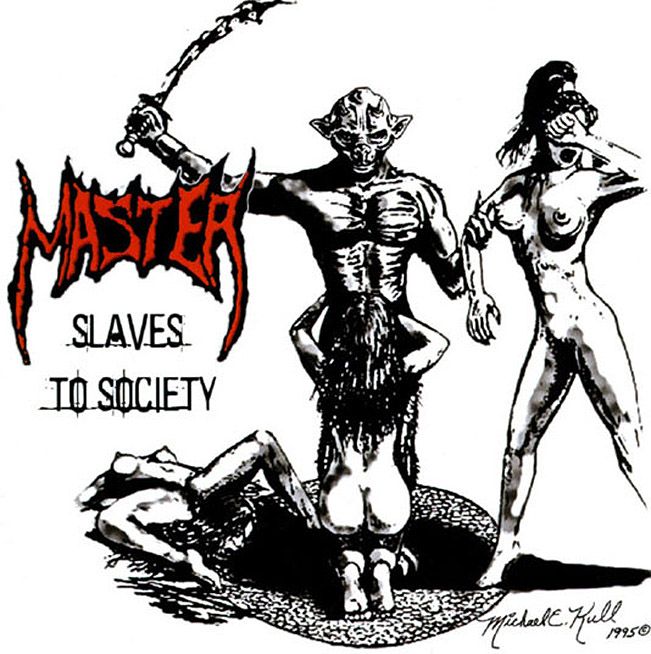 ---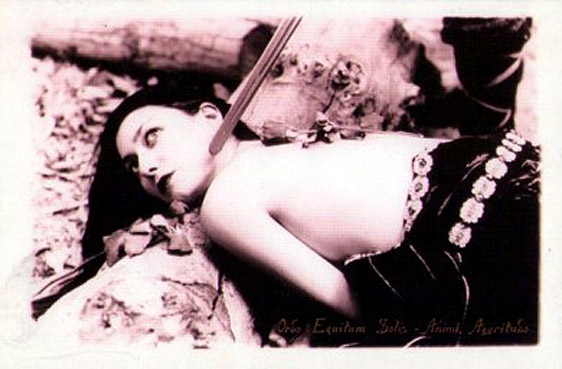 [#2]
Ordo Equitum Solis
Postcard

[Note: That's the singer, Leithana, beautiful huh? She's also one of our favorite singers. Ordo Equitum Solis stands alone.]
---
[#3]
Bathathrum
Flyer

[Note: Here's a flyer for the mighty Barathrum's second CD, 'Eerie'. The band has come a long way since then, releasing many great and unique albums. Barathrum has always been one of my faves. The only band we interviewed twice. You gotta love the broken English 'Enclose IRC if just write!' But hey, it's better English than I speak Finnish!]

[Below: Cover's of Barathrum's 1995 Eerie]
---
[#4]
Letter #1
[Note: Here's one example of a handful of letters we received back in 1998/99 after Mourning the Ancient images were mistakenly published in a 'zine of the day, The Grimoire. To see a scan and read a little bit more about it click here.
Anyway, the majority of them were very strange, to say the least. This one promises to 'frighten' me if I'm ever in Texas. But believe me, I'm frightened enough where I am!]
---
Satyricon
[#5]
Flyer

[Note: Here's a flyer for the 'The Shadowthrone', a pretty cool release.]
---
[#6]
Mangiati Vivi!
Laserdisc

[Note: Here is the Italian edition of 'Eaten Alive' by Umberto Lenzi.
Nothing beats these old horror classics, and the laserdisc version adds even more prestige, with its huge jacket art and nostalgic format.]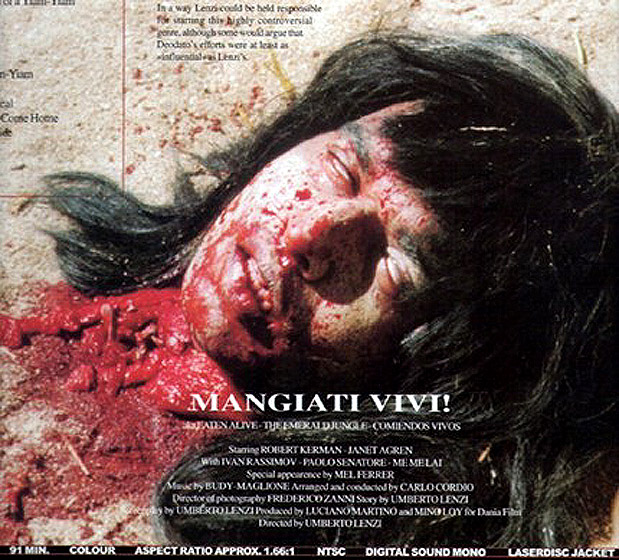 ---
[#7]
Gerritt
Cassette - 'Sample II'

[Note: Here is something bizarre we received in the mail a while back. It is what you might call a 'hijacked' release. Whomever released this took another 'artist's' cassette and cover and recorded their own sounds over the old and pasted their info/art over the old. Why do I care? Well I don't, but I admit, I thought it was kinda funny. Although it says that you can 'write for info' and 'send polaroids' the address listed is scratched out. Send Polaroids? What the hell does that mean? Weird, weird, weird. I think 'steve Pultz' (the original guy's name on the cassette) might be buried in Gerritt's backyard.]
---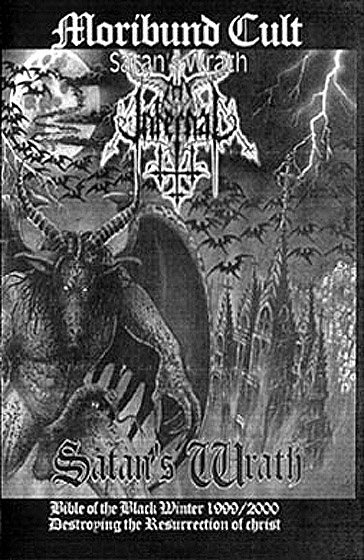 [#8]
Moribund Records
Catalogues

[Note: Here are two order catalogs from the winter of 1998/99 from Moribund Records.
In addition to the cool art, Moribund catalogs would include various interviews within its pages. A great distro.!]
---
[#9]
Mortal Wish
Cassette cover/flyer

[Note: Here is a cassette cover from Brazil's Mortal Wish.
It's not uncommon for this band to use extra CD/cassette covers as flyers. The color and art on this one are quite cool.]
---
[#10]
Deicide
Compact Disc Outer cardboard cover [showing front and back and spine]

[Note: When CD's first came out most of them came inside these huge boxes, most of which were thrown away.
They were a neat way of displaying the cover art, but costs and waste soon terminated their use. Anyone else got any of these?]
[Above: RoadRacer Deicide promo picture from the same era/photo shoot]
[Above: An early Deicide band photo]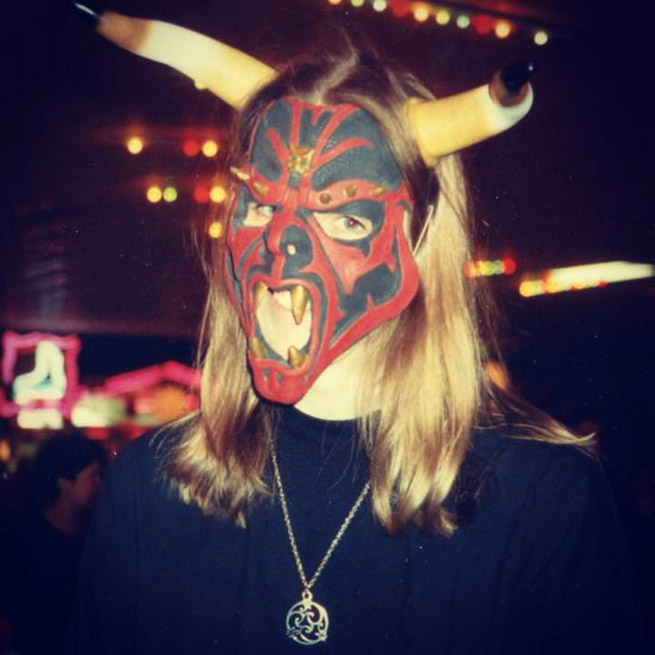 [Above: Deicide's Eric Hoffman in mask. Deicide used to come out on stage during live performances wearing masks like this.]
---
[#11]
Banshee
Flyer/promo mailing envelope/cassette

[Note: Here is a great Italian band that I'm not sure what happened to.
Back in the day they sent us their demo 'Growing into the Rotten Garden' (how cool is that name? Referring to humans...)
and we liked it so much we interviewed them.
'Soon out from lost souls screaming...' ]
---
[#11b]
Thule Journal
Booklets

[Note: These booklets are from sometime in the 2000s. They were oriented toward prisoners, but were interesting to anyone.]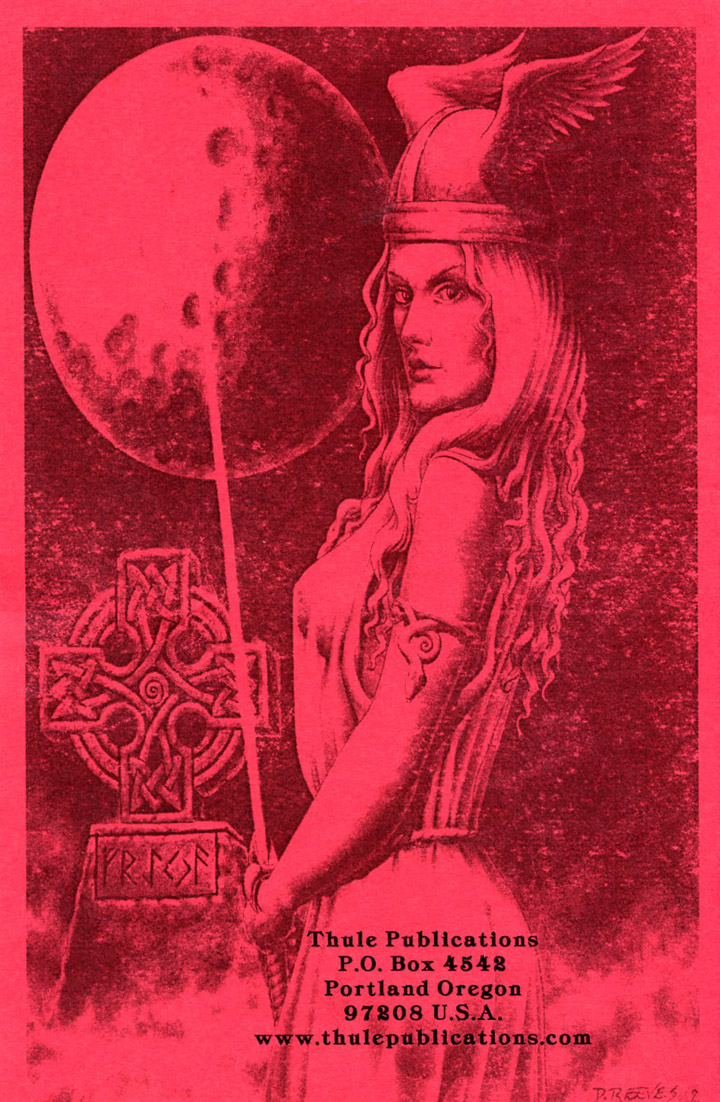 ---
-|- Next Page -|-
-|-(2) -|-(3)-|- (4)-|- (5)-|- (6)-|- (7)-|- (8)-|- (9)-|- (10)-|-
-|- (11)-|- (12) -|- (13)-|- (14)-|- (15)-|- (16)-|- (17)-|- (18)-|- (19)-|- (20)-|- (21)-|- (22)-|- (23)-|-
-|- (24)-|- (25)-|- (26)-|- (27)-|- (28)-|- (29)-|- (30)-|- (31)-|- (32)-|- (33)-|- (34)-|- (35)-|- (36) -|- (37)-|-
-|- (38)-|- (39)-|- (40)-|- (41)-|- (42)-|- (43)-|- (44)-|- (45)-|- (46)-|- (47)-|- (48)-|- (49)-|- (50)-|- (51)-|-
-|- (52)-|- (53)-|- (54)-|- (55)-|- (56)-|- (57)-|- (58)-|- (59)-|- (60)-|- (61)-|- (62)-|- (63)-|- (64)-|- (65)-|- (66) -|-
-|- (67)-|- (68) -|- (69) -|- (70) -|- (71) -|- (72) -|- (73) -|- (74) -|- (75) -|- (76) -|- (77) -|- (78) -|- (79) -|- (80) -|- (81) -|- (82) -|-
-|- (83) -|- (84) -|- (85) -|- (86) -|- (87) -|- (88) -|- (89) -|- (90) -|- (91) -|- (92) -|- (93) -|- (94) -|- (95) -|- (96) -|- (97) -|- (98) -|- (99) -|-
-|- (100) -|-(101) -|- (102) -|- (103) -|- (104) -|- (105) -|- (106) -|- (107) -|- (108) -|- (109) -|- (110) -|- (111) -|- (112) -|- (113) -|-
-|- (114) -|- (115) -|- (116) -|- (117) -|- (118) -|- (119) -|- (120) -|- (121) -|- (122) -|- (123) -|- (124) -|- (125) -|- (126) -|-
-|- (127) -|- (128) -|- (129) -|- (130) -|- (131) -|- (132) -|- (133) -|- (134) -|- (135) -|- (136) -|- (137) -|- (138) -|- (139) -|- (140) -|-
-|- (141) -|- (142) -|- (143) -|- (144) -|- (145) -|- (146) -|- (147) -|- (148) -|-
---
-|-Back to Review List -|-
---
---