---
Adolf Hitler and the Army of Mankind
---
     Once more, let's listen to one of the greatest soldiers of the war, Léon Degrelle, talk about his experiences in Russia and the East...
'The peasants were just simple people who had suffered under Stalin and the great promises of Communism, and they were, for the most part very supportive of us.
This was most evident when we attended their religious services.
I attended regularly whenever possible, although I am a Catholic, the Russian Orthodox services were handled by priests who had either been in prison,
sent to Siberia, or living in hiding for many years.
We supported their religious freedom and they responded very well. ..
They prayed for an end to Stalin and his measures, they also prayed for us to win.
Another thing that must be remembered is that we also assisted the peasants in bringing in their crops, protected them from partisan reprisals and gave them jobs.
They lived a better life under us for three years than under the Communists during their entire lives.
They also gave us great intelligence on partisan and Red Army activity, and worked as translators and scouts.
This was especially true in the Ukraine... One village I remember was called Baibusy; we had a great relationship with these Ukrainians and others who fled there.
They were marvelous.
In the Caucasus the anti-Soviet feeling was incredible, especially among the Kalmucks and Armenians,
and they fought with us and for us in a fanatical way.
Another great memory was an entire village turning out to welcome us as we entered.
The people brought out their religious icons and gave us information and valuable intelligence, food, places to stay, everything.
The orders from the upper command were to treat the locals humanely; they were our allies.
These people became a second family for many of us, and when we left there was a great deal of sadness.
Once Paul Hausser and I attended a religious mass; the people knelt before him as if he were a Patriarch,
blessing him for his presence and for restoring their religious freedom.
With the candles and gilt images it was quite an impressive scene.'
--Léon Degrelle, from an interview conducted in the 1980s

[Most pictures - Click to enlarge]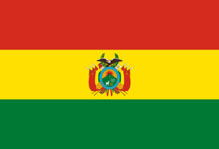 [Above: Ancient Inca artifact.]
The 'Organización Deportiva Bolivariana' (Bolivarian Sports Organization) is a sports organization founded in Bolivia and created on August 16, 1938. This organization continues to exist to this day.
The member nations are Bolivia, Colombia, Ecuador, Panama, Peru and Venezuela.
Like nearly all South American countries Bolivia was heavily inspired by the Third Reich and National Socialism.
[Above: Note the many stiff arm salutes by the athletes. Circa 1938.]
[Above: Women giving the stiff arm salute. Circa 1938.]
[Above: This poster advertises 'Juegos Deportivos Bolivarianos' (Bolivian Sports Games), August 6-22, 1938.]
[Above: This poster also advertises 'Juegos Deportivos Bolivarianos' (Bolivian Sports Games), August 6-22, 1938.]
[Above: The armed wing of the conservative National Revolutionary Movement political party in 1952. Note their stahlhelms.]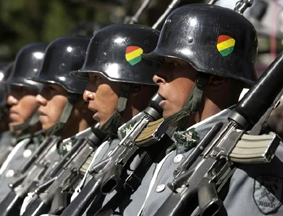 [Above: Bolivian soldiers with stahlhelm M35 helmets and M16 rifles.]
Click here to see more pictures

[Above: Symbol of the Flemish National Union, V.N.V.]
[Above: Reimond Tollenaere.]