The Prison Called Hohenasperg: An American Boy Betrayed by His Government During World War II by Arthur D. Jacobs ©1999
[Above: The Prison Called Hohenasperg: An American Boy Betrayed by His Government During World War II.]

The book's own description best describes this unbelievable and truly insane book:

'Unknown to most Americans, more than 10,000 Germans and German Americans were interned in the United States during WWII. This story is about the internment of a young American and his family. He was born in the U.S.A. and the story tells of his perilous path from his home in Brooklyn to internment at Ellis Island, N.Y. and Crystal City, Texas, and imprisonment, after the war, at a place in Germany called Hohenasperg.

When he arrived in Germany in the dead of winter, he was transported to Hohenasperg in a frigid, stench-filled, locked, and heavily guarded, boxcar. Once in Hohenasperg, he was separated from his family and put in a prison cell. He was only twelve years old! He was treated like a Nazi by the U.S. Army guards and was told that if he didn't behave he would be killed.'

     One of the famous American 'Tuskegee Airmen', Alexander Jefferson, wrote a book called 'Red Tail Captured, Red Tail Free' where he talks about being a second class citizen in his own country. He was shot down and put into a German P.O.W. camp where for the first time in his life he wasn't segregated from the white troops. He recalls the incredible irony of finally being freed and returning home and no sooner did he walk off the ship when he was told 'Whites to the right, niggers to the left'!
[Above: 'Red Tail Captured, Red Tail Free' ©2005]
While America was supposedly fighting for 'freedom' and 'democracy' in Europe, blacks were rioting and violently fighting for their rights back in America. For example, in 1943 black Americans rioted in the city of Detroit--the heavy hand of 'freedom' killed twenty-four of them!
Another example of America's hypocrisy and outright brutality was the inhuman treatment of WW2 veteran Isaac Woodard, Jr (March 18, 1919 – September 23, 1992). This black American was attacked by South Carolina police in 1946, while still in his army uniform, just hours after being honorably discharged from the United States Army! This attack was so brutal it blinded Woodard for life!
Ironic that when America occupied Germany after the war they brought with them their racist policies which were previously unknown in Germany.
The book The Day of Battle: The War in Sicily and Italy, 1943-1944, by Rick Atkinson (Macmillon, 2007) gives us some very interesting statistics of Allied racism:
'When War II began in September 1939 fewer than 4000 blacks served in the U.S. Army; more than two years later the U.S. Navy had only six black sailors-excluding mess stewards. At the time of the Anzio landings (May 1944), the U.S. Army had 633,000 officers, of whom only 4,500 were black. The U.S. Navy was worse, with 82,000 black enlisted sailors and no black officers; the Marine Corps which had rejected all black enlistments until President Roosevelt intervened, would not commission its first black officer until several months after the war ended...
…blacks were shunted into quartermaster companies for duties such as truck drivers, bakers, launderers, laborers and the like.'
A 1944 German propaganda leaflet targeting black American soldiers stated truthfully:
'In World War I they promised your father's racial equality as a reward for fighting the war.

What did they get? What did you get?

The lousiest jobs.
The lousiest flats.
The lousiest pay.
The lousiest chances.


Poverty, Unemployment, Race Riots, Lynching, Hanging and Burning!

and

The general contempt of all Whites in the U.S.A.

RICH (WHITE) MAN'S WAR

POOR (COLORED) MAN'S FIGHT'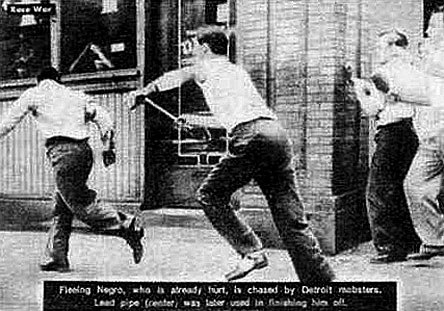 [Above: This is the flip side of the leaflet bearing the text above.
It says: 'Race War' (top left) and 'Fleeing Negro, who is already hurt, is chased by Detroit mobsters. Lead pipe (center) was later used in finishing him off.']
     When the capital of the German Reich, Berlin, crumbled there was over a dozen nationalities defending it. There were Americans, British, French, Italians, Russians, Waloonians, Danes, Norwegians, Swedes, Iranians, Spaniards, Africans... the list goes on and on. In fact the bulk of defenders were not even German. Artur Axmann, leader of the Hitler Youth, when fleeing through the fiery ruins of Berlin, was shocked when suddenly his group stumbled on:
'What we saw before our astonished eyes was a kind of SS international brigade-very few Germans but a lot of
Danes, Swedes, Norwegians, Dutch, Belgians, Latvians and that French group called Kampfgruppe Charlemagne.'
(O'Donnell, The Bunker, 304)
    Imagine that. The last stand of the Third Reich, defended by foreign born troops. They met a fiery death because they believed in what they were fighting for. Look it up.
    Everywhere the German and Axis armies went they brought with them a high standard of living previously undreamt. To many remote parts of Russia they brought with them modern civilization itself. The liberating German and Axis armies encountered poverty and despair on a level that shocked them to the core. The deathly policies of communism had not only crushed people's livelyhoods, but destroyed their spirits. Joseph Goebbels described it best in one of his last writings, on April 20, 1945, in a newspaper piece called 'Our Hitler', celebrating the Führer's 56th birthday:
'Our enemies claim that the Führer's soldiers marched as conquerors through the lands of Europe — but wherever they came,
they brought prosperity and happiness, peace, order, reliable conditions, a plenitude of work, and therefore a decent life.
Our enemies claim their soldiers came to the same lands as liberators — but wherever they come there is poverty
and misery, chaos, devastation and destruction, unemployment, hunger and mass death.'
     There were plans for the German armies and its allies in Russia, fighting Communism, to link up straight-away with the Japanese armies. Imagine, these great world powers, allies for many years, of such different races and cultures, meeting as friends on the battlefield, and then fighting together for a common goal. The Land of the Rising Sun and the Sons of the Swastika.
     Japan wanted an Asia for Asians. The European occupiers had practically enslaved the Asian people in their 'colonies.' Germany and her European allies were also fighting those same world powers. They also believed that a people should be led by their own race. The world would then be in balance, the way nature intended. In fact, when Japan liberated the Asian islands and nations previously occupied by Europeans, they asked Germany if it wanted a share of these lands, and the answer was no! For too long empires, conquest, and ultimately greed, had set out to enslave foreign lands.
[Above: Women in The Greater East Asia Co-Prosperity Sphere. Note the flags of Manchukuo, Japan and China.]

     A Japanese leaflet from 1944 explains Japanese intentions in a few words [Note: Nippon = Japan]:

'Nippon today is engaged in the most titanic struggle against Anglo-American aggression for the purpose of freeing all Asians from their odious encroachment. Nippon is resolutely determined more than ever to crush Asia's foes decisively in order to establish lasting peace and prosperity in East Asia and emancipate the one billion Asians from centuries of Occidental domination.'

     Anyone who knows the truth, knows that countries didn't lose the Second World War, mankind itself lost. The same age-old powers-that-be had won again. Their victory came at a terrible cost. They butchered tens of millions with their indiscriminate bombs. Over four million Germans died in concentration camps of starvation and the elements after the war was over. Look it up. Communist soldiers, berserk with propaganda, raped millions of German women, MILLIONS, from ages 6 to 90! Many of them after the war was over. Research it for yourself. You'll be amazed at what's been hidden from us.

     Recently declassified United States documents reveal that the president of the United States knew about the impending attack on Pearl Harbor and did nothing about it. In fact, he and his administration took measures to hide it. Not only did they know about it in advance, but they also instigated it. They would do anything to bring America into WW2, and since Japan was a friend and ally of Germany, they knew that by instigating a war with Japan, Germany would have to follow. They violated Japan's waters and even strafed her boats with machine gun fire. The information is out there, take the time to find it.

     We implore you, question what you've been taught. We've all been taught lies. The good guys lost World War Two. Mankind lost World War Two. The tyrants won. But the war isn't over. Free men and women, white, black, red, yellow and brown are learning the truth.

     The truth will make you angry. The lengths they have gone to lie to us. No matter your country of origin you are a victim of the same propaganda lies. It is international. They want to divide and conquer us. They want us to hate and fear one another. But in reality, it is They who hate all of us. And it is They who shall learn to fear us as well.

     Given time, and our old Gods' will, all races shall unite and wipe this tyrant from the face of the earth. And this blue planet will sigh, bearing a lighter load, less millions of its killers and enslavers. And all of this terrible dark time will be a story to tell our children's children. It is a fated time to come. After the fire. A world anew.

     But pictures speak louder than words! Don't take our word for it, look and see for yourself! And ask yourself, why did they hide this truth from us?
---
[Most pictures - Click to enlarge]

[Above: German military postage stamp from Tunisia, North Africa, circa March/April 1943. Click image to see other examples.]

[Above & below: Afrika Korps cuff bands]
[Above: The German-Italian African Campaign Medal. This award was issued to soldiers who participated in the joint campaign with German and Italian soldiers in North Africa.]
[Above: An ominous soldier protected from the harsh desert winds.]
[Above: This is the Sd.Kfz. 11 (Sonderkraftfahrzeug - special motorized vehicle).
This German half-track saw use on many theaters of war in WWII.
While its main role was as a prime mover for medium towed guns, it could also carry eight troops in addition to this.
Of a special note is the emblem on the door of the vehicle--the palm tree and swastika, the symbol of the Afrika Korps.]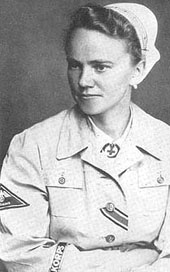 [Above: Women also served in the Afrika Korps. This is Ilse Schulz from the German Red Cross. Click picture to see more.]
[Above: African volunteers with their Wehrmacht counterparts.]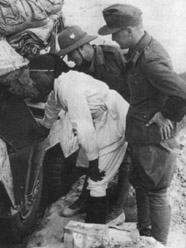 [Above: African auxiliary and two German Afrika Korps soldiers. Note the distinct German 'pith' sun helmet worn by the rear soldier.]
[Above: Two German paratroopers with the Afrika Korps and their local guide in Tunisia.]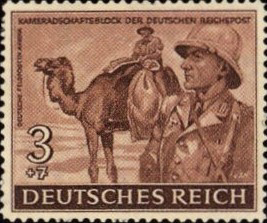 [Above: This is an unissued postage stamp depicting the Afrika Korps.]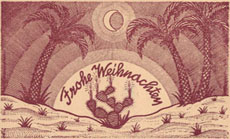 [Above: Afrika Korps Christmas card from North Africa.]
[Above: Afrika Korps ink stamps sometimes found on envelopes and postcards. 'D.A.K. stands for 'Deutsche Afrika Korps'. These ink stamps were unofficial, done by soldiers and units as a way to show their pride.]
[Above: Afrika Korps feldpost envelope from May 1942. Click on the image to see the letter and a larger view.]
[Above: Here is an issue of Julius Streicher's newspaper Der Stürmer from July 1941 featuring an Africa Korps soldier on the cover.]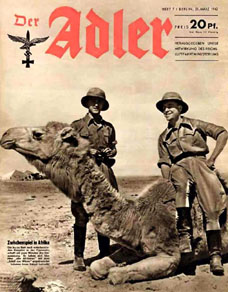 [Above: Here is the March 1942 issue of the popular magazine Der Adler (The Eagle) featuring a cover of the Africa Corps.]
Click here to see more pictures of the Afrika Corps
---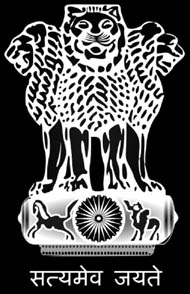 [Above: The national emblem of India. Below the lions is an abacus; below which is the motto inscribed in Devanagari script: 'Truth Alone Triumphs'.
This is a quote from Mundaka Upanishad, the ending part of the sacred Hindu Vedas.]
The British rulers were especially evil to their Indian subjects during their long occupation of India. The British East India Company first reared its demonic head in India in 1612. Prior to WWII millions of Indians had died due to famines caused in no small part to heavy British taxation and cruelty.

During WWII, unknown to most, was the 'Bengal Famine' on 1943-44, a genocide the British engineered largely for profit and war motives. This 'artificial famine' murdered almost four MILLION Indians! The unhung war criminal Winston Churchill knowingly diverted supplies of medical aid and food that was being dispatched to starving Indians to the already well supplied soldiers in Europe.
[Above: A child and dog succumb to Churchill's evil. Bengal, 1943.]
In the book Churchill's Secret War, by author Madhusree Mukerjee, a grisly picture is painted: 'Parents dumped their starving children into rivers and wells. Many took their lives by throwing themselves in front of trains. Starving people begged for the starchy water in which rice had been boiled. Children ate leaves and vines, yam stems and grass. People were too weak even to cremate their loved ones.
No one had the strength to perform rites...Dogs and jackals feasted on piles of dead bodies in Bengal's villages... Mothers had turned into murderers, village belles into whores, fathers into traffickers of daughters...'

The British prime minister mercilessly turned down appeals from two successive Viceroys, his own Secretary of State for India and even the President of the US!

Subhas Chandra Bose, who was with the Japanese at the time building the Indian National Army in hopes of freeing India, offered to send rice from Burma, but his offer didn't even get past the censors.

Millions of dead Indians mattered not to the blood-thirsty powers-that-be. What mattered was annihilating the Germans and any other souls who dared resist the hidden world power's plans for global slavery.
[Above: No shortage of food here. 'V' is for victory for world slavery!]
Sir Winston Churchill left this charming comment to history:
'I hate Indians. They are a beastly people with a beastly religion. The famine was their own fault for breeding like rabbits.'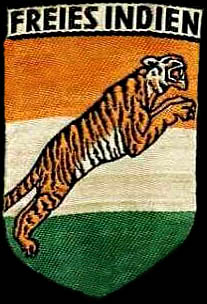 [Above: Waffen-SS Free India Legion sleeve shield]
Officially called the 'Indische Freiwilligen Legion der Waffen-SS', the Azad Hind or Free India Legion was formed mostly from POWs captured in Greece and North Africa. These men developed into a highly trained and superbly equipped division, but unfortunately this force never saw fruition of its mission, nor did it see large scale combat. It did however see some fighting. Its 9th company was transferred to Italy where it saw some action against the Allied invaders. Additionally, while in France, soldiers of the Free India Legion saw action against 'Maquis' terrorists in which a few Indians were killed in action and several others were honored afterwards for heroism.

There are reports that Russian soldiers at war's end found many dead soldiers in the area around the Reich Chancellery that were guessed to be 'Tibetan' or 'Turkestani', but there are other reports that say that they were men from the Free India Legion. We may never know the truth about who these men were, since there were so very many different races defending the capital of National Socialism, Berlin.

In 1943 Chandra Bose, the leader of the Free India Divison, would later raise an army in the Pacific known as the 'Azad Hind Fauj', or the Indian National Army (INA). Chandra Bose was a tireless warrior for India's independence and freedom from colonial slavery. He found fertile ground for his dreams and eager comrades in Germany. He met with Adolf Hitler several times and was respected greatly by the Germans.

Today there are statues to Bose all over India. He is viewed with great respect and admiration by many Indians today. Indians have expressed to me that he is like India's George Washington.
[Above: Azad Hind means 'Free India', it was also a rallying cry for independence. India was under colonial occupation by the British.]
'We should have but one desire today, the desire to die so that India may live, the desire to face a martyr's death, so that the path to freedom may be paved with the martyr's blood.'

-Subhas Chandra Bose
[Above: Subhas Chandra Bose meeting with Adolf Hitler. Circa May 29, 1942.]
[Above: Subhas Chandra with Gandhi.]
[Above: Waffen-SS volunteer, Division Azad Hind (Free India), Monte Casino, Italy.]
[Above: These Azad Hind (Free India) postage stamps were made in Berlin in 1943 for the Waffen-SS Indian Legion, but were never issued due to worsening conditions of the war. Note the first stamp, a Waffen SS Indian soldier bears a German machine gun (MG-42), and the last stamp depicting India breaking the chains of colonialism. Bose supervised the design of these stamps, even providing pictures of the nurse and the ceremonial swords.]
[Above: This is the highest value Azad Hind stamp, and also the rarest.]
[Above: Purported Azad Hind banknotes. Click on the picture for more examples and information.]
[Above: Indian officers. Note the German award ribbon on the left soldier's jacket. This ribbon represents the Iron Cross medal, which was a coveted decoration, awarded for feats of bravery.]
[Above & below: Indian Waffen-SS volunteers (Free India or 'Azad Hind' Legion) of the 950th Infantry Regiment on the 'Atlantic Wall' (Bay of Biscay) being inspected by Field Marshal Erwin Rommel, circa summer 1943...]
[Below: Azad Hind propaganda poster.]