---
Adolf Hitler and the Army of Mankind
---
    Before you begin to mount feeble accusations of 'hater' and 'racist', let's get a few things straight. Many countries fought on the side of Nazi Germany in WW2, including several non-white ones. One of Germany's primary allies of the 'Tripartite Pact' (signed on September 27, 1940) was not white, Japan. In fact, when the USA declared war on Japan the next year Germany honored the Tripartite Pact and declared war on the United States.
     Indians, Asians, Arabs and blacks not only fought on the side of Nazi Germany, but also wore the eagle and swastika on their breast. Dozens of nationalities volunteered for the elite Waffen-SS and many non-whites of a wide range of ethnic backgrounds served the Axis in many capacities. In fact, it was the largest multi-racial fighting force in history! Not to mention also the most religiously diverse as well.
     Commando Extraordinaire Otto Skorzeny describes the diverse nature of the Waffen-SS in his 1975 memoirs: '...from 1942 European soldiers from many lands and peoples could be found: Albanians, Bosnians, Britons, Bulgarians, Cossacks, Croats, Danes, Dutch, Estonians, Finns, Flemings, French, Georgians, Greeks, Hungarians, Italians, Latvians, Lithuanians, Norwegians, Romanians, Russians, Serbs, Slovakians, Swedes, Swiss, Ukrainians, Walloons, Armenians, Byelorussians, Hindus, Kirghizes, Tartars, Turkmen and Uzbeks served under their own flags in the Waffen-SS. Almost all of these peoples were represented in my unit.'
     The Germans did not segregate their troops. Blacks, Asians, Arabs and Whites all fought and lived and died side-by-side. A sharp contrast to the American and British treatment of non-whites that fought for them. These unfortunate troops were often used as cannon fodder and not even allowed to fight with white troops. The Japanese Americans who volunteered for the U.S. military were fighting for a country who had interned their families in concentration camps. Over 110,000 Japanese people who lived on the Pacific coast were interned with no crime other than being born Japanese.
One of the famous American 'Tuskegee Airmen', Alexander Jefferson, wrote a book called 'Red Tail Captured, Red Tail Free' where he talks about being a a second class citizen in his own country. He was shot down and put into a German P.O.W. camp where for the first time in his life he wasn't segregated from the white troops. He recalls the incredible irony of finally being freed and returning home and no sooner did he walk off the ship when he was told 'Whites to the right, niggers to the left'!
     When the capital of the German Reich, Berlin, crumbled there was over a dozen nationalities defending it. There were Americans, British, French, Italians, Russians, Waloonians, Danes, Norwegians, Swedes, Iranians, Spaniards, Africans... the list goes on and on. In fact the bulk of defenders were not even German. Artur Axmann, leader of the Hitler Youth, when fleeing through the fiery ruins of Berlin, was shocked when suddenly his group stumbled on 'What we saw before our astonished eyes was a kind of SS international brigade-very few Germans but a lot of Danes, Swedes, Norwegians, Dutch, Belgians, Latvians and that French group called Kampfgruppe Charlemagne.' (O'Donnell, The Bunker, 304)
Imagine that. The last stand of the Third Reich, defended by foreign born troops. They met a fiery death because they believed in what they were fighting for. Look it up.
     There were plans for the German armies and its allies in Russia, fighting Communism, to link up straight-away with the Japanese armies. Imagine, these great world powers, allies for many years, of such different races and cultures, meeting as friends on the battlefield, and then fighting together for a common goal. The Land of the Rising Sun and the Sons of the Swastika.
     Japan wanted an Asia for Asians. The European occupiers had practically enslaved the Asian people in their 'colonies.' Germany and her European allies were also fighting those same world powers. They also believed that a people should be led by their own race. The world would then be in balance, the way nature intended. In fact, when Japan liberated the Asian islands and nations previously occupied by Europeans, they asked Germany if it wanted a share of these lands, and the answer was no! For too long empires, conquest, and ultimately greed, had set out to enslave foreign lands.
     Anyone who knows the truth, knows that countries didn't lose the Second World War, mankind itself lost. The same age-old powers-that-be had won again. Their victory came at a terrible cost. They butchered tens of millions with their indiscriminate bombs. Over four million Germans died in concentration camps of starvation and the elements after the war was over. Look it up. Communist soldiers, berserk with propaganda, raped millions of German women, MILLIONS, from ages 6 to 90! Many of them after the war was over. Research it for yourself. You'll be amazed at what's been hidden from us.
     Recently declassified United States documents reveal that the president of the United States knew about the impending attack on Pearl Harbor and did nothing about it. In fact, he and his administration took measures to hide it. Not only did they know about it in advance, but they also instigated it. They would do anything to bring America into WW2, and since Japan was a friend and ally of Germany, they knew that by instigating a war with Japan, Germany would have to follow. They violated Japan's waters and even strafed her boats with machine gun fire. The information is out there, take the time to find it.
     Books could be written and some have been, although not easily obtainable, about the truth of WW2 (check out the great works by historian Veronica Clark and the interview we did with her). We implore you, question what you've been taught. We've all been taught lies. The good guys lost World War Two. Mankind lost World War Two. The tyrants won. But the war isn't over. Free men and women, white, black, red, yellow and brown are learning the truth.
     The truth will make you angry. The lengths they have gone to lie to us. No matter your country of origin you are a victim of the same propaganda lies. It is international. They want to divide and conquer us. They want us to hate and fear one another. But in reality, it is They who hate all of us. And it is They who shall learn to fear us as well.
     Given time, and the old Gods' will, all races shall unite and wipe this tyrant from the face of the earth. And this blue planet will sigh, bearing a lighter load, less millions of its killers and enslavers. And all of this terrible dark time will be a story to tell our children's children. It is a fated time to come. After the fire. A world anew.
     But pictures speak louder than words! Don't take our word for it, look and see for yourself! And ask yourself, why did they hide this truth from us?
---
[Most pictures - Click to enlarge]

[Above: German military postage stamp from Tunisia, North Africa, circa March/April 1943. Click image to see other examples.]

[Above & below: Afrika Korps cuff bands]
[Above: An ominous soldier protected from the harsh desert winds.]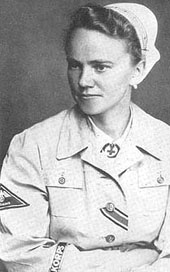 [Above: Women also served in the Afrika Korps. This is Ilse Schulz from the German Red Cross. Click picture to see more.]
[Above: African volunteers with their Wehrmacht counterparts.]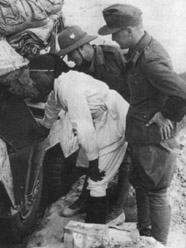 [Above: African auxiliary and two German Afrika Korps soldiers. Note the distinct German 'pith' sun helmet worn by the rear soldier.]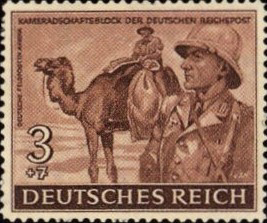 [Above: This is an unissued postage stamp depicting the Afrika Korps.]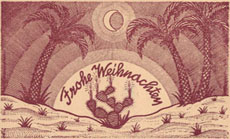 [Above: Afrika Korps Christmas card from North Africa.]
[Above: Afrika Korps ink stamps sometimes found on envelopes and postcards. 'D.A.K. stands for 'Deutsche Afrika Korps'. These ink stamps were unofficial, done by soldiers and units as a way to show their pride.]
[Above: Afrika Korps feldpost envelope from May 1942. Click on the image to see the letter and a larger view.]
[Above: Here is an issue of Julius Streicher's newspaper Der Stürmer from July 1941 featuring an Africa Korps soldier on the cover.]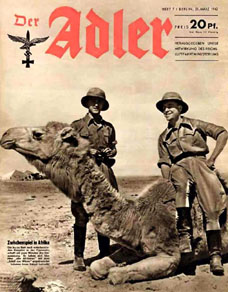 [Above: Here is the March 1942 issue of the popular magazine Der Adler (The Eagle) featuring a cover of the Africa Corps.]