These pages continue to grow. More and more honest research, information and pictures are coming to the light. Thanks to everyone who has contributed pictures and information! I leave you with a quote by one of the greatest soldiers of WW2, Léon Degrelle. It captures the spirit of these pages perfectly...
[Above: Léon Degrelle]
     'German racialism meant re-discovering the creative values of their own race, re-discovering their culture. It was a search for excellence, a noble ideal. National Socialist racialism was not against the other races, it was for its own race. It aimed at defending and improving its race, and wished that all other races did the same for themselves. That was demonstrated when the Waffen-SS enlarged its ranks to include 60,000 Islamic SS. The Waffen-SS respected their way of life, their customs, and their religious beliefs. Each Islamic SS battalion had an imam, each company had a mullah. It was our common wish that their qualities found their highest expression. This was our racialism. I was present when each of my Islamic comrades received a personal gift from Hitler during the new year. It was a pendant with a small Koran. Hitler was honoring them with this small symbolic gift. He was honoring them with what was the most important aspect of their lives and their history. National Socialist racialism was loyal to the German race and totally respected all other races.'
-Léon Degrelle - Epic: The Story of the Waffen-SS (Lecture given in 1982). Reprinted in The Journal of Historical Review, vol. 3, no. 4, pp. 441-468
[Above: Together.]

[Most pictures - Click to enlarge]
[Above: 'Gross-Deutschland ist Erstanden!' = 'Greater-Germany is Secured!'
Poster advertising the celebration of Germany's Anschluss with Austria organized by the NSDAP chapter in Argentina
(Landesgruppe Argentinien der NSDAP). It was held in Buenos Aires, April 10, 1938.]
During the first few years of WWII Argentina maintained close relations with the Axis powers although it officially remained neutral. The United States pressured Argentina to end these relations, cutting off weapon shipments to Argentina while increasing them to Brazil, its neighbor, effectively creating tension in the region. Acting president Ramón Castillo retained Argentina's friendship with the Axis, and even brought it closer. In 1942 Argentina approached Germany with a request to purchase airplanes, weapons, and other equipment. This further led the United States to put the heat on Argentina. Argentine General Domingo Martínez later even claimed that Castillo was concerned over a potential invasion by Brazil and Uruguay backed by the US. Castillo was initially determined to resist, and openly kept Argentina's friendship with the Axis, believing that Argentina's geography would allow it to withstand war.

In 1943 a military coup overthrew the Argentine government. The next year, in 1944 the United States government labeled the Argentine government as 'fascist' and enacted financial and trade restrictions against the country and used its clout to get other countries to do the same.

British officials went even further and captured Argentina's envoy to Germany, thus creating a diplomatic disaster for Argentina. Finally in 1944, the new leader of Argentina agreed to break all ties with the Axis countries.

Argentine patriots despised this and forced the new president to resign. Despite Argentina breaking ties with the Axis, the United States continued to maintain sanctions against Argentina.

In 1945, having little choice and when it no longer mattered, Argentina declared war against its friend, Germany, about a month before the end of the war.

Beneath the surface however, German politicians and soldiers found refuge in Argentina for decades to come.
[Above: One would swear this picture was taken in Germany, but it's not. It is in Argentina. It was taken in 1941 in Buenos Aires as Argentine troops were on parade. Many South American countries were close friends to Germany and the Axis.]
[Above: Argentine military 1940s]
[Above: Fascist style parade during the rule of Juan Perón, 1943-1946.]
An issue of Life magazine reported on Argentina, calling them 'fascists' and trying to belittle them in the typical childish ways of the enemy.

Anyway, on July 9, 1945, Argentina's Independence Day, Juan Perón ordered a review of 20,000 troops. The impressive parade showed the Nahuel 'Tiger' tank, built entirely in Argentina. Overhead flew five small planes, the entirely Argentine built DL 22. There were also 78 German Focke-Wulfs.

Interestingly, the Argentine people shouted 'Argentina yes, Yankees no!', 'Nation yes, colony no!' and 'Down with the Jews!'.
[Source: Life magazine, August 21, 1944, vol. 117, no.8]

Here are the pictures: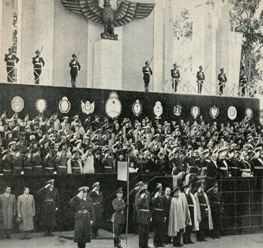 [Above: Juan Perón and high ranking members of the military review the country's troops. Note the huge Argentine Condor.]
[Above: Argentine soldiers march with pride. Note the German Stahlhelms!]
[Above: This shows Nahuel 'Tiger' tank with one 75mm gun, four machine guns, capable of 25 mph, weighing 35 tons and made entirely in Argentina.]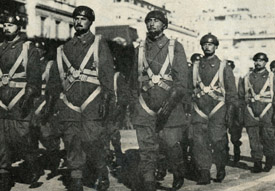 [Above: Parachutists, never before seen in Argentina amazed onlookers. Over the parade several airplanes towed gliders that would be used by the paratroopers.]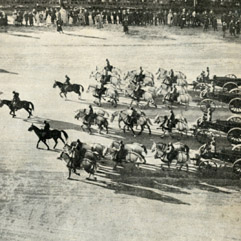 [Above: Cavalry towing 155mm howitzers.]
[Above: Rugged mountain troops.]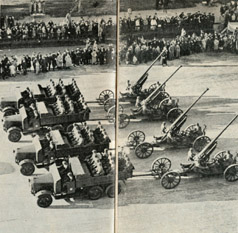 [Above: Anti-aircraft guns towed past spectators.]
[Above: This says: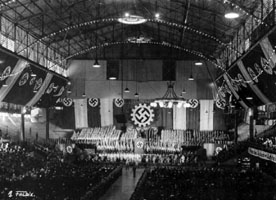 [Above: This is a huge National Socialist rally in Buenos Aires. The striped flag alternating the German flag is the flag of Argentina. Circa 1938.]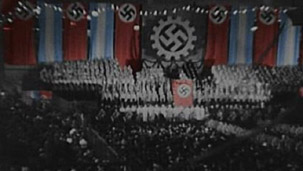 [Above: Color video still of the rally above.]
[Above: A different rally in Buenos Aires.]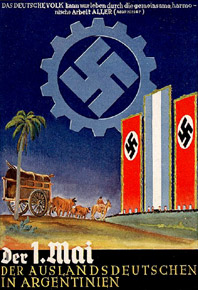 [Above: The top of this postcard says:
'DAS DEUTSCHE VOLK kann nur leben durch die gemeinsame harmonische Arbeit ALLER (Adolf Hitler)'
which basically means
'THE GERMAN VOLK can only live by the joint harmonious work of us ALL (Adolf Hitler)'.
The bottom says
'Der Auslands Deutschen In Argentinien'
which is
'The Germans living abroad in Argentina'.]
[Above and below: Honoring Adolf Hitler in Argentina.]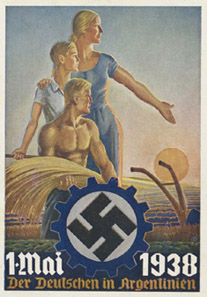 [Above: This postcard says 'Germans in Argentina'. Circa 1938.]
[Above: This is a German-style 'tinnie' or day badge commemorating a gathering.]
Clarinada was an anti-Jewish, nationalist magazine that ran from May 1937 - February 1945 (# 1-94), done out of Buenos Aires by Carlos M. Silveyra. Silveyra was also the author of a handful of anti-communist books.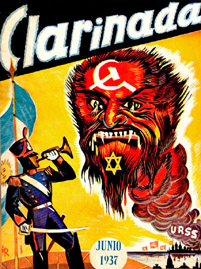 [Above: Anti-communist magazine 'Clarinada', June 1937.]
Like many South American countries Colombia was forced by the United States to cease diplomatic relations with the Axis powers in December 1941, or face embargo, an end to economic aid and even possible invasion.

During WWII there lived thousands of German and Japanese people in Columbia. Due to relentless pressure from the United States, hundreds of these innocent people were deported and interned in concentration camps or jailed. This occurred even though the government of Columbia was never convinced in the slightest that these immigrants were dangerous.

The United States also forced the Columbian government to put restrictions of German airline pilots and technicians. Even though once again the Columbian government wasn't convinced, the United States pressed the outlandish idea that German and Austrian pilots could convert their planes into bombers and then attack the Panama Canal!
[Above: Columbian troops wearing helmets based on German pattern. Circa 1942.]
The following are rare pictures of Colombian National Socialists in Barranquilla (a city in Northern Columbia). The National Socialist movement was large in Colombia and many army officers were members. The United States ordered the Columbian government crack down on any National Socialist movement -- and the Colombian government was forced to obey. Innocent people were jailed, businesses were closed, even German schools were closed and the German language 'outlawed'.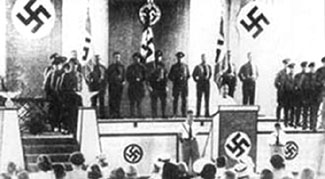 [Above: Ceremony led by Colombian National Socialist leader Emil Pruefert.]
[Above: Ceremony led by Colombian National Socialist leader Emil Pruefert.]
[Above: Emil Pruefert leaving the rally.]
[Above: Gathering of Colombian National Socialists.]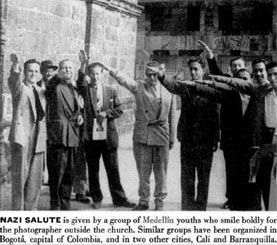 [Above: Young Colombians look forward to a new day, free of usury and economic slavery.]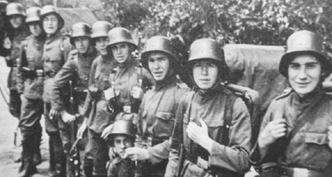 [Above: Like much of South America, Colombia was heavily influenced by Germany. Just look at these young Colombian soldiers here, you'd swear they were Germans! Circa 1941.]
[Above: Colombian troops on the streets of Bogota, circa 1948-1949.]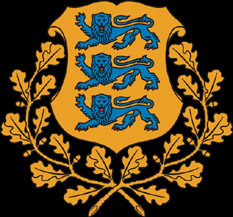 'Speaking for the people of Estonia, I have nothing more to add, for our people have themselves supplied the answer in joining up to fight passionatly against Bolshevic Russia!
With glad-rejoicing, German soldiers were welcomed as liberators. Should to shoulder with the German Forces, our people began the fight against the retiring enemy.
Today there are 12,600 Estonian volunteers fighting in the ranks of the German armies forming part of the front against Bolshevism.'
-Public statement from 'The National Head of Estonian Autonomy, Dr. Mäe, in replying to the Soviet calumnies [false and defamatory statements made by the Soviets that the Germans have been bad for Estonia],
'For Europe--Against Stalin', quoted from The Star (Guernsey), No. 58, April 30, 1942.
Four Estonian Waffen-SS volunteers were awarded Germany's highest decoration, The Knight's Cross. They are:

SS-Hauptsturmfuehrer Paul Maitla (August 23, 1944)
Waffen-Unterscharfuehrer Haralt Nugiseks (April 9, 1944)
SS-Sturmbannfuehrer Alfons Rebane (February 23, 1944)
SS-Obersturmbannfuehrer Haraldt Riipalu (August 23, 1944)

[Above: Waffen-SS Estonian sleeve shield]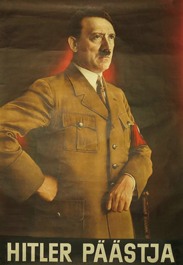 [Above: This poster reads 'Hitler Päästja' (Hitler the Liberator).]
[Above: Estonian soldiers were among the proudest and most effective of the Waffen-SS volunteers.
Some of their heroic battles in the end days are like something from a tragic fairytale, the stuff of legend.
Here are members of the Estonian Waffen-SS in 1944 meeting Estonian politician Hjalmar Mäe.]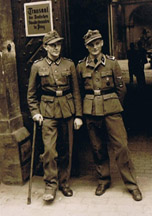 [Above: Two Estonian Waffen-SS soldiers on leave in Prague. One sports a bandaged leg and cane.]
[Above: Estonian soldiers prepare to fire a German 'Panzerschreck' during the Battle of Narva,1944.]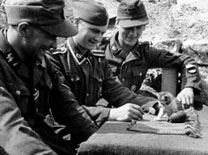 [Above: A kitten, a flower and a grenade! These decorated Estonian Waffen-SS men know a few things about having fun.]
[Above: Poster.]
[Above: This odd postcard from 1941 bears the stamps of three different nations: the postcard itself is Russian, and it bears one German stamp and two Estonian stamps. These odd philatelic combinations, or franking, can often be found in the chaos and confusion of war. Click to see more.]
[Above: Rare imperforate variety of 1941 Estonian stamps. Click to see many more.]
[Above: Waffen-SS Estonian sleeve coat-of-arms shield variation]
[Above: A vibrant poster saying 'Freedom for people!.]
[Above: A striking poster, which says 'The protection of our homeland from Bolshevism!'.]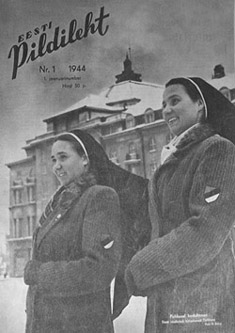 [Above: Two Estonian frontline nurses on the cover of 'Eesti Pildileht' or 'Picture of Estonia'.
This was a magazine which ran during the short years of Estonian freedom between 1943-44. This is the first issue of 1944.]
[Above: Lithuanian poster equating Jews to Stalinism, 1941.]
[Above: The German magazine 'Hamburger Illustrierte' celebrating the freedom of Estonia from communist occupation.
The cover shows two Estonian women in traditional dress. The text below says: 'Happy people on the day of freedom'.]
Click here to see more Estonian posters


'During the Bolshevic reign the Lettish people lost 60,000 of their fellow countrymen, including some 20,000 women and 7,300 children and smaller folk.
It has been seen that the human liberty promulgated by the Bolshevics is nothing less than downright falsehood and hypocrisy.
In the economic and cultural sphere, too, Bolshevism immediately began its destructive and disruptive activity to bring the Letts down to the same level with the other peoples under Bolshevic rule.
In an incredibly short time almost everything was ruined; the cultural life of the nation, its well-run agriculture and the prosperity which was the result of hard work. Productive farms were cut-up into smaller and smallest holdings.
This was part of a fiendish Bolshevic scheme to force the peasants into so-called 'Kodchose' or 'collective farms.'
The best machines were removed from the factories, savings bank deposits of the workers and other small depositors were nationalized, and so on.
The workers were converted into automatons, slaves without a will, without a thought of their own. The resultant passive resistance, the many acts of sabotage committed in factories and elsewhere,
and finally the abduction of 4,429 workers, provided evidence enough of how 'satisfied' the Letts were with this 'government of the workers and the peasant.'
Worst of all, however, was the degradation and humiliation to which the intellectual classes and the military had been subjected, many of whom had been victimized.
These facts say far more than the Muscovite Jew on the air. Thanks to the sympathetic assistance rendered by the German authorities, economic life is again functioning normally, and culturally the country has already reached the pre-Bolshevic level.'
-Public statement from 'The Chief Administrator for Internal Affairs in Latvia, Genl. Dankers, For Europe--Against Stalin', quoted from The Star (Guernsey), No. 58, April 30, 1942.
[Above: Latvian postcard from 1934.]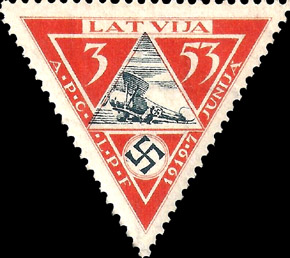 [Above: Latvian postage stamp from 1919. Note the use of the tilted swastika!]
[Above: Waffen-SS Latvian volunteer arm shield]
A whopping eleven Latvian Waffen-SS volunteers were awarded Germany's highest decoration, The Knight's Cross. Latvia had the highest number of Knight's Cross recipients. They are:

Legion-Untersturmfuehrer Miervaldis Adamsons (January 25, 1945)
Waffen-Untersturmfuehrer Roberts Ancans (January 25, 1945)
Waffen-Hauptscharfuehrer Zanis Ansons (January 25, 1945)
Waffen-Obersturmbannfuehrer Karlis Aperats (September 21, 1944)
Waffen-Hauptsturmfuehrer Zanis Butkus(September 21, 1944)
SS-Obersturmfuehrer Andrejs Freimanis (May 5, 1945)
Waffen-Obersturmfuehrer Roberts Gaigals (May 5, 1945)
Waffen-Obersturmbannfuehrer Nikoljas Galdins (January 25, 1945)
Waffen-Sturmbannfuehrer Voldermar Reinholds (May 9, 1945)
SS-Unterscharfuehrer Alfreds Riekstins (April 5, 1945)
Waffen-Standartenfuehrer Woldermars Veiss (February 9, 1944)

[Above: Waffen-SS Latvian volunteer arm shield variations. Click to see more.]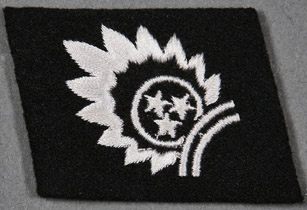 [Above: Waffen-SS Latvian volunteer collar tab (final pattern). Click to see more.]
[Above: This poster says: 'Hitler the Liberator'.]
[Above: A Waffen-SS Latvian soldier fires a Panzerfaust in the final days of the war.]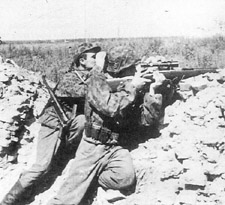 [Above: Waffen-SS Latvian volunteers in action against the Red army in late 1944. Here a sniper and his spotter go in for the kill.]
[Above: Waffen-SS Latvian volunteers in action on the Eastern Front late 1944.]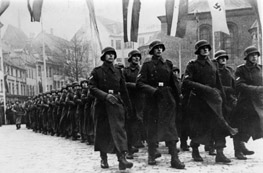 [Above: The Waffen-SS Latvian Legion on Latvian Independence Day, 1943.]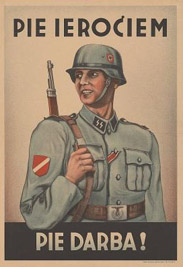 [Above: Poster of SS Latvian legionnaire: 'To Arms - At Work!']
[Above: Latvian newspaper Tevija from January 1943. Hermann Göring and Alfred Rosenberg appear on the cover.]
[Above: Two Tevija newspapers from August 26-27, 1941. Click on either to see more details.]
[Above: Latvian women welcome German soldiers marching into Riga in July 1941.]
[Above: Latvian magazine 'Laikmets' ('Era' or 'Times') from 1943. The bottom text 'Priecigas Lieldienas!' means 'Easter Greetings!'.]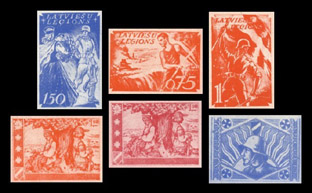 [Above: These private issue charity postage stamps were sold in 1941.]
[Above: This poster, featuring the 'thundercross' symbol, is from the 'Perkonkrusts' organization, which was formed in the early 1930s. Many of its members would later join the Axis forces fighting communism.]
[Above: Latvian magazine 'Mana Maja' ('My Home'), July 1941.]
[Above: A striking piece of art which says 'Latvia - Life!' and 'Bolshevism - Death!'.]
[Above: This is an eight minute film clip of the liberation of Latvia, July 1, 1941. It is taken from the weekly German wartime newsreel, 'Deutsche Wochenschau'.]
Click here to see posters of the era

[Above: Julius Bertoletti, the suave master of art.]
Julius Bertoletti (June 17, 1919 - September 13, 1976) was an Italian artist who created many famous fascist artworks during WWII. After the war Bertoletti's art appeared on various men's magazines. His talent undiminished, he continued to create truly talented works, yet they were no longer with substance when compared to his contributions during the war. The battle for the soul of Europe over, Bertoletti, like so many others, was reduced to a mere common artist, selling his works to trashy magazines to survive.

By far one of the best Italian artists of the war, his masterful works were bullets defending his land and people. Now, without direction or purpose, the great immortal artists of a free Europe faded into mediocrity.

But the works of the great masters survived, telling a tale of fierce and spirited resistance, of total war and of spiritual triumph.

Physically the Axis might have lost World War Two... but on the spiritual plane, Adolf Hitler, Benito Mussolini, Corneliu Codreanu, Ante Pavelic, William Joyce, Hideki Tojo, Tomoyuki Yamashita and all the others stand eternal -- in total victory.

Living in the warm hearts of the faithful.

Forever loved.

Beautiful.

Immortal.

And free.

Hail Victory!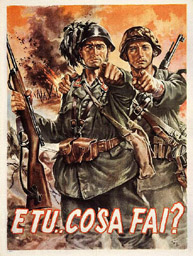 [Above: This work challenges the slacker: 'Etu.. cosa fai?.' = 'What do you do?']
[Above: 'Banditi e Ribelli - ecco la vostra fine!' = 'Bandits and rebels - here's your end!']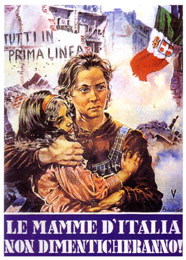 [Above: 'Le mamme d'Italia non Dimenticheranno!' = 'The mothers of Italy will not forget!']
[Above: 'Bolshevism is against family values' and 'Family is the greatest shame of all that has been created in civilized countries - Lenin', circa 1943.]
[Above: This is a coffee table book of Bertoletti's work. 173 pages, 294 color illustrations, 10 black and white, Libreria Bocca Publisher, 2002, Milan.]
[Above: Grand Hotel magazine, 1956.]
[Above: Grand Hotel magazine, 1962.]
[Above: Marilyn Monroe by Julius Bertoletti.]
Click here to see more of Bertoletti's work

[Above: Gino Boccasile.]
Gino Boccasile (July 14, 1901 – May 10, 1952) was an Italian illustrator of extraordinary ability. His talent shined brightest during WWII when he volunteered his talent toward the war effort.
[Above: 'Enlist in the anti-aircraft artillery of the Air Force!']
A fascinating fact about Boccasile was that since his childhood he was missing an eye! Early in his youth he lost his left eye, when a drop of quicklime (calcium oxide) got into his eye while he drank from a fountain. This tragic handicap didn't hold him back from his dream, however. He completed his education at a fine art school in his hometown of Bari.
[Above: The cowardly enemies of fascism trying to destroy it, to no avail!]
Boccasile moved to Milan in the mid-1920s he found employment at the Mauzan-Morzenti Agency. Over the next few years he produced art for posters and the covers of illustrated fashion magazines. After living in Buenos Aires for a short time he met his future wife Alma Corsi. In 1932 he relocated to Paris, where his fame grew and grew. An issue of 'Paris Tabou' was even dedicated to his work.
[Above: The racy 'Paris Tabou' magazine]
He founded a publicity agency called ACTA, after returning to Milan. He illustrated for many Italian periodicals, such as 'La Donna' (1932), 'Dea' (1934), 'La Lettura" (1934), 'Bertoldo' (1936), 'Il Milione' (1938), 'L'Illustrazione del Medico' (1939), 'Ecco' (1939), 'Settebello' (1939) and 'Il Dramma' (1939). He also designed numerous book covers for publishers Mondadori and Rizzoli.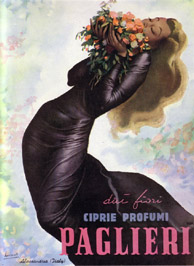 [Above: A perfume advertisement]
An ardent fascist and stern supporter of Benito Mussolini, he produced many works for the Italian Ministry of War. Some of his greatest and most beloved works came after Mussolini's rescue and setting up of the Italian Social Republic in Northern and Central Italy. He created recruitment posters for the Italian SS and numerous other materials for the war effort. Boccasile even enlisted in the Italian Waffen-SS (29th Waffen Grenadier Division of the SS (1st Italian)!
[Above: 'HOLD ON!' (top) - 'It is about to strike the hour of atonement for the anti-Europe.' (bottom), 1944.]
After the war he was imprisoned and tried for 'collaborating with the fascists', which he was acquitted. Nonetheless he remained an outcast and was blacklisted. For years afterward he couldn't find steady work.
Boccasile further proved his loyalty to fascism after the war, affiliating himself with the fascist political party 'The Italian Social Movement' (MSI) and even doing illustrations for them.
[Above: Symbol of the MSI political movement, 1946.]
To survive, temporarily, he produced pornographic sketches for English and French publishers. The years that followed saw Boccasile opening another agency in Milan and creating a sea of amazing posters for numerous commercial products.
In 1952, at the age of 51 years old, Gino Boccasile passed into eternity. He died in Milan from bronchitis and pleurisy. The plastic world of the victorious Allies wasn't worthy of him anyway.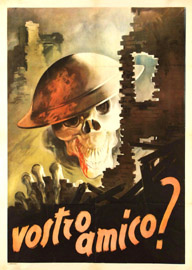 [Above: 'Your friend?'.]
[Above: 'Marfurt'?]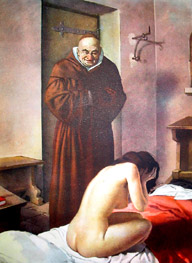 [Above: This is from a book called 'Il Decamerone'. The Decameron is a collection of novellas by the 14th-century Italian author Giovanni Boccaccio (1313–1375). The book contains 100 stories told by seven young women and three young men who try to escape the Black Death by hiding in a secluded villa. Click to see many more pictures!]
[Above: A racy perfume ad containing nudity.]
[Above: This is an ad for orange soda.]
[Above: Paris Tabou men's magazine.]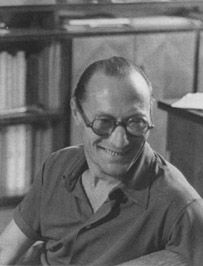 [Above: Gino Boccasile - he saw more with just one eye than most of the world could see with a million eyes.]
Click here to see more of Boccasile's commercial work

'The Bolshevics have robbed the Lithianian peasant of the land they have tilled since time immemorial; they have expropriated Lithuanian house-owners and thrown them on to the streets, in many cases putting Jews in their places.
The German Administration has restored their holdings to the peasants and the houses to their legal owners, and is now taking steps to restore the private property abolished by the Bolshevics.
The latter imposed unbearable dues in kind on the peasants, with deliberate intent to ruin them and so drive them into the collective farms.
The German Administration despite the war and prevailing martial law, brings every consideration to bear in the interests of the peasants and grants all manner of alleviations to the Lithuanians so sorely tried by Bolshevic measures.
The Bolshevics threw round about 12,000 wholly innocent Lithuanians into prison for political reasons or because of former anti-Communist feelings, and exiled over 40,000 to Siberia.
Under German Administration even all former Bolshevic functionaries have been set free on the mere promise to abstain from political activity. They are neither persecuted nor deported.'
-The Lithuanian Councillor General, General Kubiliunas, speaking in Kovno, 'For Europe--Against Stalin', quoted from The Star (Guernsey), No. 58, April 30, 1942.
It is estimated that approximately 50,000 Lithuanians volunteered for service with Germany during WW2. Even after the war many Lithuanians continued to fight their communist occupiers well into the 1950s.
[Above: 'Kova bolševizmui! Bendra kova – bendras laimejimas!' = 'The fight Bolshevism! Joint struggle - United Victory!' ]
[Above: A Lithuanian police battalion volunteer. Note the German style collar tabs on this man's uniform. A total of 38 Lithuanian police battalions were formed.]
[Above: Lithuanian volunteers in the Waffen-SS train with a 8.8cm Raketen-panzerbuchse 54 anti tank weapon nicknamed 'panzerschreck', which means 'tank terror']
[Above: Policeman with prisoners. Check out the homemade swastika armband! Vilnius, Lithuania. Circa July 1941]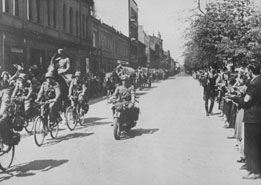 [Above: Residents of Kaunas, Lithuania welcome a column of German troops. Note the plain clothes man (front right) on the sidelines wearing a swastika armband. This armband's swastika is not tilted as the NSDAP symbol and is probably handmade in support of the German liberators.]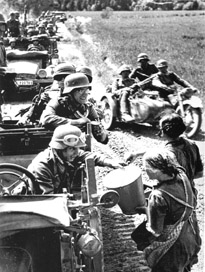 [Above: Lithuanian women giving water to German soldiers, June 1941.]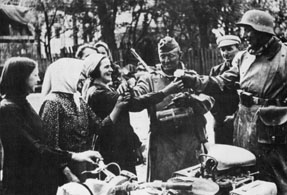 [Above: Lithuanian women giving flowers to German soldiers.]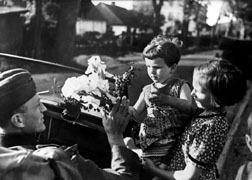 [Above: Lithuanian children hand flowers to a German officer.]
[Above: Lithuanian girls in national costumes welcome a German soldier, 1941.]
[Above: The flag of Lithuania is hoisted above Vilnius following its liberation by German forces.]
[Above: Lithuanian stamp showing the flag of National Socialist Germany, among others, 1939.]
[Above: This currency-like note was for purchasing various textiles. This denomination is one 'punkt' and expired April 30, 1945. Click on the image to see many more examples!]
Click here to see Lithuanian postage stamps of the era

Amongst the Japanese fighting in China in the days prior to WW2 were Korean volunteers. Eventually Koreans even volunteered to fight in Europe with German and Axis allies.
[Above: The name of the soldier in this photo is Yang Kyoungjong. He was born in Shin Euijoo, Northwestern Korea on March 3, 1920.
His story was revealed in an article of 'Weekly Korea' on December 6th, 2002. He was captured by American soldiers after D-Day in June 1944. Oddly, through the chaos of war, he served in the Japanese, Russian and German armies!]
There was a 2011 movie made about his ordeal, but unfortunately it isn't close to reality. It is incredibly biased toward the Japanese, making them look comically evil. The movie doesn't miss a chance to make the German commander look devilish as well. Could we expect any less? Of course not! The war sequences are good -- extremely violent, but a bit chaotic, but that's war after all. There are so many Korean names of characters you'll easily get lost about who's who. This movie was billed as the most expensive Korean film in history ($25 million). Unfortunately money doesn't buy a good movie. Avoid this, it's just another biased propaganda film, it has nothing to do with Yang Kyoungjong's story it is so loosely based.
[Above: DVD front/back.]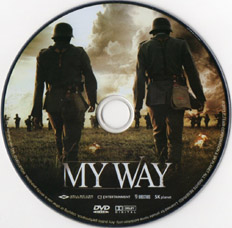 [Above: DVD.]

Adolf Hitler gave a speech (January 30th, Berlin, Reichstag) in 1939 that illustrates very well the alliance between Germany and Japan. It is as follows:

'The Japanese nation, which in the last two years has set us so many examples of glorious heroism, is undoubtedly fighting in the service of civilization at the other side of the world. Her collapse would not benefit the civilized nations of Europe or of other parts of the world, but would only lead to the certain triumph of bolshevism in the Far East.'

Prophetic isn't it? We all know Communism, with the help of the United States, grips China and much of Asia with an iron fist. The United States is now hopelessly in debt to Communist China for trillions of dollars... Let's also not forget that the United States waged two unsuccessful wars against Communism in the decades that followed World War Two (Korea and Vietnam). The future was, and indeed still is, everything that Adolf Hitler warned us about!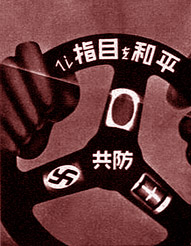 [Above: This Japanese piece, showing a steering wheel, basically says 'We steer toward peace'.]
[Above: German Kriegsmarine sailors with a Japanese comrade.]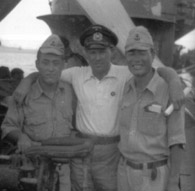 [Above: U-boat 861 crew chief Max Schley with 2 Japanese engineers helping with its overhaul.]
[Above: Aboard U-boat 180, here is Shosa Hideo Tomonaga, a Japanese submarine design specialist.
Tomonaga committed suicide in 1945 on another U-boat rather than surrender.]
[Above: Commander of U-boat 861, Jurgen Oesten, celebrating with Japanese friends.]
[Above: German and Japanese sailors during a U-boat mission to Japan in 1943.]
'Just as there have always been two Germanys, so there have always been two Japans: the one, capitalist and therefore Anglophil—the other, the Japan of the Rising Sun, the land of the samurai. The Japanese Navy is the expression of this second world. It's amongst the sailors that we've found the men nearest to ourselves.'
–Adolf Hitler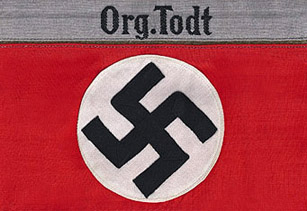 [Above: Armband from the Todt Organization]
The Todt Organization (Organization Todt) was a civil and military engineering group originating in Germany and named after its founder, Fritz Todt. It was responsible for a massive range of engineering projects, like the autobahn, and also military projects like the West Wall and the fortifications along the French coast. The Todt Organization operated throughout Europe, from France to deep into the Soviet Union.
[Above: Construction workers employed by the 'Todt Organization', a vast organization employing over two million workers. It was responsible for repairing roads, railways, airfields and also for building fortifications. Here, in this colorized photograph, three clearly non-white members, from North Africa, are building submarine shelters. Arabs from all over the Middle East volunteered to help Germany in all capacities.]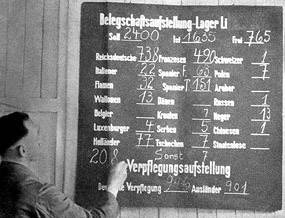 [Above: Camp chart showing the many different ethnic groups that worked on the Atlantic Wall in France -- more than half were not German.]
[Above: Todt Organization recruiting poster for Italians.]
[Above: Another Todt Organization recruiting poster for Italians. It says 'Bread and welfare', 1944.]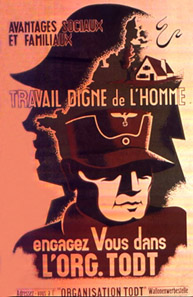 [Above: Todt Organization recruiting poster for French.]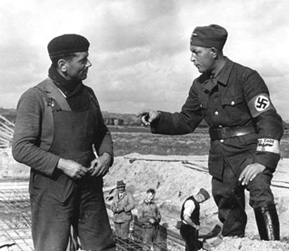 [Above: A Todt Organization speaking with a construction worker.]
[Above: Note the additional armband (below the NSDAP armband) on the supervisor above is of this type.]
[Above: A Todt Organization guard. Note the Todt armband above his NSDAP armband.]
[Above: A Todt Organization guard at the Atlantic Wall. Note the massive Todt Organization built fortification, Cap Gris-Nez, France.]
[Above: Todt Organization recruits armed with MP 40 machine guns.]
[Above: Rare Todt Organization helmet.]
[Above: A Todt Organization belt buckle.]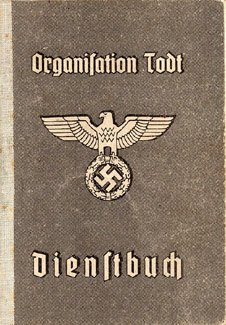 [Above: Todt Organization identification book. Click on image to see pictures of the inside.]
[Above: This Todt service book is for 'Baustab' (construction staff) Speer (Albert Speer who was head of the organization).]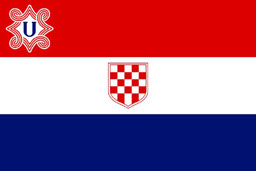 [Above: Waffen-SS Handschar collar tab]
'After a heavy artillery barrage the enemy attacked in the sector of the 13th SS and 297th Divisions in battalion and up to regimental strength, supported by tanks.
The fighting was extremely bitter, some positions changed hands upwards of six times, and losses were bloody on both sides.
Our troops, particularly the 13th SS Division "Handschar" have fought outstandingly well in the face of a vastly superior foe,
despite two enemy breakthroughs, the main battle line is in our hands.
The fighting continues, one enemy tank has been destroyed.'
--officer from Oberkommando des Heeres (the Supreme High Command of the German Army), April 15, 1945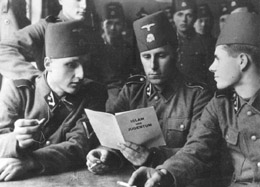 [Above: Seen here are Muslim troops of the Waffen-SS Croatian 13th Division 'Handshar.' They are reading a booklet written by the Grand Mufti. Their special 'fez' style hats were permitted for prayer, I assume. Of note is the fact that the Muslim world was very pro-German. There were pro-National Socialist governments and uprising in countries like Persia (Iran), Syria, Lebanon and Iraq, just to name a few.]
[Above: Recruitment poster for Croatians and Bosnians for the Waffen-SS. A Christian and a Muslim are shown here united against Bolshevism.]
'...König's battalion withstood five days of the most difficult defensive fighting against a vastly superior foe and sustained bloody losses...
In spite of the hopelessness of the situation, König personally led eleven of his men in a counterattack and threw the enemy back.
The foe answered with fire of their heavy weapons on the breakthrough point, killing ten of the men and seriously wounding another.
König himself wounded, held the position single-handedly with hand grenades...
He held the enemy at bay long enough for his shattered battalion to consolidate and re-organize (behind him)...'
--The quote speaks of SS-Obersturmführer Hans König, 1/28 SS-Regt, November 20, 1944.
[Above & below: Recruitment posters for Croatians and Bosnians for the Waffen-SS. The poster on top is mentioning Adolf Hitler and Croatian Leader Ante Pavelic and like the poster symbolism above it, a Christian and a Muslim are shown united against Bolshevism.]

Handschar (Bosnian/Croatian: Handžar) was the local word for the Turkish scimitar, a historical symbol of Bosnia and Islam. An image of the Handschar adorned the division's flag and coat of arms.

Adolf Hitler had 60,000 Qurans printed to be distributed to Muslim Waffen-SS volunteers. These special editions had a swastika on the cover.
[Above: Waffen-SS Handschar collar tab]
'Bosnia's best sons are serving in the SS...
After victory is achieved, a new, important task must be completed -- the implementation of a New Order...
Through the Versailles-Diktat, Europe was thrust into a totally senseless foundation,
and under the name of democracy, Jews and Freemasons played key roles in political and societal life...
It will not be easy to liberate Europe from these enemies, but the SS man...
shall build a better future for Europe'.
--Sturmbannführer Hussein Dzozo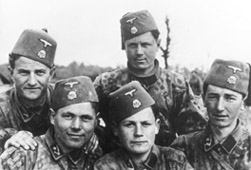 [Above: Five Bosnian brothers in the 13th 'Handshar' Muslim Division of the Waffen-SS, circa 1943/1944.]
[Above: Young Bosnian Waffen-SS soldiers that volunteered in the summer of 1944. They trained with the Kama division, and were later transferred to the Handschar division.]

[Above: Halim Malkoc.]
Halim Malkoc (August 12, 1917 – February 8, 1947) was a Bosnian Muslim Imam and SS Obersturmführer in the Waffen-SS division Handschar. He has the outstanding honor of being the first Muslim awarded the German Iron Cross during World War Two. This loyal man received this medal for helping to stop the Villefranche-de-Rouergue mutiny of 1943, where Tito's communist infiltrators attempted to deceive the men of the Pioneer battalion of the 13th SS Division into turning on their German comrades. Halim Malkoc and the unit physician Dr. Willfried Schweiger freed the German NCOs that had been captured by the traitors and rallied the men to hunt them down, which they did.

Malkoc was a young Imam in Bosnia when WWII began, but had already proved himself to be a brilliant military mind while serving with the Yugoslavian army. The historian George Lepre, in his 1997 book "Himmler's Bosnian Division; The Handschar Division 1943-1945", stated that Malkoc was a 'gifted military leader.'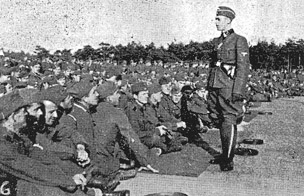 [Above: Halim Malkoc looking over his comrades.]
Like many young Bosnians he was firmly against the expansion of Bolshevism and saw it as a danger to not only his religion, but Europe itself. In 1943 he joined the newly formed Waffen-SS Division 'Handschar' where he was appointed an Imam to the SS-Gebirgs-Pioneer Batallion 13.

Shortly after being appointed Imam, Malkoc and other Muslim religious leaders were sent to Dresden for a three week Imam Training Course organized by SS Obergruppenführer Gottlob Berger and honorary SS officer Mohammad Amin al-Husayni, the Grand Mufti of Jerusalem.
[Above: Halim Malkoc.]
A year after his training in Dresden he was appointed Imam for the entire division.

In 1947, like so many brave, selfless and worthy human beings, Malkoc was executed. Another murder bloodying the hands of the Allies and their communist comrades.
[Above: The 'Kolnische Illustrierte Zeitung' magazine showing Muslim Waffen-SS volunteers.]
'The eighty or so Iron Crosses awarded to the Bosnians bear witness to their heroics.
The men have performed deeds that are truly of great bravery.
The camaraderie between Germans and Bosnians in battle is insoluble.'
--Karl-Gustav Sauberzweig, April 16, 1944
[Above & below: The Waffen-SS went to great lengths to accommodate the cultural and religious beliefs of its volunteers. In this case the Muslim volunteers were allowed to wear a fez. This was to allow them to pray--touching their head to the ground, while wearing the fez. They were also given special rations to accommodate their religious diet restrictions. The red fez was not worn in the field, there was a grey fez for that purpose.]
[Above: Click image for larger view.]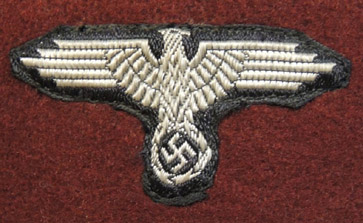 [Above: Click image for larger view.]
[Above: Click image for larger view.]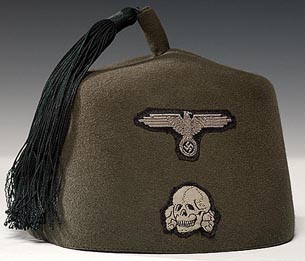 [Above: Grey fez. Click image for larger view.]
'These deeds signify great benevolence for us Muslims and for Bosnia in general.
I therefore consider it my duty to extend our thanks to the Reichsführer-SS in the names of the division's Imams
as well as in the names of the hundreds of thousands of Bosnia's poor in that I pledge
that we are prepared to lay down our lives in battle for the great leader Adolf Hitler and the New Europe.'
--Hauptsturmführer and Imam Husein Dzozo, in a letter to Reichsführer-SS Heinrich Himmler, thanking him for donations made to Bosnian family members of the troops, for an increase in troop rations and the establishment of an Imam school.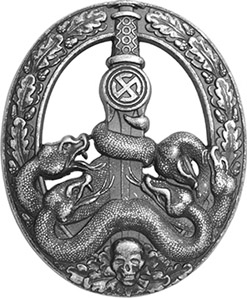 [Above: Anti-Partisan Guerrilla Warfare Badge. Click image to see examples in use]
The Handschar division performed a variety of anti-partisan duties meriting the Anti-Partisan Guerrilla Warfare Badge.

The badge was made in three grades:
Bronze, for 20 days in combat against partisans
Silver, for 50 days in combat against partisans
Gold, for 100 days in combat against partisans

The Criteria were slightly different for the Luftwaffe, being based on 30, 75, and 150 operational flights/sorties flown in support of anti-partisan operations.

A version in gold with diamonds, maker marked C.E. Juncker, also existed but was never awarded.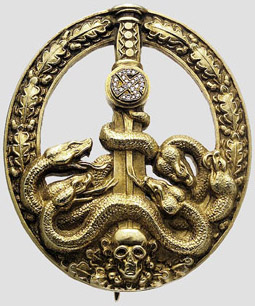 [Above: Anti-Partisan Guerrilla Warfare Badge in gold with diamonds.]
[Above: German wearing the Anti-Partisan Badge.]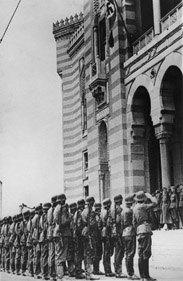 [Above: German troops gather for a ceremony outside of the Sarajevo City Hall building on April 16, 1941.]
[Above: A Bosnian Muslim woman greets German troops as they liberate Bosnia-Herzegovina in April, 1941. Source: German newsreel - 'Die Deutsche Wochenschau'.]
'I knew there was a chance that a few traitors might get smuggled into the division,
but I haven't the slightest doubt concerning the loyalty of the Bosnians.'
--Heinrich Himmler, referring to communist terrorist Tito's attempt to infiltrate the Bosnians Waffen-SS division. Several of these criminals were rooted out and hung.
[Above: A short (23 second) color video of Bosnian Muslim Waffen-SS volunteers during prayer.]
Click here to see more pictures of Muslim Waffen-SS volunteers


[Above: This H. Hoffman photo is another example of the respect the National Socialists held for their Japanese comrades. This postcard shows the Japanese Botschafter (Ambassador) Hiroshi Oshima.]
Hiroshi Oshima (April 19, 1886 – June 6, 1975) was instrumental in the forging and signing of the Anti-Comintern Pact on November 25, 1936 and the Tripartite Pact on September 27, 1940. The Allied propagandist William Shirer wrote in his pseudo-history book 'The Rise and Fall of the Third Reich' that Oshima 'is more Nazi than the Nazis'.
[Above: Adolf Hitler and Oshima, both bowing in respect of one another, meeting in 1939]
Adolf Hitler held Oshima in such high regard that on December 13th, 1941 he awarded him the coveted Grand cross of the German Eagle Order in Gold, of which he was one of only fifteen ever awarded!
[Above: Adolf Hitler awarding Oshima the Grand Cross of the Order of the German Eagle in Gold]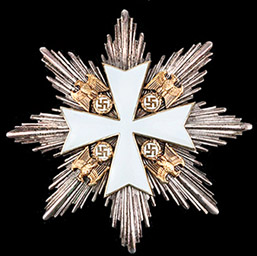 [Above: The astonishingly beautiful Grand Cross of the Order of the German Eagle in Gold]
Oshima paid Adolf Hitler back with utter loyalty and friendship. On the dark day of April 13, 1945 Oshima met with Ribbentrop and solemnly vowed to stand with Adolf Hitler and the people of Berlin, come what may! He said to Ribbentrop: 'I do not wish to be treated in the same manner as other diplomats merely by reason of great danger from the ravages of war'.
This brave old Samurai wasn't able to die with his comrades in the hellfire of Berlin, however. Adolf Hitler ordered him and the other diplomats out of Berlin and to safety. It wasn't to be, great Oshima.
On December 16, 1945 he was charged with 'war crimes' and brought before the kangaroo court called 'The International Military Tribunal for the Far East'. No surprise, he was found guilty of 'conspiring to wage aggressive war' on November 12, 1948 and sentenced to life imprisonment! This foolishness was later acknowledged and he was paroled in late 1955 and even granted clemency three years later.
[Above: International women's meeting in Berlin of thirteen nations. From left to right - Norway's Frau Olga Bjoner (Landesleiterin d. Norwegischen NS-Frauenorganisation), Germany's Frau Scholtz-Klink (Reichsfrauenführerin), Japan's Frau Oshima (wife of the Japanese Ambassador Hiroshi Oshima), Spain's Pilar Primo de Rivera (Frauenführerin, founder of the women's Falange section and sister of martyr José Antonio Primo de Rivera) and Italy's Marchesa Olga Medici. October 7, 1941. Courtesy of the Bundesarchiv.]
[Above: Inscribed and autographed picture of Oshima]
[Above: Here is a German postcard with a message in Japanese characters from 1942, sent from Berlin to Hamburg. Unfortunately, I have no clue what it says, but it is an interesting artifact of German-Japanese cooperation and friendship. Both countries had civilian, scientific and military exchange programs. The two allies had a deep respect for one another, despite having very different cultures and languages. There were approximately 10,000 Japanese nationals who lived in Germany during the Third Reich. Strange that the liars who rule this world try to convince us otherwise. If you still believe in the lies and propaganda after reading and seeing this page than you are a valuable slave to their disintegrating empire.]
[Above: Toshio Shiratori]
'The war has now moved from China to South Eastern Asia, and is about to enter the stage of the war for all Asia.'
-Toshio Shiratori
Toshio Shiratori (June 8, 1887 – June 3, 1949) was the Japanese ambassador to Italy from 1938 to 1940, upon which time he became the adviser to the Japanese foreign minister. Most honorably, he was also one of the fourteen 'Class-A war criminals' tried and imprisoned by the United States at the end of the war.

After serving as the Director of the Information Bureau under the Foreign Ministry from 1929 to 1933, he worked as the Ambassador to Sweden and non-resident Ambassador to Finland from 1933 to 1936. In 1938 he was appointed ambassador to fascist Italy, two years later becoming the adviser to the foreign minister in 1940.

Shiratori was a proud nationalist and strong supporter of the alliance between German, Japan and Italy. He is said to have been deeply impressed by fascism. When Mussolini was betrayed and captured in Italy in 1943, Shiratori offered refuge in Japan to Benito Mussolini, who gratefully declined, saying 'I want to die in Italy'.

His support and work toward this end landed him in an American dungeon at the end of the war. This kangaroo court charged him with 'conspiring to wage aggressive war' in November 1948 and sentenced him to life imprisonment. He would die in his enemies captivity in 1949 of laryngeal cancer.

On October 17, 1978 Shiratori was one of the fourteen 'Class-A war criminals' enshrined at Yasukuni Shrine. This honor given to these war heroes by Japan was very controversial outside of Japan, of course.
[Above: Toshio Shiratori]

[Above: Patches worn by various Cossacks belonging to different regions. Starting at the top row, left to right, they are:
Kuban Cossacks (KB), Terek Cossacks (TB), Sibir Cossacks (NCB) - from the 2nd Siberian Cossack Calvary Regiment.
Bottom row, from left: Don Cossacks (BA), Astrakhanskoje Vojsko - Astrakhan Siberian Host Cossacks (ACB). Click to see printed variations.]
[Above: 'Alexei Sovichenko is a Cossack. He thus belongs to the warlike community of the east. Although the Cossack lands suffered exceptionally during the Civil War in 1917, and though the Bolshevists destroyed the last remnants of Cossack independence, what are known as the "Cossack Armies" have preserved intact the laws of Cossack tradition. Once they lived on the banks of the Don, the Terek, the Kuban and the Volga as farmers, but now they are fighting as volunteers with the Germans in the hope that one day they will be able to live there under their own laws once more.'
-Signal magazine, English edition.]
[Above: The mutual respect between National Socialist Germany and the Cossack peoples was great. Here is a beautiful work of art by Alof Jordan Alexej, entitled 'Pawlowitsch Bondar - volunteer in Germany Cossack Division 1944.']
[Above: Pictured here is a Cossack volunteer (from Russia). History paints them amongst the most tenacious, bold and brave fighters of World War Two. This man is a machine gunner and holds an MG-42 German machine gun.]
[Above: The 5th Don Cossack Calvary Regiment medal.
These are the same medal, but made differently because of war time chaos and shortages.]
[Above: I'm unsure what this Cossack medal is exactly, but it is crazy cool!]
[Above: A parade celebrating the end of Ramadan in Kislovodsk, Caucasus, with Cossack volunteers riding by a massive poster of Adolf Hitler, October 1942.]
[Above: Highly decorated Kalmyk volunteers warmly greeting one another.]
[Above: Here is a magazine devoted to Cossack Waffen-SS from 1943.]
Click here to see more pictures of Cossack volunteers plus volunteers from that region

The Dutch National Archive will publish the files on 300,000 people suspected of collaborating with the Germans after the Second World War in 2025. A massive amount of people for a small country like Denmark, and that is just those who were put on file. The real number is most likely substantially higher.
Three Danish Waffen-SS volunteers were awarded Germany's highest decoration, The Knight's Cross. They are:

SS-Obersturmfuehrer Johannes Hellmers (March 5, 1945)
SS-Untersturmfuehrer Søren Kam (February 7, 1945)
SS-Unterscharfuehrer Egon Christophersen (July 11, 1944)

Four Belgian Waffen-SS volunteers were awarded Germany's highest decoration, The Knight's Cross. They are:

SS-Hauptsturmfuehrer Léon Degrelle (February 20, 1944)
SS-Untersturmfuehrer Léon Gillis (September 30, 1944)
SS-Untersturmfuehrer Jacques Leroy (April 20, 1945)
SS-Sturmmann Remi Schrijnen (September 21, 1944)

Four Dutch Waffen-SS volunteers were awarded Germany's highest decoration, The Knight's Cross. They are:

SS-Rottenfuehrer Derk-Elsko Bruins (August 23, 1944)
SS-Sturmmann Gerardus Mooijman (February 20, 1943)
SS-Unterscharfuehrer Kaspar Sporck (October 23, 1944)
SS-Untersturmführer Joop Havik (May 6, 1945)
[Above: Flemish Waffen-SS sleeve shield variations. These are two of many other variations.]
[Above: On May 15, 1940 the Germans entered Amsterdam by the Berlage bridge. As you can see there were many people who welcomed them and saw them as liberators.]
[Above: The Waffen-SS are welcomed into Amsterdam by cheering crowds. Courtesy of the Bundesarchiv.]
[Above: Flemish youth recruiting poster.]
Click here to see a video of Flemish volunteers
[Above: Danish Waffen-SS volunteer sleeve shields - same design and manufacture with color variation.]

[Above: The Schalburg Cross was a decoration awarded to men in the Danish Schalburg Corps.]
'Jewish rule in the Soviet Union was far greater than even I believed.
The population hates them more than Aage H. Andersen [editor of anti-Jewish newspaper 'Kamptegnet'] himself could dream of...'
-From a letter Schalburg wrote his wife in August 1941 while serving with Wiking division.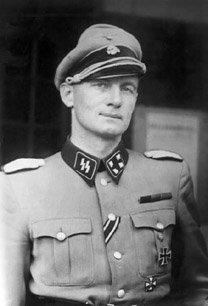 [Above: Danish Waffen-SS hero Christian Frederik von Schalburg (April 15, 1906 - June 2, 1942). Schalburg was a Danish army officer and the second commander of the Waffen-SS Free Corps Denmark. He was awarded the Iron Cross of 1st and 2nd class while serving in the Waffen-SS 'Division Wiking'. He died fighting communism on the eastern front. Loved and respected by his men, one of his soldier's even sacrificed his own life to retrieve Schalburg's corpse from the battlefield. On the day of his funeral Reichsführer-SS Heinrich Himmler posthumously promoted Schalburg to SS-Obersturmbannführer. The famous Danish poet Valdemar Rördam published a tribute to von Schalburg. A Danish medal and a unit of his countrymen were even named in his honor-- the Schalburg Cross (above) and the Danish Germanic-SS Schalburg Corps. In his name a memorial fund was set up, which sent packages to Danish volunteers on the Eastern Front.]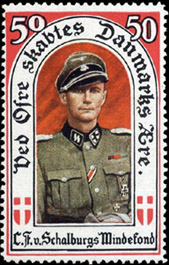 [Above: This is a postal label honoring Schalburg.]
Click here to see more pictures of Christian Frederik von Schalburg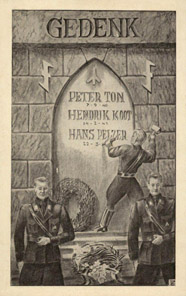 [Above: This very rare postcard entitled 'De Zwarte Soldaat' (The Black Soldier) says: 'In Rememberance - Peter Ton 7-9-40, Hendrick Koot 14-2-41, Hanz Pelzer 22-3-'. It memorializes Dutch NSB National Socialist martyrs in the Netherlands.]

[Above: Danish Waffen-SS-Untersturmführer (Second Lieutenant) Gerardus Mooyman (September 23, 1923 – June 21, 1987). Mooyman was a hero of the battle against communism. In February 1943 during the battle of Lake Ladoga he annihilated 13 Russian tanks single-handedly. For this super-human feat he became the first non-German to be awarded the Knight's Cross. By war's end he destroyed 10 more!]
Click here to see more pictures of Gerardus Mooyman
[Above: A powerful image of a Flemish Waffen-SS soldier.]
[Above: This woman is a volunteer in the Flemish Waffen-SS Red Cross.]
[Above: Handsome and brave SS-Obersturmführer Sören Kam.]
Søren Kam (November 2, 1921 – March 23, 2015) was born in Copenhagen, Denmark. He was a Danish commander in the Waffen-SS during World War II. As a young man he was a member of Denmark's own National Socialist party, the National Socialist Workers' Party of Denmark (DNSAP). It was here that Kam met Danish Waffen-SS hero and martyr Christian Frederik von Schalburg.
In June 1940 Kam volunteered with the Waffen-SS, serving in the 5.SS-Panzergrenadier-Division Wiking on the Eastern Front. He battle prowess and dedication soon earned him a promotion and he was transferred to SS-Junkerschule Bad Tölz and was promoted to SS-Untersturmführer.
[Above: SS-Obersturmführer Sören Kam photographed after the presentation of the Knight's Cross.]
In September 1943 Kam was head of a training school at Høveltegaard which was responsible for the training of new members of the esteemed Schalburg Corps, which he later commanded.
On February 7, 1945 Adolf Hitler awarded Kam the coveted Knight's Cross while he was a company Commander of the SS-Panzergrenadier-Regiment 'Germania'. He was only the third Dane to receive this award. It was noted that Kam had showed 'especially decisive action in the battle against the enemy'. Furthermore he was wounded in battle several times and for battlefield bravery was awarded the Iron Cross First and Second Class, the Infantry Assault Badge, Close Combat Clasp and the Silver Wound Badge. He had been involved in some of the bloodiest battles of the war, in places such as Dnipropetrovsk, Kharkiv, Cherkasy, Kovel and Warsaw.
Before his death in 2015, at the age of 93, he wrote his 400 page memoir, unfortunately only published in Danish.
Sören Kam has passed away on March 23, 2015 in Kempten, Germany. His beloved wife, Eleonore Kam, passed away just weeks before.
Click here to see more pictures of Sören Kam
[Above: 1941 magazine 'Vreugde en Arbeid - Freude und Arbeit - Joie et Travail', in Dutch, German and French 'Joy and Labor'. Click to see more!]
[Above: Valdemar Rørdam (September 23, 1872 – July 13, 1946) was a Danish poet and author and a stern opponent of communism.
His most famous poem 'Denmark in a thousand years' was almost the Danish national hymn.
His son Helgo Rørdam, after emigrating to Finland, volunteered to fight in the Winter War against the Soviet communists and was killed in action.
In 1941 he published the poem 'Then came the day that we have long awaited'. The poem praised Adolf Hitler's trials to destroy bolshevism.
In 1942 he wrote a tribute to the Waffen-SS Obersturmbannführer Christian Frederik von Schalburg, a martyr whom fell on the eastern front fighting communism.]
[Above: This series of four notes bearing the words 'Faedrelandet' (The Fatherland) were printed by 'Danmarks National Socialistiske Arbejder Parti' (SNSAP). They were issued in 1942 and were probably used as in some fundraising capacity (to support the Faedrelandet newspaper, pay party dues or to be used in the Danish SNSAP canteen at its headquarters in Copenhagen. The text beneath 'Faedrelandet' says 'For Denmark's honor, freedom and right'.]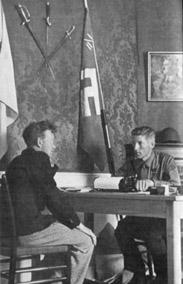 [Above: Pictured here, in 1941, a volunteer for the Danish Legion of the Waffen-SS is interviewed in Copenhagen.]
[Above: Pictured here, also in 1941, are more Danish volunteers.]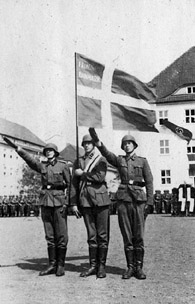 [Above: Circa 1941.]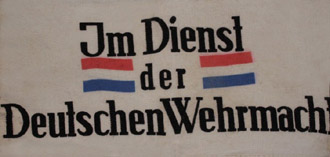 [Above: Here is a Dutch armband. It translates as 'In the service of the German army'.]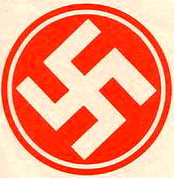 Danmarks Nationalsocialistiske Arbejderparti (DNSAP) was Denmark's largest National Socialist party. It was founded on November 16, 1930. It was closely fashioned after the German NSDAP. In 1933 Frits Clausen took over leadership and led the party to new heights. At the 1939 elections the DNSAP had 5000 members and won the party three seats in the Folketing (parliament).

After the 1940 German invasion the DNSAP received financial and political support from Germany. The party led huge recruiting drives for the Waffen-SS amd the Frikorps Danmark.

The 'democratic' Allies banned the party in May 1945. Clausen was thrown in a dungeon by the vengeful Allies, where he died of 'natural causes'. But some brave individuals kept the flame alive. The DNSAP is still active today, waiting for the moment of our shared destiny -- vengeance!
[Above: Martyr and hero Frits Clausen (November 12, 1893 – December 5, 1947) , the leader the 'Danmarks Nationalsocialistiske Arbejderparti' (DNSAP).]
Click here to see additional photographs of the DNSAP party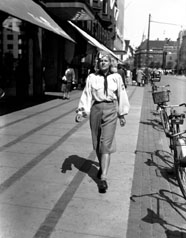 [Above: Danish National Socialist Youth (NSU) member in Copenhagen in June 1941. The NSU was the DNSAP's youth organization.
The picture was taken for the DNSAP's newspaper 'Fatherland', issue June 19, 1941.]
[Above: A vignette stamp of the DNSAP.]
[Above: An envelope sent to the Danish Nazi party from Berlin.]
The National Socialist Dutch Workers Party (Dutch Nationaal-Socialistische Nederlandsche Arbeiderspartij) or NSNAP was founded in 1931 by Ernst Herman van Rappard. It was heavily inspired by the German NSDAP. It was notable for its hard line anti-Jewish stance. The NSNAP wanted full incorporation of the Netherlands into the Germany. They argued that the Dutch had a strong ethnic kinship with the Germans.

Van Rappard eventually lost control of the party and three separate groups splintered off and claimed the NSNAP name. The NSNAP would never recover. It finally died on December 14, 1941. Their rival, the NSB, supported by Germany, was now in control. But van Rappard was not beaten. He proved his mettle and joined the Waffen-SS. Most of the old comrades from the NSNAP joined Mussert's NSB. He joined the vaunted 1st SS Division Leibstandarte SS Adolf Hitler and saw service in Yugoslavia and Greece. He later re-enlisted in the 5th SS Panzer Division Wiking. He was wounded on a campaign in the Caucasus. A determined soldier, he continued his fight in various other Waffen-SS divisions. In August 1944 he was wounded in Estonia and was awarded the Iron Cross Second Class.

In May 1945 Van Rappard was captured by Canadian invaders. He was charged for his service for Germany and was sentenced to death! The sentence was later changed to life in prison. In 1953 he died of a 'brain hemorrhage' in the dungeon he was left to rot away in.
[Above: Ernst Herman van Rappard (October 30, 1899 - January 11, 1953) was born in Banyumas Regency, Central Java, Dutch East Indies.]
[Above: NSNAP poster.]
[Above: Major Cornelis Jacobus Aart Kruyt.]
Cornelis Jacobus Aart Kruyt (April 5, 1869 - March 31, 1945) was a Dutch soldier, politician and one of the leaders of the NSNAP. In 1933 he succeeded the old leader of one of the branches of the NSNAP. He received limited political success in the parliamentary elections of 1937, his party getting less than one thousands votes. In Germany, however, he had a much larger following, amongst Dutch living in Germany. In 1938 left the party and in 1940 the NSNAP merged with the NSB.
[Above: Major Kruyt speaking at a meeting in Nijmegen, August 1934.]
[Above: Tinnie featuring the image of Major Kruyt.]
[Above: NSNAP party pin.]
[Above: 'Holland voor Hitler N.S.N.A.P.' (Holland for Hitler)]
Click here to see more items of the NSNAP
[Above: Here is a sheet of advertising stamps for the National Socialist Party (NSAP). It was released by Aage H. Andersen.]

As in Denmark and other countries, in Sweden there was also a party simply called 'National Socialist Labor Party' (NSAP). This short-lived party was founded by famous politician and publisher Aage H. Andersen (July 1, 1892 - February 27, 1968).

[Above: Aage H. Andersen]

In 1933 Andersen joined Wilfred Petersen's National Socialist Party. This didn't last long, however, and in 1934 he joined the DNSAP (Danmarks Nationalsocialistiske Arbejderparti), Denmark's largest National Socialist party. But he soon found that the DNSAP was too light on the Jewish problem and on October 31, 1935 he founded the National Socialist Labor Party (NSAP). The NSAP program stated: 'The NSAP is fighting for the complete redemption of the Danish people through a radical solution of the Jewish question through use of the law.'

In 1938 Andersen was sentenced to 80 days in jail for the 'relegation of another religion', namely Judaism. This wouldn't be the last time he was sentenced for this 'crime'. Andersen proved time and time again he wasn't afraid of the powers-that-be and that nothing would silence him from speaking the truth.

From May 1939 until May 1943 he published the newspaper 'Battle Sign' (Kamptegnet), which used many articles and art from the German newspaper Der Stürmer. From June 1940 until February 1942 it was edited by the famous writer and activist Olga Eggers. After the closing of Kamptegnet Andersen became the editor of the newspaper Racial Service (Rastjänsten), from December 1943 to December 1944. Andersen also published a handful of books on the Jews and their schemes for world domination.

On January 26, 1941, he again worked with the DNSAP, but this didn't work out and on October 31, 1941, he formed the association 'Danish Antidote League' (DAL). A little more than two years later, on May 20, 1944, he served as head of the Schalburg Corps Central Office for Racial Issues.

After the war, on August 19, 1947, the Allies sentenced Andersen to eight years in prison. Being a journalist, author and patriot were his 'crimes', such is the false democracy peddled in this world. But apparently this wasn't enough, on February 24, 1948, he was sentenced to ten more years in prison by the vengeful Jewish powers.
[Above: An illustration from Andersen's newspaper 'Kamptegnet']
[Above: An illustration from Andersen's newspaper 'Kamptegnet']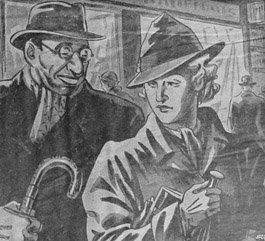 [Above: An illustration from Andersen's newspaper 'Kamptegnet']
[Above: Asit Krishna Mukherji]
Asit Krishna Mukherji (1898 - March 21, 1977) was a Bengali Brahmin from India.
He was a fervent National Socialist and published a pro-Axis newspaper in the late 1930s called The New Mercury.
He is perhaps best known for his marriage to Savitri Devi in 1940 (6-9-1940) in order to protect her from deportation and internment by the British who occupied India at that time.
When The New Mercury was banned by the British government he began publishing another newspaper called The Eastern Economist, which was in collaboration with the Japanese.
Mukherji was instrumental in connecting Subhas Chandra Bose with the Japanese. This introduction led Bose to form the Indian National Army.
After the war he published several of Savitri Devi's most venerated books about National Socialism and Adolf Hitler.]
Click here to see more pictures of Asit Krishna Mukherji
'If I had to choose a motto for myself, I would take this one — 'pure, hard, certain' — in other words: unalterable. I would express by this the ideal of the Strong, that which nothing brings down, nothing corrupts, nothing changes; those on whom one can count, because their life is order and fidelity, in accord with the eternal.'
-Savitri Devi
[Below: Savitri Devi, circa 1937]
Savitri Devi Mukherji (September 30, 1905-October 22, 1982) was born with name 'Maximiani Julia Portas' and chose Savitri Devi (Savitri meaning 'solar energy', and Devi being a title) as her pseudonym. She was given this name the girls at Shantiniketan University. She was a revolutionary writer and covered many topics, with an especially passionate interest in Animal Rights and National Socialism. In fact, she pioneered many ideas in both subjects.
Savitri grew up in France but was of Greek, Italian and English ancestry. She obtained two Masters Degrees and a PhD in philosophy from the University of Lyon and also studied chemistry while there. She was even a French tutor to the famous philosopher Cornelius Castoriadis between 1932 and 1935. She spoke more than a half a dozen languages!
Savitri became a strong admirer and supporter of National Socialist Germany. She saw that Adolf Hitler was the leader of the fight in the battle against evil in this world. Her strong beliefs in Animal Rights were shared by National Socialist Germany, which had outlawed cruelty against animals. Adolf Hitler himself was even a vegetarian, as she was. But that was just one aspect of National Socialism that Savitri admired, she believed it to be the answer to the world's problems.
[Below: Savitri Devi]
In 1932 Savitri went to India in search of the remnants of Aryan Paganism that was still in practice there. Around this time she took the name Savitri Devi and began practicing Hinduism. She wrote 'A Warning to the Hindus' while there in an attempt to help stop the deterioration of Hinduism by the encroaching Christianity and Islamic religions.
Savitri worked for the Axis by gathering intelligence on the British occupiers in India and circulating pro-Axis leaflets. She enabled the leader of the Axis Indian National Army Subhas Chandra Bose to meet and make contact with Japanese representatives.
Savitri Devi married a fellow National Socialist Asit Krishna Mukherji in order to stay in India. The British could intern her for being an undesirable foreigner, as she was a Greek citizen at that time. Mukherji was the editor for the National Socialist pro-German newspaper 'New Mercury'.
After the world lost the chance to shake free from the corruption it has endured for so long, Savitri didn't give up the fight for freedom. She traveled to Germany in 1948 and from a train window she threw thousands of leaflets and small packages with chocolates and other treats. The message on the leaflets was simple but bold; 'Men and women of Germany hold fast to our glorious National Socialist faith, and resist!' She later wrote a book about her experiences in post-war Germany called 'Gold in the Furnace'. The name referring to the strong German people and the National Socialist spirit that resisted the insane hell and mountainous crimes the Allies committed against the German people.
[Below: Another monumental book by Savitri Devi]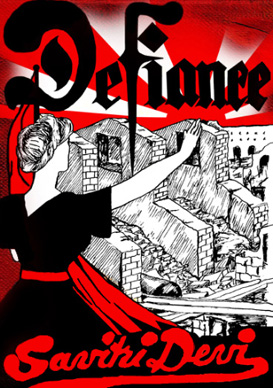 Savitri was arrested for promoting National Socialist ideas on German Territory. She served eight months of her two year sentence. She met and became friends with many National Socialists including SS prisoners. After her release she was kicked out of Germany.
She illegally entered Germany in 1953 using her maiden name and a Greek passport and went on a pilgrimage of Holy National Socialist sites. She later completed a book in 1958 called 'Pilgrimage' about her experiences.
Savitri became heavily active in the newly established post-war National Socialist organizations. She became close friends with the famous German fighter pilot Hans-Ulrich Rudel and many notable German National Socialists.
[Below: Gold in the Furnace]
Perhaps one of the most important things Savitri Devi did was popularize the reality of Adolf Hitler as a divine entity. She wrote in 'The Lightning and the Sun' about Adolf Hitler being sent by God to perform divine work on Earth. She influenced many important followers of Adolf Hitler's teachings, including the great Miguel Serrano of Chile.
Savitri Devi decided to move back to Europe from her home in India in the 1970s, at this point her eyesight had begun to fail and her health was greatly deteriorated. She visited her old comrades in Germany and France one final time, before moving in with her friend Muriel Gantry in England.
It was here that this brilliant and shining individual passed into eternity. It was most unfortunate that she died right before she was to travel to the US to give lectures at the invitation of Matt Koehl of the American Nazi Party (later renamed New Order). Savitri's ashes are enshrined in a memorial room at the headquarters of the New Order next to the ashes of George Lincoln Rockwell in Wisconsin.
Perhaps no book ever written, in the glorious times of National Socialist Germany or after, captures the beauty and spiritual power as Savitri's book 'The Lightning and the Sun'. Savitri's life and works continue to uplift and inspire future generations of National Socialists around the world.
[Below: Savitri Devi]
'Above him and above the smoke of the Russian cannons and of the burning city, above the noise of explosions, millions and millions of miles away, the stars — those same stars that had shed their light over the adolescent's first prophetic ecstasy forty years before — sparkled in all their glory, in the limitless void. And the man against time, who could not see them, knew that his National Socialist wisdom, founded upon the very laws of life; his wisdom that this doomed world had cursed and rejected, was and would remain, in spite of all, as unassailable and everlasting as their everlasting dance.' -Savitri Devi, speaking of Adolf Hitler, The Lightning and the Sun.




The first National Socialist group in Australia was born in Adelaide in 1932. It was formed by a German doctor named Johannes Becker (1898-1961), who lived in Tanunda, South Australia.
[Above: An Australian-German club in Adelaide, South Africa celebrates the 50th birthday of Adolf Hitler, circa 1939.]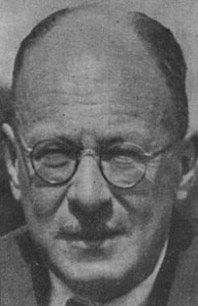 [Above: Arnold von Skerst was 6 ft tall, with blue eyes and blond hair, and a military bearing.]

Arnold Oscar Hermann Gregory von Skerst (1888-1948) was born in Riga, Latvia. He had quite a colorful and eventful history before finding his ultimate home in Australia. He was educated by an English governess in Dresden, Germany and eventually joined the Ministry of Finance in 1912, finding a job as a diplomatic courier. In the fall of 1914 he was in charge of a large shipment of Russian gold to the Bank of England via British warships. In 1917 he married Anne Kaiser. By 1918 he was working for various anti-communist 'White' Russian governments. His work led him to be captured by the communist Red Army at Vladivostok, but after being held he was allowed to go to China.

In China he found work with various firms and by 1926 divorced his wife and two years later married again. In Harbin China he married Olga Gorlov and adopted her son.

In 1930 he relocated to Germany and was naturalized the next year. In May 1931 his work took him to Melbourne as agent of a Berlin oil company, but the financial crash in Germany ruined this venture. He ended up stranded in Australia, but undeterred, he formed a company, the Australia North China Trading Co., which took him back to China for a spell.

von Skerst was fluent in seven languages, Russian, German, English, French, Italian, Polish, Spanish and some Japanese. This enabled him to teach foreign languages when needed be.

The year Adolf Hitler came into power, 1933, von Skerst joined the National Socialist German Workers Party (NSDAP). He became a propaganda leader in Sydney and the next year he was appointed editor of Die Brücke, a bilingual weekly newspaper.

In April 1934 he married Florence Marjory Heyns in a Syrian Orthodox Church. He was extremely determined and active in the National Socialist movement. His energy paid off and he became the Australian correspondent of the Deutsches Nachrichtenbüro (German News Office) in Berlin, representative of the Ostasiatische Rundschau (Far Eastern Review) in Hamburg and in 1937 he became secretary of the German-Australian Chamber of Commerce.

Like tens of thousands of other innocent people around the world, who were jailed for no other reason than their beliefs, von Skerst was imprisoned in 1939 at the start of WWII.

Released from an internment camp at Tatura in 1946 he found the world far different than before he was imprisoned. A brainwashed mass of robots awaited him. He was now a pariah, completely shunned and hated. The media attacked him and he was unable to get even the most menial of jobs.

On Christmas Eve 1948 the darkness of the world, absent of Adolf Hitler, became too much and he committed suicide.

[Source: Australian Dictionary of Biography, Volume 11, 1988]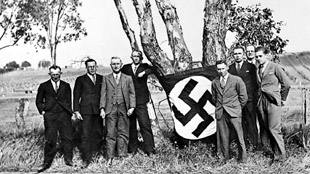 [Above: National Socialists from Barossa Valley, South Australia, 1935.]
[Above: This is the German-Australian Weekly newspaper entitled 'Die Brücke' (The Bridge), Vol 11, Number 52, 1936.]

Click here to see more pictures from 'Die Brücke'.
[Above: The front page of Arnold von Skerst's internment file, 1939.]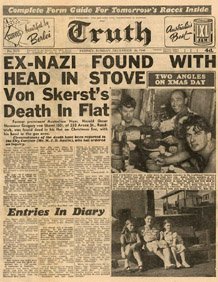 [Above: A tragic end.]

[Above: Surya Majapahit, the Sun Emblem of ancient Majapahit empire]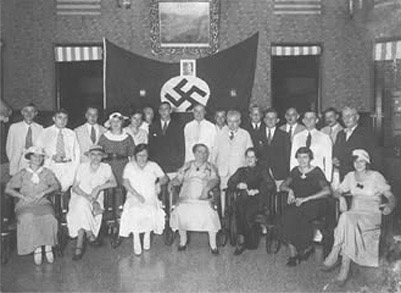 [Above: Local branch of the NSDAP in Padang, West Sumatra.]

The Indonesian branch of the National Socialist Party was founded in June 1933 under the supervision of NSDAP/Auslands-Organization (Nazi Party Foreign Organization) by German diplomat and personal friend of Adolf Hitler, Walther Hewel.

This foreign branch of the NSDAP was very popular among the large German Dutch East Indies community. In fact, by 1937 it had established branches in Batavia (Jakarta), Bandung, Makassar, Surabaya, Semarang, Medan, and Padang.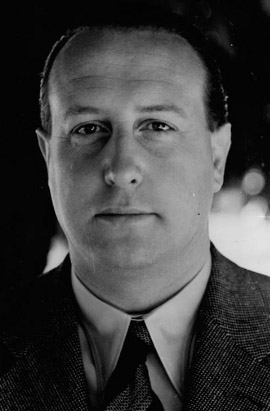 [Above: Walther Hewel (January 2, 1904 – May 2, 1945).]

Walther Hewel later returned to Germany and in the following years served Adolf Hitler and Germany in a diplomatic capacity. As the war years advanced Hewel became Adolf Hitler's personal assistant.

Hewel remained with his friend and Führer until the dire end. He was one of the last people to engage in a long, personal conversation with Adolf Hitler. Even in the dark days preceding the end, Hewel tried to cheer his friend up and brought whatever light to the desperate situation that he could.

Following Adolf Hitler's martyrdom, Hewel escaped the Führerbunker in a group led by SS-Brigadeführer Wilhelm Mohnke. But this was only a delay of Hewel's plans. He knew that without Adolf Hitler there was no place for him. Courageously, with a lifetime of service to his country flashing through his mind, he bit down on a cyanide capsule while shooting himself in the head.

The NSDAP party was not only in the Dutch East Indies however. There was also the Dutch National Socialist Party, the NSB (Nationaal-Socialistische Beweging). In 1936 the leader of the NSB, Anton Mussert, twice visited Indonesia. Many local Indonesians supported the NSB, and by 1937 there were over 6000 members.
[Above: German civilians from Dutch Batavia (Jakarta) celebrating the Japanese invasion of Java island (Dutch East Indies) in 1942.
Note the homemade flag!]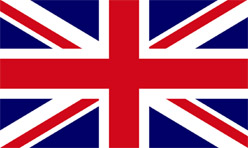 [Above: Pin of the B.U.F. = British Union of Fascists.]

'Once with us, always with us.'
-Saying of the British Fascists

'The Jews have been treated in Britain with a fairness and generosity unparalleled elsewhere, and have banded together against us, despite the conventional opinion that it was very wrong to combine against them. And now this organized alien minority, who have enriched themselves at our expense, repay our generosity by political terrorism carried out at the point of the economic gun.
It is a strange thing that a great country should allow both the economic and the political freedom of so many of its citizens to be at the mercy of an organized minority who owe allegiance, and who admit they owe it, not primarily to Britain, but to their kinsmen beyond our borders, and whose capacity for mischief is exceeded only by their desire to do it.'
-Sir Oswald Mosley
[Above: Sir Oswald Mosley (November 16, 1896 - December 3, 1980)]
The British Union of Fascists, founded in the early 1930's by Sir Oswald Mosley. He left his positions as a member of British parliament and chancellor of the Duchy of Lancaster to form the B.U.F., which became a popular and formidable party.
Quite a few notable personalities of Britain joined him, among them:
Major General J.F.C. Fuller, historian; Francis Yeats-Brown, the author; Lord Rothermere, the publisher of popular newspaper the Daily Mail; Sir William Morris, owner of Morris Motors; Sir Henry Deterding, chairman of the Dutch Oil Company; Viscount Lymington; Admiral Sir Barry Domville; B. Philby, a famous explorer; the Earl of Glasgow and Walter Runciman, both brothers-in-law of Sir Thomas Inskip the Minster of Defense.
Not to mention the great William Joyce, who became his propagandist.
Mosley met with various heads of state, including Adolf Hitler, who along with Joseph Goebbels attended Mosley's wedding held in Berlin.
It is said that King Edward the VIII was a large financial supporter of the British Union of Fascists. Mosley and over one thousand others were imprisoned during WW2 for no other crime than their beliefs. They were detained under 'Defense Regulation 18B'.

'Not on grounds of race or religion, but on the fundamental principal of Fascism, we declare that we will not tolerate an organized community within the state which owes allegiance not to Britain, but to another race in foreign countries... We shall not fight Germany again in a Jewish quarrel.'
-Oswald Mosley, October 1934, at Albert Hall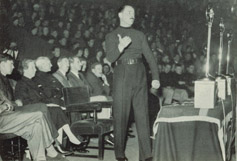 [Above: Sir Oswald Mosley addresses a meeting held in Albert Hall April 22, 1934. Approximately 10,000 attended, which at the time was one of the largest indoor political meetings ever held.]
[Above: An early photo of Oswald Mosley.]
[Above: Sir Oswald Mosley in Italy in 1932 meeting Benito Mussolini. He met Mussolini a half dozen times, and Adolf Hitler twice.]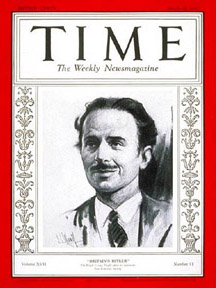 [Above: Sir Oswald Mosley on the cover of Time Magazine, March 16, 1931.]
Listen to an excellent speech by Mosley about Globalization and the dark future that awaits mankind. It's all coming true. World slavery is knocking at our doors...

Click here to hear the excerpt (1:42)

'Those who march with us will certainly face abuse, misunderstanding, bitter animosity, and possibly the ferocity of struggle and of danger. In return, we can only offer to them the deep belief that they are fighting that a great land may live.'
-Oswald Mosley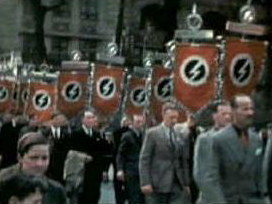 [Above: The British Union of Fascists march in London, circa 1939.]
[Above: The old and the young unite for freedom.]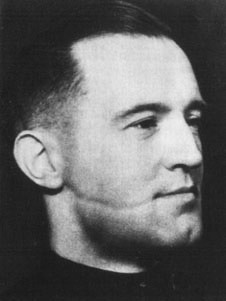 [Above: William Brooke Joyce (April 24, 1906 - January 3, 1945)]
[Above: American born William Joyce, propagandist for the B.U.F. and later famed radio broadcaster for Germany, was put to death for treason after the war even though he was born in America, lived in Germany and had German citizenship, and had given up his British citizenship.
For what you ask?
For a radio program! After he was murdered by his enemies by hanging he was buried within the Wandsworth Prison walls, in an unmarked grave, and was allowed no mourners. His lifeless body was dumped in a hole in the middle of the night, without words or ceremony, like a piece of garbage, and thrown on top of the remains of another man, a murderer named Robert Blaine who had been hanged five days earlier!]
William Joyce joined the British Union of Fascists in 1933. He coined the B.U.F. axiom 'If you love your country you are National. If you love your people, you are Socialist. Be a National Socialist.'
[Above: William Joyce went on to head the National Socialist League (1937- 1939). It's official newspaper was 'The Helmsman'. Click to see more.]
[Above: Emblem of the short-lived National Socialist League.]
The National Socialist League (NSL) was formed in 1937 by William Joyce, John Beckett and John Angus MacNab as a splinter group from the British Union of Fascists. The party's motto was 'Steer Straight' and its ideology was based on a 1937 document published by Joyce entitled National Socialism Now. The writing advocated a specifically British version of National Socialism (which is necessary for all counties adopting NS).

But Joyce had a destiny all his own and on May 1939 the NSL had its final meeting. Shortly after, Joyce went to Germany to fullfil his glorious fate.
Listen to an MP3 compilation of William Joyce's broadcasts from Berlin
[It begins with a Germany Calling recording.
At 11:55 another recording titled 'New York Times Reports Exeter [British Cruiser] Damaged'.
At 12:29 'Denmark and Norway Invaded' begins.
At 12:34 begins 'Russo/Finnish War Concluded'.
At 34:39 begins 'The Fall of France'.
At 48:31 begins 'UK Invasion Looms'.
At 1:02:21 begins 'Balkan Intention Denied'.
At 1:03:08 begins 'William Joyce's Last Broadcast'.]
[Above: Margaret Joyce (July 14, 1911 - 1972), William Joyce's wife and comrade. She was born in Old Trafford, Manchester England. She was a green-eyed, auburn haired beauty. She married William at 26 years of age. She was the assistant secretary for the British National Socialist League, which William Joyce was its leader. She did over 500 programs for the German 'Reichsfundfunk' with her husband. It is said that she wrote many of her husband's radio addresses. Her first broadcast from Berlin was on November 10, 1940. In 1942 she did weekly talks under her real name about women's economic problems. Margaret was arrested shortly after her husband on May 28, 1945. She was taken to London on charges of treason. While her husband was hanged in 1946 for treason, she was spared a trial on the basis that she was a German citizen. This makes absolutely no sense that she was considered a German citizen, not a British one. You see, her husband was naturalized as a German citizen in 1940, yet he was hanged because they said he was British!]
Mosley recognized the importance of women in the movement, writing:

'My movement has been largely built up by the fanaticism of women; they hold ideals with tremendous passion.
Without women I could not have got a quarter of the way.'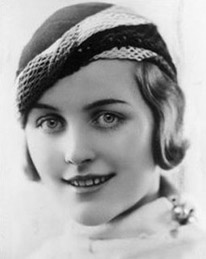 [Above: Diana (Mitford) Mosley (June 17, 1910 - August 11, 2003). Diana was Oswald Mosley's wife.]
After meeting with Adolf Hitler, Unity described it as:
'...the most wonderful and beautiful [day] of my life. I am so happy that I wouldn't mind a bit, dying.
I'd suppose I am the luckiest girl in the world. For me he is the greatest man of all time.'
[Above: Unity Valkyrie Mitford (August 8, 1914 - May 28, 1948), Diana Mosley's sister. Unity was a friend of Adolf Hitler and a staunch supporter.]