---
Adolf Hitler and the Army of Mankind
---
    When we began this project I thought we might have trouble filling one page, let alone two, since the subject material is exceedingly hard to find, after all. But it is out there. Every day the internet is unveiling more information and photos. Although it is spread throughout a virtual swamp of garbage and the usual system propaganda, parroted by the usual brainwashed drones. The flow of information on the internet is uncensored for most of us, for now. But it's only a matter of time until information like what is presented here is censored 'for your protection.'

     Page two reveals pictures and information previously unknown to even me, and I've been studying this topic for years. Seeing black Africans proudly wearing the iconic eagle and swastika on their breasts speaks a thousand words. Or various Asians, like Indonesians, Thai, Chinese, and even Koreans, all sporting the Swastika and an Axis uniform, nearly shocks the eye in bewilderment.

     Men and women of all races fought against one enemy. What a criminal shame that their deeds and deaths have been hidden from us today. But no more, one can hide the truth, but not forever, eventually, it will surface.

     Of course, the enemies of truth could say 'well, they were forced by the evil Germans to fight for them.' But that lie, like all their lies, won't hold up to scrutiny. Especially since the majority of the pictures you see here of non-whites, like their European counterparts, are volunteers. It is up to you to educate yourself further. These pages are only a glimpse of the rage, sorrow and wonder that awaits you, if you decide to look deeper. It will be a long journey, but we're all on it together. The journey of a lifetime, that's for sure.

But, as always, pictures speak louder than words!

[Most pictures - Click to enlarge]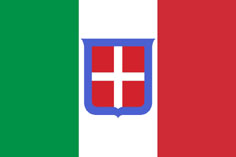 'For th' old Romane valor is not dead,
Nor in th' Italians brests extinguished.'
-Francesco Petrarcha (1304-1374)
[Above: Fantastic early art featuring Mussolini and Mother Italy.]
'Let man face and know his own soul, and our problem is solved. One man can do much. A group, spiritually united, can perform miracles.'
-Benito Mussolini
It's an interesting fact that Mussolini -- at the age of 39 -- became the youngest head of government in Italy.
[Above: Benito Amilcare Andrea Mussolini (July 29, 1883 - April 28, 1945).]
'If I had been an Italian I am sure that I should have been whole-heartedly with you from the start to the finish in your triumphant struggle against the bestial appetites and passions of Leninism. I will, however, say a word on an international aspect of fascism. Externally, your movement has rendered service to the whole world. ...Italy has shown that there is a way of fighting the subversive forces which can rally the masses of the people, properly led, to value and wish to defend the honour and stability of civilised society. ...Hereafter no great nation will be unprovided with an ultimate means of protection against the cancerous growth of Bolshevism.'
-Winston Churchill speaking in Rome on January 20, 1927.
Twelve years later Winston Churchill would align his country and people with the 'bestial appetites and passions of Leninism'.

________________
On the dark day of April 28, 1945 Benito Mussolini was sadistically and brutally butchered by Italian communists. These depraved monsters not only murdered Mussolini and dozens of his staff, they also butchered Mussolini's love, Claretta Petacci.
[Above: Claretta Petacci (February 28, 1912 – April 28, 1945).]
It gets worse. Much, much worse. Not only was Claretta gang raped by the communists who captured them, but all of the women in the fleeing group with Mussolini suffered the same fate. At the end of her hell she was murdered beside the man she loved. It is said that when the communists lined them both up to be shot Claretta jumped in front of Mussolini, as to protect him from the bullets. One only hears of such selfless love and devotion in fairy tales.

Mussolini died as he had lived -- like a man. He opened his jacket to his murderers and said boldly, 'Shoot me in the chest!'

It goes on... In an act of homosexual depravity, these human monsters sodomized Mussolini's corpse. They urinated on it and kicked and beat his body until it was barely recognizable as human. Only when reading about the most heinous and evil serial killers does one hear about similar depraved acts.

The bodies were thrown into a heap in a suburban square in the city of Milan. At least one British secret service member and numerous communists whipped a crowd into a frenzy. They attacked the corpses in all manner imaginable. Eventually the bodies were hoisted up and hung upside down on meat hooks! An American eye witness described the crowd as 'sinister, depraved, out of control'.

I pondered back and forth on whether I should post the shocking, disgusting and deeply disturbing pictures of Mussolini and Claretta's mangled bodies. Like many people who have surfed the internet for years I've seen some truly disturbing stuff. Yet, the death photos of Mussolini and his love I find more vile than anything else. These disgusting and evil images stain my computer as they did my mind. To see such a powerful, intelligent and most of all human man desecrated in such a way left an impression with me forever.

The fact is I didn't want these pictures on Mourning the Ancient. But alas I decided, after seeking the advice of an Italian comrade, that these pictures should be shown. They show the inhuman evil of the Allies and their communist comrades. The unrestrained brutality toward those who were helpless and had surrendered. If you have it in you, click on the link below. These images speak volumes and volumes of truth about the 'Good Guys'.
The great and complex Benito Mussolini tells one last tale to us, his spirit soaring free, his body defiled, broken, but alas, he is not beaten.
No one cares about the monsters who murdered Mussolini. No one cares about these murderous communists. They are truly dead.
After all, do you know the names of the killers? Most likely not.
And if by some cosmic oddity you do know their names, do you know their birthdays or the day they died?
Do you celebrate them as martyrs of truth who fought against the darkness?
Do you toast to their life and despise their deaths?
Do you enshrine pictures of them on your walls?
Do you take pilgrimages to their graves?
Do you march in their honor?
Do you seek out their words, and feel that they could have been written today?
Do you vow that one day truth will prevail, and we will build statues in their honor?
Do you fight for that day -- earning nothing but spiritual gold?
No you don't. No one does. Because Mussolini's murderers are truly dead. And all of those things I asked you about his killers above are done for Mussolini -- all around the whole wide world.
Mussolini Ha Sempre Racione!
[Above: The tomb and shrine to Mussolini as it stands today. Thousands visit his tomb yearly, expressing their love and admiration by signing a guest book.]
Click here to see the work of the depraved murderers
(WARNING: VERY GRAPHIC!)
________________
'Let me say now that what is occuring in the United States is one of the most colossal mystifications in all history.
Illusion and lying are the basis of American interventionism-illusion that the United States is still a democracy, when instead it is a political and financial oligarchy dominated by Jews through a personal form of dictatorship.'
--Benito Mussolini, Rome, Italy, February 23, 1941, (speech excerpt)
[Above: 'Tre popoli una guerra!' = 'Three peoples one war!' postcard. One of my favorite Italian postcards.]
[Above: 'Anch'egli difende la vostra famiglia!' = 'He too defends your family!']
[Above: 'La Germania veramente vostra amica' = 'Germany really is your friend' -- Click to see more.]
[Above: 'Victoria' = 'Victory']
[Above: Italian soldiers of the Axis.]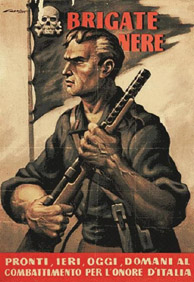 [Above: Recruitment poster for the Italian 'Black Brigade', it says: 'Pronti, Ieri, Oggi, Domani al Combattimento per L'onore D'Italia' = 'Ready, Yesterday, Today, Tomorrow in the Fight for the Honor of Italy'.]